Experience Japan received the European Language Label Award
Ms Nobuko Ijichi, on behalf of Experience Japan, received the award from the Irish Department of Educations and Skills for their contribution to Languages Connect.
Oct 2019
On the 10th October, the UCD Japan Group is delighted to attend the European Language Label award ceremony at Croke Park, where Experience Japan was given the award for its Community of Practice supporting the learning of Japanese language and culture. Experience Japan was established 10 years ago, and there is now a large team of supporters that come together to make Experience Japan work. The UCD Japan Group is very happy to provide support for the language teaching inside and outside the Belfield campus since 2016. We would like to thank the many many Students and Staff who have volunteered, ran workshops, presented seminars, trained and performed at the diverse events, concerts, symposiums and seminar days.
Ms Nobuko Ijichi (Japanese Language and Culture Coordinator in UCD) collected the award on behalf of Experience Japan and highlighted the input of all those who have so kindly given so generously of their time and spirit to make this 'Community of Practice' - a 'Japanese Gaeltacht' – work.
Well done to Ms Ijichi and all involved!
(Experience Japan Taiko Team with H.E. Ambassador Mr Kitano)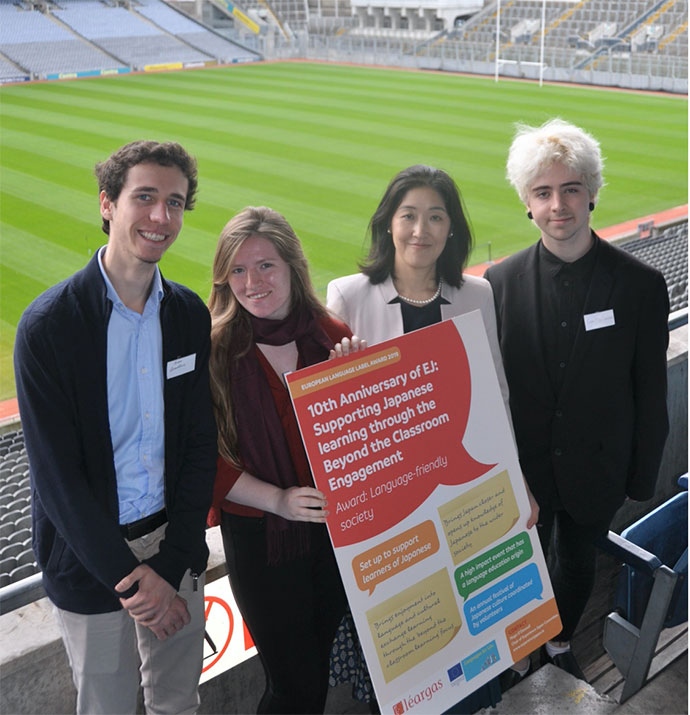 (Evan, Jenny and Ciarán – UCD and DUC Japanese Societies Reps with Ms Ijichi)