Foreign Correspondents' Club in Japan Book Break Talk by Assoc. Prof. Kodate
Decemeber 2019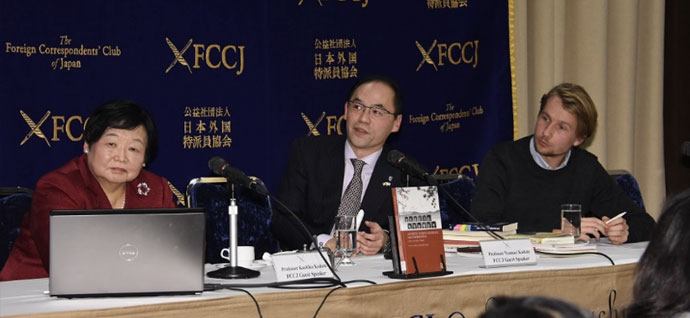 (l-r: Prof. Emarita Kodate, Assoc. Prof. Kodate and Mr van der List (FCCJ). Photo courtesy of Mr Aoki (FCCJ))
Assoc. Prof. Kodate (School of Social Policy, Social Work and Social Justice, Co-Chair of UCD Japan Group) gave a talk about his book "Japanese Women in STEM: History and Policy Change" together with co-author Prof. Emerita Kashiko Kodate at the Foreign Correspondents' Club of Japan (FCCJ) in Tokyo.
The FCCJ is a historic institution, founded in 1945 by newspaper, wire service, magazine, radio journalists and photographers who arrived in Japan following the end of the Pacific War. Against the restricted number of journalists permitted into Japan, a small group of correspondents formed "The Tokyo Correspondents Club," the forerunner of the FCCJ.
Past speakers at FCCJ includes prime ministers, presidents, foreign ministers, ambassadors, religious leaders, movie stars, astronauts, writers, scholars, business tycoons, and experts (http://www.fccj.or.jp/about/history.html). Some of them can be found on the photos on the wall of the FCCJ.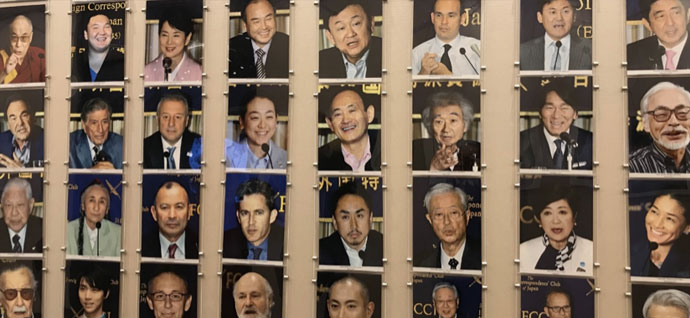 The FCCJ regularly holds a book talk event called Book Break. It is one of the most popular events in the club. Assoc. Prof. Kodate and Prof. Emerita Kodate spoke about how the book project on Japanese women in STEM originally came about in 2007 as well as recent developments surrounding them. It was a great occasion to bring people together including former Ambassador to Ireland (Mrs Mari Miyoshi) and President of Tsuda University Prof. Takahashi. Many of them have visited UCD. Many female scientists, both natural and social sciences, jointed the event (see below) as well.
(l-r: Ms Nakayama, Prof. Emarita Kodate, Dr Komai, Dr Saswatee (four ladies in STEM!) and Assoc. Prof. Kodate. Photo: Yosuke Sato)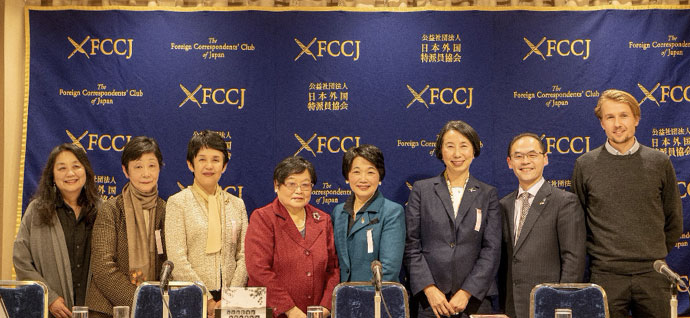 (l-r: Prof. Osawa (Japan Women's University, JWU), Ms Naito (Japan International Cooperation Centre), Prof. Oba (President of JWU), Prof. Emerita Kodate (University of Electro-Communications), H.E. Ambassador Mrs Miyoshi, Prof. Takahashi (President of Tsuda University), Assoc. Prof. Kodate and Mr van der List (FCCJ). Photo: Yosuke Sato)