Obituary: In memory of Dr Tom P. Hardiman (1929-2020)

(Picture – Dr Hardiman giving a speech at the Commemorative Event for Victims of Tohoku Earthquake & Tsunami JAPAN on 11 April 2011 at 7pm in St. Patrick's Cathedral, Dublin 2).

(Picture – Prof. Nobuhiro Hiwatari, Prof. Junko Kato, Prof. Niamh Hardiman, Prof. Shin Ushiro, Dr Tom P Hardiman, Former Ambassador of Japan in Ireland, Mr Chihiro Atsumi, President of UCD Prof. Andrew Deeks, at the 2nd CD-University of Tokyo Social Science Symposium, 19 September 2014, Dublin Castle).
On 2 May 2020, Dr Tom Hardiman passed away. Dr Hardiman studied at UCD and graduated in Engineering in 1951 and Mathematics in 1952. He became the third Director General of the state broadcasting service, broadcasting service RTÉ, and had an outstanding and distinguished career in so many areas including industrial development, business, broadcasting, higher education, arts & culture and international relations.
In higher education, Dr Hardiman served as Chair of the Technical Education Review Board, and played a major part in the creation of the University of Limerick and Dublin City University, of which he was the first chancellor. Dr. Hardiman was elected as the first Chancellor of DCU on 4 June 1998, and held the position until 2001. He was also elected a member of the Royal Irish Academy.
Dr Hardiman was founding Chair of the National Board for Science and Technology (later, Forfas and Science Foundation Ireland) from 1978 to 1983, and he was the Irish representative to the European Community Advisory Committee for Research and Development in Brussels between 1979 and 1982. In more recent times, he was a Supervisory Board Member of the EU-Japan Centre for Industrial Co-operation in Tokyo, Deputy Chairman of the EU-Japan Business Dialogue Round Table in Brussels and in Tokyo, and a Governor of the Asia Europe Foundation in Singapore.
His love of Japan, Japanese culture and language was evidenced by his long-term dedication and contribution to developing Ireland-Japan relations, not only in business but also in education, research and culture. Dr Hardiman was awarded the Order of the Rising Sun Gold Star from the then Emperor of Japan in 1986 for his contribution to the EU Japan dialogue. Later in 1995, he received the Lafcadio Hearn medal from the Ireland-Japan Association. He remained closely connected with DCU's School of Applied Language & Intercultural Studies. (https://www.dcu.ie/news/news/2020/May/DCU-pays-tribute-its-first-Chancellor-Dr-Tom-Hardiman.shtml) Dr Hardiman also served as Chair of the Chester Beatty Library.
In UCD, Dr Hardiman's outstanding contributions to science, technology and society has been widely recognised and in 2016, he was awarded the EGA President's Award in the National Concert Hall.
(Picture - Former Dean of Engineering and EGA Founder, Prof. John Kelly & EGA First President Dr Hardiman, 2016. Source: http://ucdegapresidentsblog.blogspot.com/2016/06/highlight-of-year-annual-awards-dinner.html)
Together with his wife Rosaleen, Dr Hardiman was always very generous with his support for Japan-related activities, and after the Tohoku Earthquake & Tsunami in 2011, he joined the commemorative event and gave a moving speech in St Patrick's Cathedral.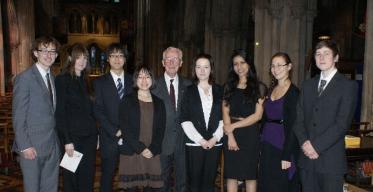 (Picture – Dr Hardiman with young people in the Irish and Japanese community / Experience Japan in Dublin after the Commemorative Event for Victims of Tohoku Earthquake & Tsunami JAPAN in St. Patrick's Cathedral).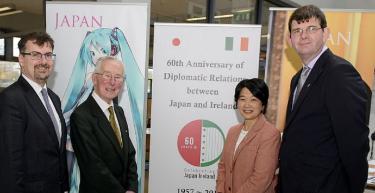 (Picture – Prof. Colin Scott, Dr Tom P. Hardiman, Former Ambassador of Japan in Ireland, Mrs Mari Miyoshi and Registrar/Deputy President Prof. Mark Rogers at Symposium on Technology-supported Care in Japan and Ireland, 2016)
Tom and Rosaleen are very proud of their five children each of whom went on to have very successful careers in their specialist fields.
Dr Hardiman was a firm believer in further development of the Europe-Asia relationship through education and research as well as business and commerce. He was always willing to provide us encouragement and support for our own academic initiatives and efforts to look after UCD students and researchers with curiosity and interest in Japan.
The UCD Japan Group and the UCD Centre for Japanese Studies would like to express our deepest condolences to Dr Hardiman's family, and sincere gratitude to his generous and genuine support and kindness over many years.
Ar dheis Dé go raibh a anam / ご冥福をお祈り申し上げます。