Special Online Lectures, Spring/Summer 2020
April - July 2020
During the Covid19 lockdown, the UCD Centre for Japanese Studies (UCD-JaSt) co-hosted two online special lectures.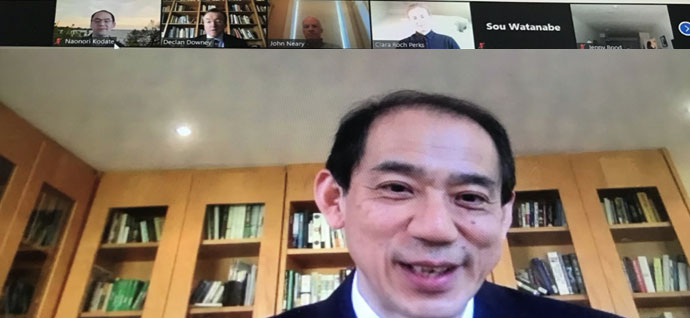 On 15 April 2020, H.E. Ambassador of Japan to Ireland Mr Mitsuru Kitano gave a special lecture entitled 'Ireland's Neutrality Policy and Japan's Alliance Policy' as part of Dr Downey's Module "Rise, Fall, Rise of Modern Japan" in the School of History. The students and Ambassador Kitano had lively Q&As and discussions, covering historical relationships between Ireland and Japan, and Japan's place in the present world. Our sincere thanks to Ambassador Kitano for his very insightful lecture!
On 3 June, Assoc. Prof. Kodate and Ms Ijichi gave a special lecture on "From the Outside Looking in: Life in Japan and Ireland".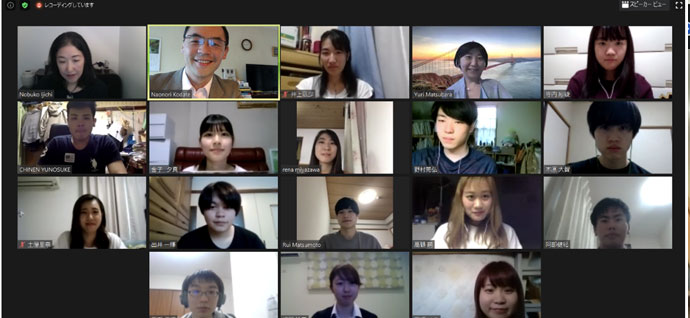 The 2nd year students specialise in business and commerce at Meiji University, and are all members of Prof. Matsubara's study group. This is an ongoing collaboration between UCD Centre for Japanese Studies (U-JaSt) and Meiji University, and we have plans to hold several Zoom meetings throughout the summer. Assoc. Prof. Kodate will also give a special lecture on 'Robotics-Assisted Social Care in Japan, Ireland and the World' in August.