Study Tour: Japan College of Social Work
Sept 2019
Three undergraduate students from the Japan College of Social Work (日本社会事業大学 / Nihon shakai jigyō daigaku), together with two academics visited UCD on their very first Study Tour abroad between 3-11 September 2019. The Social Work Unit in UCD School of Social Policy, Social Work and Social Justice & UCD Japan Group facilitated their visit.
Testimonials – excerpts from two of the three students' letters
Ms Yuka Noguchi, JCSW
I took part in the Study Tour organised by my university and visited various facilities in Ireland in September 2019. We also participated in research seminars on social welfare, robotics-aided care for older people. I was able to find differences between Ireland's unique approach to welfare and Japan's by attending this Study Tour.
I decided to participate in this tour because I wanted to compare social welfare services and facilities outside Japan with those in Japan, and obtain new insights into these issues. Certainly, while staying in Japan, you can find out about the situation overseas, but by actually visiting and seeing the country and facilities with my own eyes, I wanted to experience and understand what I would feel, when I visit and speak with frontline practitioners in person.
(…) amongst many places we visited, one place that left me with lots of impressions was Tusla, the Child and Family Agency, established in 2014. I was particularly surprised when I discovered the difference between the problems surrounding children in Japan and Ireland. In Japan, there are many cases of non-attendance, but in Ireland there seems to be no such problem.
(…) This time, I also visited the National Rehabilitation Hospital, and met with academics in Social Work in UCD. And I found a common feature in all facilities. A job title and hierarchy did not seem to be an obstacle to smooth and friendly communications. Even when the title of a person was very high, he or she was very frank and nice when talking with other staff members. (…) Of course, differences across cultures and systems exist. But in every country and context, a person who delivers services would make a difference. I would like to have the 'heart' to accept anyone regardless of his/her status in society. Keeping in mind that organisations and groups should be 'teams', I will continue studying the subject - social welfare.
Ms Nanase Sato, JCSW
During this Study Tour, we were given the opportunity to visit UCD, Tusla, National Rehabilitation Hospital, Royal Hospital Donnybrook, the Lafcadio Hearn Memorial Gardens and two academic seminars in UCD and Tramore's Coastguard Cultural Centre.
(…) UCD is Ireland's largest university, providing courses in social work and social policy, with more than 1300 professors and more than 22000 students. At the admission stage for entering UCD (Social Work Professional Masters' Programme), life experience is also taken into consideration as a criterion for studying social work, which is different from my university. There is also a PhD programme here in UCD targeting people with experience as practitioners. Social work seems to be much more valued in society in Ireland than in Japan.
(…) NRH is the only rehabilitation specialist hospital in the country established in 1916. Rehabilitation treatment is provided to patients with disabilities or dementia due to illness or injury. When we visited, we found a high-tech gym where sports equipment and temperature management were used, and we were informed that some Paralympics athletes use their facilities. (…) I learned about the great value of NRH to so many people, and that many patients have to wait for a few years before they can get an appointment at NRH. (…) My visit to Ireland on this Study Tour has been a valuable and fulfilling experience for me and my future career. Thank you very much for the opportunity!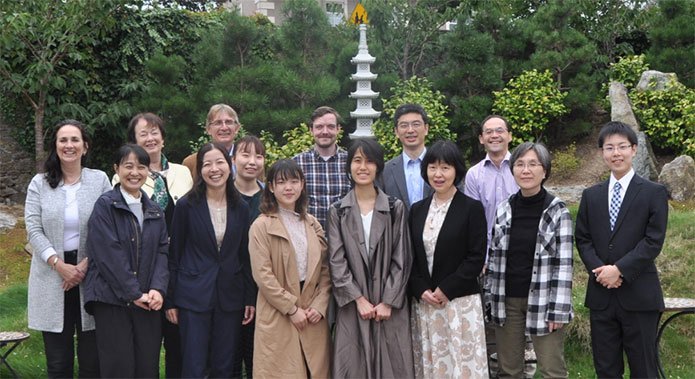 (At the Lafcadio Hearn Memorial Gardens in Tramore, Co. Waterford just before departing. Special thanks to Anne, Jürgen, Ms Aylward & Kevin)

UCD Japan Group also would like to thank Social Work colleagues in UCD, the teams at Tusla, NRH, RHD, WIT, Lafcadio Hearn Memorial Gardens and TCCC, and all the people who kindly spent time for this Study Tour!