UCD Japan (School of Social Policy, Social Work and Social Justice) welcomes intern student from the University of Tokyo (Faculty of Engineering)
Sept 2019
UCD Japan / School of Social Policy, Social Work and Social Justice welcomed an intern from the University of Tokyo (Faculty of Engineering / Welfare Assisstive Technologies Lab) for the month of September 2019. Kohei turned out to be not only a very diligent researcher, but also a very talented accordion player who loves Irish music and dancing!
Mr Kohei Ikeda, University of Tokyo
I spent a month in Ireland on this Mushashugyo Program (武者修行プログラム), which is a scholarship program offered by the University of Tokyo (Faculty of Engineering), Japan. It is a competitive scholarship program which aims at nurturing future 'global' researchers. Thanks to my supervisor Prof. Nihei (UT) and Prof. Kodate, who accepted me as an intern, I was able to have a meaningful experience in Ireland and in UCD.
My research is concerned with assistive technologies, especially social assistive robots such as Pepper and I am also interested in the care for older people in Europe. So, it was nice to come to Ireland and visit hospitals, care facilities, or research institute. I visited St. Vincent University Hospital, St. Joseph's in Shankill, TILDA in Trinity College and many more. There I found many issues and problems people here are interested in. It has expanded my view and horizon in relation to my own research.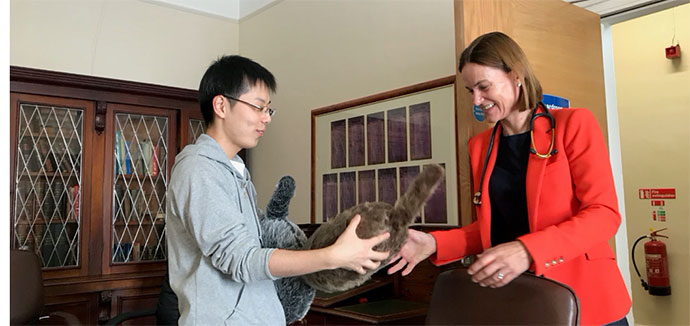 (With Medical Director of RHD, Dr Lisa Cogan & Qoobo)

I also had an opportunity to speak at two seminars, "Technology-supported Community Care in Japan and Ireland" in UCD and another in Tramore. I was able to share interesting findings from my research while exchanging views and having lively discussions.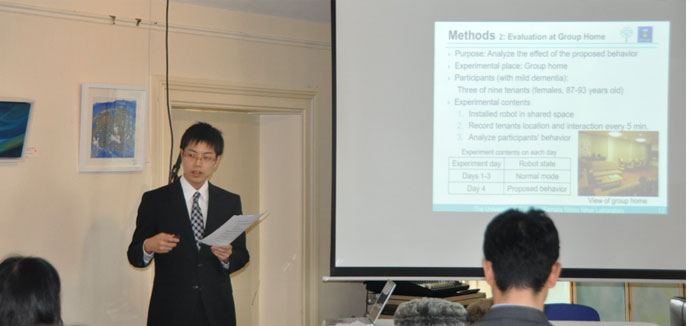 (Presentation at the JSPS-funded UCD-Chiba University Joint Seminar in Tramore Coastguard Cultural Centre, Co. Waterford)
Besides, I found it meaningful to meet and talk with people. It made me think about a possible international career as a researcher and living in a foreign country outside Japan. At the time of my internship, I was contemplating my international business and academic career, so it was very timely and of much help to me.
As well as enjoying the academic side of Irish life for one month, I also enjoyed the cultural side of this country such as traditional music and dancing. It was such a wonderful experience that I will never forget. I would like to thank all the people I met, especially Dr. Kodate and the hosting unit for helping me and for the interesting discussions on a career and living in foreign country.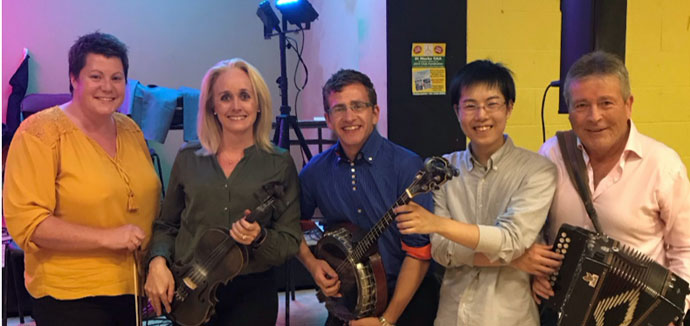 (With my musician friends)