UCD MBA student (Manager, Japan Women's Sevens) featured in the Financial Times (13 February 2022)

Akane Kagawa (the Japan Rugby Football Union) discusses her time in Ireland and and why she decided to take on MBA in UCD
Akane is a team manager of the Japan women's national rugby sevens team, and currently undertaking her MBA study at the UCD Smurfit School of Business.
In 2015, Ireland hosted the qualification tournament for the World Rugby Sevens women's series at the Belfield Bowl, the University College Dublin stadium. She came back in 2017 to support the Women's Rugby World Cup (hosted by Ireland).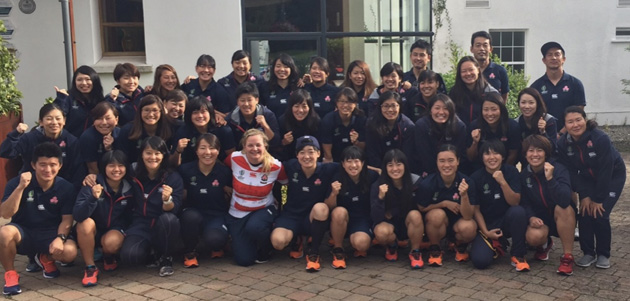 (Photo: courtesy of Akane-san)
The link between her team and UCD was made through the Experience Japan Taiko Team, led by Ms Nobuko Ijichi, and when UCD Michael Smurfit Graduate Business School was looking for women from Asia to join its full-time MBA programme, the UCD Japan Group came together to reach out to her.
You can read the article in full on the following link (at the bottom of the page), but as the article refers to, her proudest moment was in 2016, when the Olympic Games included rugby sevens for the first time, and the team went to Rio de Janeiro.
(Photo: courtesy of Akane-san)
Wishing Akane the best of luck for the rest of her course in UCD, and also her team every success in the future!
"A rugby team manager's conversion to MBA student - Akane Kagawa's passion took her to Dublin and a degree she will use to promote the game in Japan" (Financial Times, 13 February 2022)
https://www.ft.com/content/d05a5ff8-4c37-4b54-aea8-d587b2662472