UCD nominee won the MIRAI Program Scholarship 2019 (Science & Technology)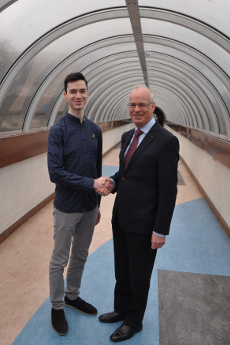 The UCD Japan Group is delighted to announce Mr Cillian O'Brien (3rd year Chemistry) will be taking part in this year's short-term youth exchange program, supported by the Japanese Government. The program is designed for young leaders across the world who are expected to play an active role in international society, and provides opportunity for them to have intellectual exchanges with Japanese students of same generations and scholars. The program has been running since 2015, and this year, for the second time, a UCD student was given this exciting opportunity. Due to the increasing demand and popularity, this time there was a two-layer competitive selection process. First, there was an internal selection process managed and overseen by the UCD Japan Group, and then the Embassy of Japan in Ireland has chosen Cillian as Ireland's best candidate from all the nominees put forward by Irish Higher Education institutions. His excellent academic record, well-written statement of purpose, and passion for learning about Japanese culture, music and language have been noted by the judges. He will represent the country. Well done, and congratulations, Cillian!
Overview of the Program: The Ministry of Foreign Affairs of Japan – MOFA for short, supports the "MIRAI Program" which is a short-term youth exchange program to invite 180 graduate / undergraduate students & young professionals from Europe, Central Asia and the Caucasus. The program aims to deepen participants' understanding of Japan and its policy, to promote mutual understandings and build a basis for future friendship and cooperation between Japan and their regions. The program is entitled as the "MIRAI Program" with the Japanese word MIRAI (pronounce like / 'me-rye') which means "Future". The program will see one Irish student selected to travel to Japan for a week to participate in a series of workshops, site visits and seminars with students from all over the world. Flights from Ireland to Japan, accommodation, food and travel expenses within Japan will be paid for by the Japanese Government for the duration of the trip.