Welcoming Mr Naoki Furukawa MP (House of Representatives, Japan)
September 2022
Together with this year's Auditor of the UCD ese Society, UCD-JaSt members welcomed Mr Naoki Furukawa MP (House of Representatives) from Japan on Friday 2 September 2022 in the UCD Research (Impact Room).
Dr Kodate was contacted by the Embassy of Japan in Ireland, and asked to welcome a Japanese politician (a member of parliament and also a member of the Japan-Ireland Parliamentary Friendship League), who was visiting Ireland. The reason given was that the Centre is the most research active unit in Ireland (in the area of Japanese Studies).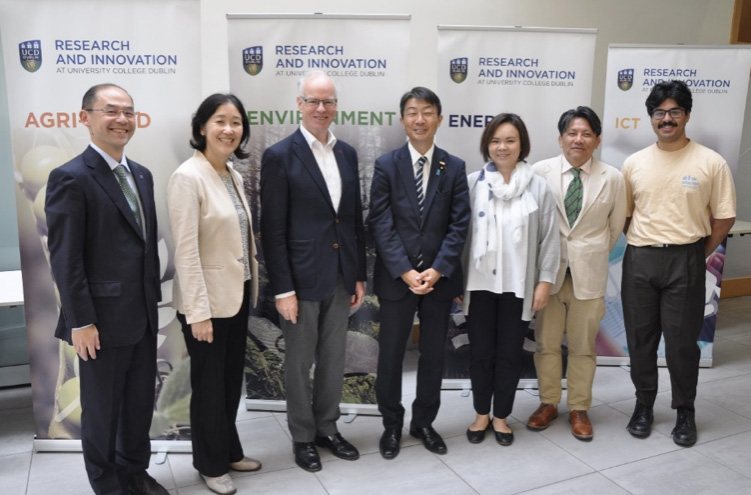 Ireland's longstanding diplomatic links with Japan (dating back to the 1950s) are strong and have recently gained new impetus from the government's Global Footprint 2025 Strategy (and of course the challenges of Brexit). On the 20th of July 2022, Taoiseach Micheál Martin TD and Japan's Prime Minister Fumio Kishida issued a joint statement "Taking Forward Partnership with Shared Ambition", which outlines a roadmap to strengthening ties between Ireland and Japan over the next number of years.
The JaSt members (including our School's affiliated researchers and PhD student: Adjunct Prof. John Neary, Prof. Iwao Osaka, Nobuko Ijichi) outlined the activities and achievements of the Centre, and its future plans. Mr Furukawa's particular interest is in secondary and tertiary education in Ireland, and he had a meeting with senior officials at the Department of Education, while visiting a few secondary schools in North Dublin and Wexford during his three-day visit.