Simon Harris thanks universities for playing their part in addressing industry demands and future skills needs
Minister Simon Harris visited University College Dublin yesterday where he spoke about the importance of academic experts and industry leaders working in partnership "to deliver a response to Irish industry's needs", citing micro-credentials as a key player in addressing those demands.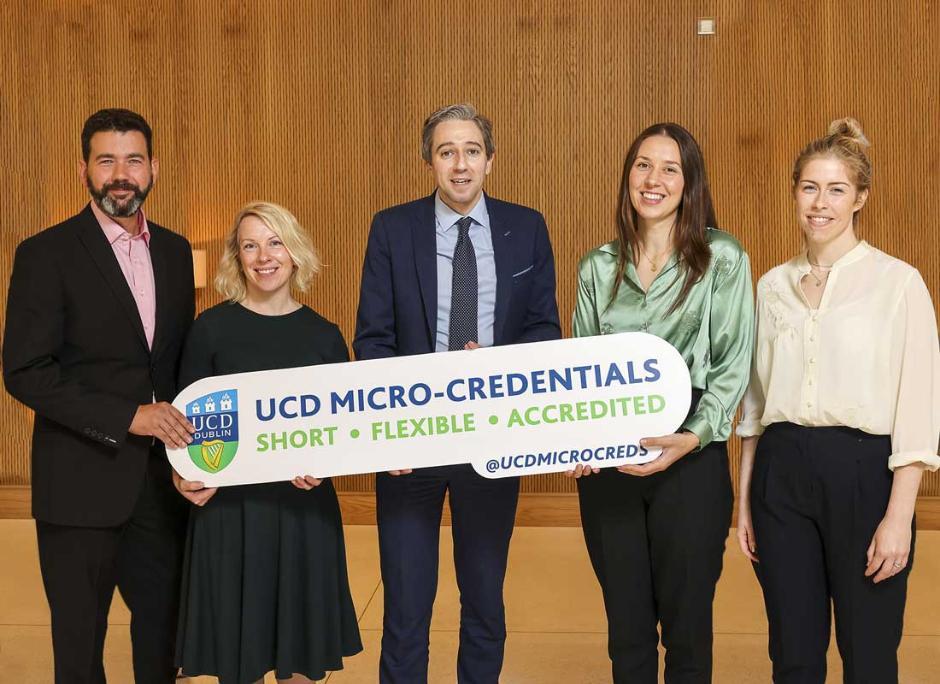 From left to right: Prof. Jason Last (UCD Dean of Students), Sorcha Mulcahy (UCD Micro-credentials Project Manager), Minister Simon Harris, Sophie Bonheim (Senior Marketing & Communications), and Dererca Ní Chianáin (Educational Technologist).
Minister for Further and Higher Education, Research, Innovation and Science, Simon Harris, visited University College Dublin on Monday to thank universities for the important part they play in addressing future workforce needs and industry demands.
Speaking at the Advance Centre, the Minister commented on the importance of lifelong learning, "Learners come at all ages and more and more as we embrace lifelong learning, as we try to respond to digital transformation, as we try to respond to the climate emergency, more and more people are going to need to dip in and out of education and they are going to need to be able to access it in a way that works for them and in a way that often works for the industry in which they are employed."
He commended collaboration between universities, and highlighted the work being done by higher education institutions around micro-credentials, RPL, flexible learning, and the recognition of the non-traditional learner.
Lastly the Minister thanked Irish universities; "I would like to take this opportunity to thank and commend University leaders at every level who are developing, delivering and addressing industry's future skills needs."
UCD Micro-credentials are being developed with support from the IUA-led MicroCreds project, funded via the Government of Ireland's Human Capital Initiative.
With MicroCreds, Ireland will be the first country in Europe to develop a national framework for micro-credentials. Micro-credentials are short, accredited courses developed by leading academics, that provide flexibility for professionals, and those with a busy schedule, who may find studying full-time difficult.