Posted 11 June 2013
UCD medical and nursing students first to graduate in new robes
The new colour and design UCD graduation robes have been worn for the first time at a graduation ceremony at University College Dublin.
Over 200 graduates, mostly medical and nursing graduates, wore St Patrick's blue and saffron, the traditional sporting colours of University College Dublin dating back to 1910 which have been adopted for the graduation robes, to receive their degree awards.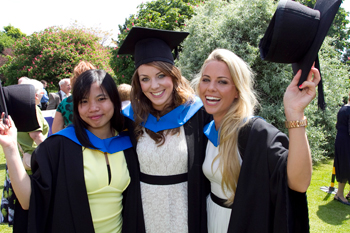 Pictured above: Medicine and nursing Students Nore Dilaishak, Aoife Haughey and Andrea Bowe celebrate their graduation at UCD
Pictured far right (l-r) : UCD Medicine graduates Niamh Crotty, Philip Soden and Stephanie Rutledge
Two honorary degrees were also awarded by UCD at the graduation ceremony which took place on 06 June 2013.
Tom Lynch, a qualified accountant, who worked extensively in the US and Europe for KPMG, and who as Chief Financial Officer of Élan in the 1990s helped transition the company from a relatively small speciality drug delivery outfit into a major biotechnology company, has been awarded an Honorary Degree of Doctor of Science.

Pictured with Dr Hugh Brady, President UCD were left; Tom Lynch and Prof Charlie Serhan
"While working for KPMG, GPA and Jury's were among his 'big' clients but it was when he began to work with Élan and Icon that his interest in the pharma sector really blossomed," said Professor Bill Hall, UCD School of Medicine and Medical Science, who read the citation.
"Tom became Chief Financial Officer of Élan in 1993 and during the next decade, helped transition the company from a relatively small speciality drug delivery outfit into a major biotechnology company."
"Tom continues to be involved in a number of pharma corporations across Europe and the US. His knowledge and expertise has led him to become associated with a number of academic institutions."
"This includes Board Membership of the Institute for Human Virology in Baltimore, USA and Chair of the Board of Molecular Medicine Ireland. Molecular Medicine Ireland is a collaborative entity involving University College Galway, RCSI, University College Cork, Trinity College Dublin, and UCD and their associated academic hospitals."
"This has allowed a research partnership to accelerate the translation of biomedical research into improved diagnostics and therapies for patients. Tom as Director of the Board has played a major role in this process," said Professor Hall.
Tom Lynch was invited by UCD President Dr Hugh Brady to Chair the Dublin Academic Medical Centre, a partnership between UCD School of Medicine, The Mater Misericordiae University Hospital and St Vincent's Healthcare Group.
He has also become deeply involved in the UCD Foundation and has also made personal contributions to major UCD fundraising campaigns such as the UCD Science Centre.
The second honorary award of a Degree of Doctor of Science was presented to Professor Charlie Serhan, who under the mentorship of the legendary Michael Heidelberger, one of the founders of quantitative immunology, and Gerry Weissmann, published an original PhD thesis work that demonstrated the principle that different cell types of the immune system can speak to each other, acting in sequence to generate distinct signals; a process called transcellular biosynthesis.
Professor Serhan has published over 450 papers in the elite scientific literature. He is a professor at Harvard University and at MIT and Director of The Centre for Experimental Therapeutics. He is an inventor or co-inventor on 350 patents.
"Like all great scientists, Charlie Serhan's legacy is not restricted to his own discoveries," said Professor Catherine Godson, UCD School of Medicine and Medical Science who read the citation.
"Even more important are his generous contributions to collaborators and colleagues, research fellows, Post docs and PhD students. Charlie has trained successive generations of scientists and physician scientists who have been inspired by him and have benefitted greatly from his support over the years. These even include a President of University College Dublin who was a fellow in his lab some twenty years ago."
"Charlie gives generously of his time in support of research endeavours internationally. He sits on the Scientific Advisory boards of research institutes in the US, Canada and the UK.
He is a founder of the biotech company Resolvyx. His wise counsel was greatly appreciated a decade ago when The Conway Institute was being established here at UCD," added Professor Godson.
(Produced by UCD University Relations)