UCD spin-out Equilume targets US market with innovative horse breeding technology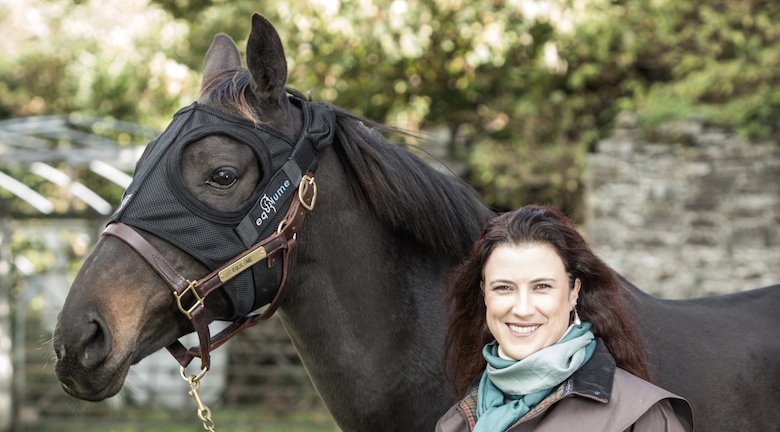 Posted 25 September 2015
An expansion to the sales and marketing team of the UCD equine technology spin out has been announced. These new additions will facilitate the acceleration of sales of the Equilume Light Mask to the Thoroughbred and Quarter Horse market in the United States.
The mask is a novel automated mobile lighting device that fits comfortably under the horse's head collar. It provides the optimum level of blue light to a single eye of a mare. This advances her breeding season and prevents long gestations to ensure reproductive activity in early foaling mares.
Breeders who use the technology can expect to make savings of €1,000 per mare. This is due to the mask removing the necessity to keep non-pregnant mares indoors under artificial lighting. It is also being used to help pregnant mares foal on time while optimising foal birth weights.
Equilume's two new sales and marketing executives, both UCD Animal Science-Equine graduates, will now dedicate their efforts to Kentucky, Texas, Oklahoma and California markets. Their hiring brings the company's total workforce to nine.
The mask was developed as a result of groundbreaking research carried out by Dr Barbara Murphy in the UCD School of Agriculture and Food Science. Collaborating with her on the project was Professor John Sheridan from the UCD School of Electrical and Electronic Engineering.
Pictured top is Dr Barbara Murphy, founder of Equilume.
Last year, Equilume secured €550,000 in seed funding from Enterprise Ireland and a number of Ireland, UK, and USA-based angel investors. It has already won a number of awards including Enterprise Ireland's 'One to Watch' and the overall winner at the Newbridge 200 Business Start-up Competition.
NovaUCD is a hub for new ventures and entrepreneurs at University College Dublin. It nurtures and supports new high-tech and knowledge-intensive companies as part of UCD's research and innovation mission. This is achieved through the provision of state-of-the-art incubation facilities and a comprehensive business support programme.
Article by: Jonny Baxter, digital journalist.