PVCR Patient Partner - Tina O'Sullivan
My journey with PVCR
In conversation with Aoife Gordon, undergratuate medical student, UCD School of Medicine
Read time: 16 minutes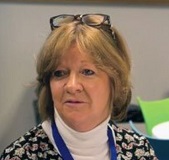 When did you first become involved with the PVCR?
I had the privilege of attending the very first PVCR meeting. Prior to the first official meeting, there was a workshop that was held in the UCD, Conway Institute which included cancer research lab tours.
At the time, I was recovering from a second breast cancer and several surgeries and was struggling with the side effects from treatment. I saw the lab tours advertised and was curious, particularly about Breast Cancer research. I had never toured a science laboratory before, which I found very interesting. After the tour concluded, the patient workshop generated a lot of discussion, feedback and questions from all the patients that attended. I felt at that moment I was not on my own with my thoughts about survivorship, as many patients around the table were describing similar experiences.
I was then invited to join the PVCR committee. At that time, PPI was only being introduced into research. Initially, we didn't really know where we were going with the PVCR. Now, it is just incredible to see just how far we have all come as a group and how it has evolved over the last few years.
Was that your first introduction to research?
I don't have a science background, but I had returned to college to study Occupational Health and Safety where there was some science and research involved. I found it all very interesting to go "behind the scenes" and also to meet and talk to the researchers about their individual projects. I certainly didn't have any understanding of the amount of time involved with research. However, I think now due to the COVID-19 pandemic everyone has a greater appreciation of the importance of research and I feel there is a far greater awareness and respect in relation to the amount of time, expertise and finance involved with clinical trials.
Can you detail your involvement to date?
I have been involved with all the PVCR projects and contributed to the formation of our mission statement for the PVCR. I have attended and assisted at all our workshops and seminars and adjudicated at the IARC Lay Language competition and at a Cancer Research Presentation competition in UCD, Conway. These competitions were a mix of poster and presentation research, but I have to be honest I did initially feel a little out of my depth, but by the second competition, I was a little more comfortable.
I have attended PPI training and I also presented to a group of PHD students about my involvement with Patient Public Involvement. We also give feedback on some research papers when presented to the PVCR and I have attended a number of workshops for researchers.
I am further involved with one of our sub committees – The Charities & Advocate Support Groups. I have been engaging with these groups over the last few years. As a patient, I realised just how vital and important our Charity Support Centres are throughout the country. I asked the PVCR steering committee if we could invite more cancer support groups/charities to our workshops and seminars and have the Charities set up their information stands at these events. I felt it would create more awareness and support to the patients attending the workshops and to spread the word of their wonderful work and services.
Would you know how many charities you have on your database at the moment?
We have probably approx. 80 in total. It's still a work in progress. I have found it very rewarding to contact these charities as they are delighted to be involved at our events and particularly to receive information about the PVCR to pass on to their patients.
We always ask for feedback from the charities on how they felt about the seminars or workshops and if there is anything they would like to contribute or improve at our future events. It's great to have their voices heard, it is so valuable for everyone involved.
I think the PVCR really opened up when we went to Cork as it was our first road trip. It was very different and I think we all learned a lot from the event and seeing the PVCR from a different perspective; also our 'Dragon's Den' event in Galway which was a great success because the patients and Charity Advocate Groups really made a great effort to be there.
I found that as a patient going through treatment, you don't always realise the support and information that is available to you when you are unwell. It can be a real struggle to find support for some patients. The one support I hear mentioned a lot by patients, in addition to psychological supports, is the basic necessity of transport and getting to and from appointments when feeling so sick. Often people automatically assume that you already know that certain supports exist and sometimes patients may not like to ask for assistance.
Subsequently, we then invited the Charities to participate in our workshops, as they represent so many patient voices. To have them involved in the workshops and to give their feedback is particularly important.
Our Database is a work in progress and still growing. With the PVCR roadshow in Cork and Galway it pushed us to look further afield. I was trying to capture all charities for our list and particularly not to exclude the less known charities and to include all communities.
I learnt so much from speaking with the different charities throughout the country, example ; the local charity bus services in Kerry and Donegal having to travel extremely long distances to the Cork, Limerick and Galway with patients on a bus for over five hours. The incredible support these charities rely on from their communities to fund these essential services. There were also smaller charities that were operating out of community centres. They could be organising anything from support services, counselling or even flights to Dublin for their patients, all incredible people volunteering their time throughout the country. Just talking to the groups about what they do and how they got involved was truly remarkable.
What have you learned about patient and public involvement in research since becoming involved?
Where do I start! It can be a difficult question to answer because I have learned so much. Firstly, I didn't realise the complexity or the importance of clinical trials for patients. The extent of research, the difficulty with securing funding for research and the amount of time involved. I didn't fully appreciate how it is so interlinked in so much of our lives without us truly realising the importance of research.
Also, the genuine interest from the researchers in patient involvement, but I think the 'key piece' is to have the patient involved from the very start of the research and not as an addendum or an afterthought. I think it will then be more rewarding and worthwhile for both parties. I believe it is still in the early days, we still have a lot to learn, but I think with education, training and awareness it should be very beneficial for research.
"It's encouraging from a patient's perspective to see the researchers wanting to connect with the patients and interested to hear our voices, which was very surprising to me at first; I suppose it's like a jigsaw and we are all part of the puzzle".
You know, looking back on the patient perspective, a certain phrase comes to mind "Do nothing about me, without me". It might be slightly overused in PPI, but it just says everything really.
We need to work together to break down the barriers of misconception that are out there. I do think there are a lot of misconceptions from both sides, from the Patient to the Researcher. Often many patients are afraid because they hear the words "clinical trial" and they think "oh what's that?".
It is also essential for researchers to remember that this is a very 'personal and somewhat private' experience for patients. It is vital to be careful about what you say to the patient and how you say it. By developing a mutual trust and a safe place for the patient is particularly important as it can be very emotive. The Researchers should be prepared for that and perhaps to arrange relevant supports where necessary.
I was very apprehensive when I started with the Patient Voice, sitting around the table with scientists and researchers, I often wondered why I was there!! I quickly realised that I did have a place at the table and the voice was just my own experience. We all have a place at the table, the tapestry is incredible, as each patient is so different with so much experience to offer. Occasionally at the meetings there were topics being discussed and I would have to say "I haven't a clue what you're talking about", it would be quickly explained to me, but it did take some getting used to – for all of us.
There are many professional terminologies and language is so important, but with PPI research it is important to keep to 'plain language' in general terms as much as possible. I understand for research purposes scientific language is important, but to have a piece from patients giving their feedback openly in their own words can be a very powerful tool. I believe it is also important to look at research holistically because there is a real person at the end of this research, and it is going to affect them.
From my own personal experience and the ongoing negativity in our health system, I thought "Wouldn't it be great to contribute something positive by giving some constructive feedback and hopefully benefiting patients into the future" Over the years, I have heard many patient voices and I hope at the PVCR meetings and workshops I speak with a collective voice.
Did you find it easy to access information during your treatment when you needed it?
No, not at all on many fronts, not compared to what is available today. I set off years ago looking for explanations and for information. I was very fortunate to have a brilliant Radiation Oncologist who gave me some published papers/research to read at the time. I will always be very grateful to him for his consideration and understanding and to my very supportive doctor. I spent a lot of time writing to researchers in search of a solution to my side effects and discovered a lot in the process. I also think sharing information between the hospitals and clinics is extremely important.
The NCCP and the Irish Cancer Society carried out research last year and put together reports about the 'Unmet Needs of Cancer Survivors in Ireland, A Scoping Review 2019" and "Survivorship and Childhood Cancer, Health needs assessment, 2018". The NCRI are also planning a questionnaire to go out to 10,000 patients and carers on Survivorship. Thankfully, there is some recognition now that survivorship and quality of life is being acknowledged, as more and more people are living with and beyond cancer and survivorship is receiving the recognition and inclusion it deserves. However, I think it will be several more years until it is truly embedded in our medical systems. I think for other chronic illnesses this issue needs to be addressed right across the medical board.
This point is really about the importance of 'sharing information' and maybe having something central that all parties including researchers could tap into. You could also have a general centralised register with a section for patients who have expressed an interest in research. People want to make sure that the information they receive online is credible, factual and scientifically correct. Dr. Google is not a good option, but unfortunately, we are left with no other option at times! It would be great if we had a credible central platform for all this information as it would be so beneficial for patients.
Something else that I would like to see is a National Hospital Patient Database. I attended many different hospitals over the years and found that I could have the same scan/test more than once. You are constantly repeating information about yourself, because of the lack of information sharing between the hospitals. I feel this is wasted time, money and resources and a missed opportunity. Non-compatible IT systems for such a small population is non sensical. I heard a top ED specialist call for such an IT system during the heart of the COVID-19 crisis. The Consultant advised it was now vital to have a shared system in all our hospitals. I think this a golden opportunity when reviewing our overall medical systems due to COVID, to ensure that this is addressed. It would take so much pressure off the medical system, avoid duplication, be cost efficient, improve patient care and assist all medical staff.
There is a need for a long-term survival plan post treatment. After treatment, patients can feel a huge void when they leave the hospital system. They may have multiple issues from treatment and do not wish to burden their doctors. I have seen these gaps in patient care over the years. You leave the health system with no plan and after a few years some patients think "I'm fine, I don't have to go back to the hospital". It is so easy to miss the importance of continued surveillance or not understand or be informed about the late effects caused by treatments and some surgeries. I was very excited when I heard about Dr. Cathriona Kearns incredible research for a 'Breast Cancer Survivor's Treatment Plan". I was more than pleased to participate in Cathriona's PVCR Virtual 'Dragons Den' Workshop. I am hoping that after all Cathriona's great work it will come to fruition in the near future, as it could be so beneficial to patients.
Genetic Testing, I feel there is an overall lack of public knowledge and awareness of hereditary cancers and lack of data in Ireland. There are lengthy waiting lists for testing (over a year in some cases) with stressful long delays for preventative surgeries, no psychological supports for patients, other than for the wonderful Charities and in particular, The Marie Keating Foundation who set up a peer to peer support group and also hold annual information seminars for the BRCA Community. Our fears now with COVID there will be more set backs for BRCA patients.
All Cancer Screening Services play such a vital role for all the public and the impact of COVID and diagnostic delays will have serious consequences for all these vital services who were already stretched before the COVID pandemic.
Lymphoedema – Lymphoedema is a chronic disease with an estimated 12,500 people in Ireland affected by this condition and it is all about prevention and early detection. There is no consistent treatment standards being used in Ireland and very limited education in our healthcare system. Lymphoedema Ireland is a voluntary support group which hold yearly information seminars for patients and have been campaigning extremely hard over the years to the HSE for better services. There are physiotherapy services in some hospitals, but it is very limited and not consistent or standardised throughout the country. Most patients have to travel to a specialist clinic overseas for their treatments which is very costly.
Psychological support systems should be included in a patients overall care. This seems to be only provided by the Cancer Support Charities. Emotional and psychological effects can have a huge impact on the patient, their family and carers and this should be an integral part of your overall care.
Physical Exercise Rehabilitation Programmes: I was very fortunate to be told by my Uncle who was recovering from surgery about a wonderful medical exercise programme in DCU. I was struggling after many surgeries and I found this programme to be so beneficial in many ways. Some of us had to travel a good distance to attend and I have always felt it would be great if they could replicate similar programmes across all our communities.
What personal value have you gotten from your involvement?
For me, the personal value comes from the satisfaction of being involved as a patient and passing on my experiences in hope that I am assisting the researchers in some way for the benefit of patients into the future.
I hope that I am bringing some clarity to the voice of the patient experience. I am speaking not just with my own voice, but with the voices of others whom I have talked to along the way. I am hoping for improvements in relation to Survivorship for adults and children.
I have met some wonderful people throughout this experience and I have made many connections. We have a lovely group of people all working together to make a difference for the PVCR. I would like to give a special mention and big thank you to Prof. Amanda McCann, Elaine Quinn and Barbara Hughes for their never ending drive, guidance and continuous hard work with the PVCR.
On a personal level, when I was diagnosed with the BRCA1 gene there were no support groups in the south and it was through a connection with the PVCR that I heard about BRCA Link NI, which was invaluable to me at the time. Thankfully, since then the Marie Keating foundation have set up a Peer to Peer support group in 2019 and hold annual information seminars supporting the BRCA community.
I was told by another PVCR member about OvaCare a wonderful Ovarian cancer support group. Through this group I got involved with another wonderful Public and Patient involvement group, ISGOPPI (Irish Society of Gynaecological Oncology) and I have attended their talks, workshops and seminars. Another PVCR member, Pat Fahey went on to set up Lynch Syndrome Ireland. It is wonderful to see the awareness that Pat has created for the Lynch Syndrome patients.
Being involved with the PVCR has on many occasions, pushed me out of my comfort zone, which I have found very positive. However, there was never any pressure to participate, particularly if you were not feeling up to it and always very considerate. Most of the interaction is online which gives you the opportunity to participate and respond in your own time. Now with COVID, all our meetings are on Zoom, which makes it easier to participate.
Would you encourage others to get involved?
Oh, yes definitely! But I do realise that it is essential to know how and when to invite the patient into the environment of PPI and that can be the real challenge. I have heard this question discussed at so many workshops, it is practically impossible to answer, as it really depends on the individual patient and where they are on their journey.
I think I came upon it at the right time, as I was out there searching for answers. At the same time, I think it would be good to give patients the option, as they can always come back to it at a later stage and perhaps not while they are going through treatment. It may not be for everyone, but I have to say it can be very rewarding for both the patient and the researcher.
Again, I think to try and connect with the researchers and patients and break down those barriers is important. Some patients may think that it is all very science based, and it's not for them, but to remember it's about you and your own personal experience that is important.