Joanne O'Dwyer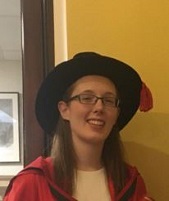 Biography
Name: Joanne O'Dwyer
Job Title: Postdoctoral researcher
Organisation: NUI Galway
Contact: Joanne.odwyer@nuigalway.ie
Project Title: ImmunoCell: Targeted Delivery of Natural Killer Cells to Improve Outcomes in Ovarian Cancer
Research Outline
Ovarian cancer is the most lethal gynaecological malignancy; five-year survival rates for such advanced patients are less than 30%. Despite this, the symptoms are not easily identifiable in most women with advanced ovarian cancer.
New treatments for ovarian cancer are urgently required. Most treatments, such as chemotherapy, are delivered by injection. But it is difficult to achieve a high enough concentration at the target site while avoiding toxicity.
Resistance to traditional treatments has emerged, leading to the development of a new device called ImmunoCell. Medicines injected through the port in the skin would travel through tubes to the reservoir and be delivered directly to the tumour site. The device design would allow it to be unblocked with a microcatheter should patients experience blockage.