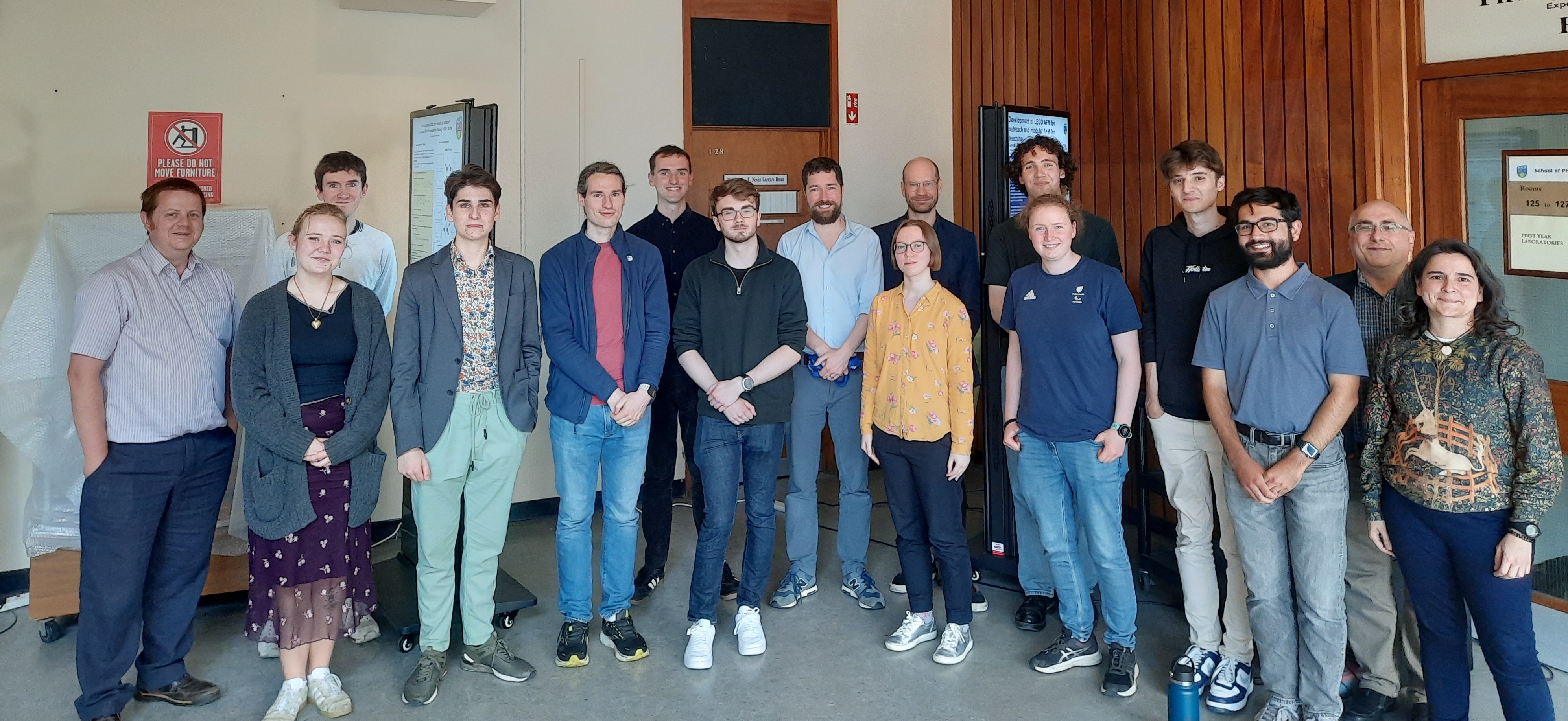 Summer research students in UCD Physics
July 2023: Ten undergraduate students who have been working in UCD School of Physics on summer research projects, presented their results to staff and students at a poster session on July 20th. Their work spans the gamut of research in the department, ranging from medical physics and theoretical condensed matter, through to astrophysics and science communication. Studentships have been supported by the School of Physics and UCD College of Science.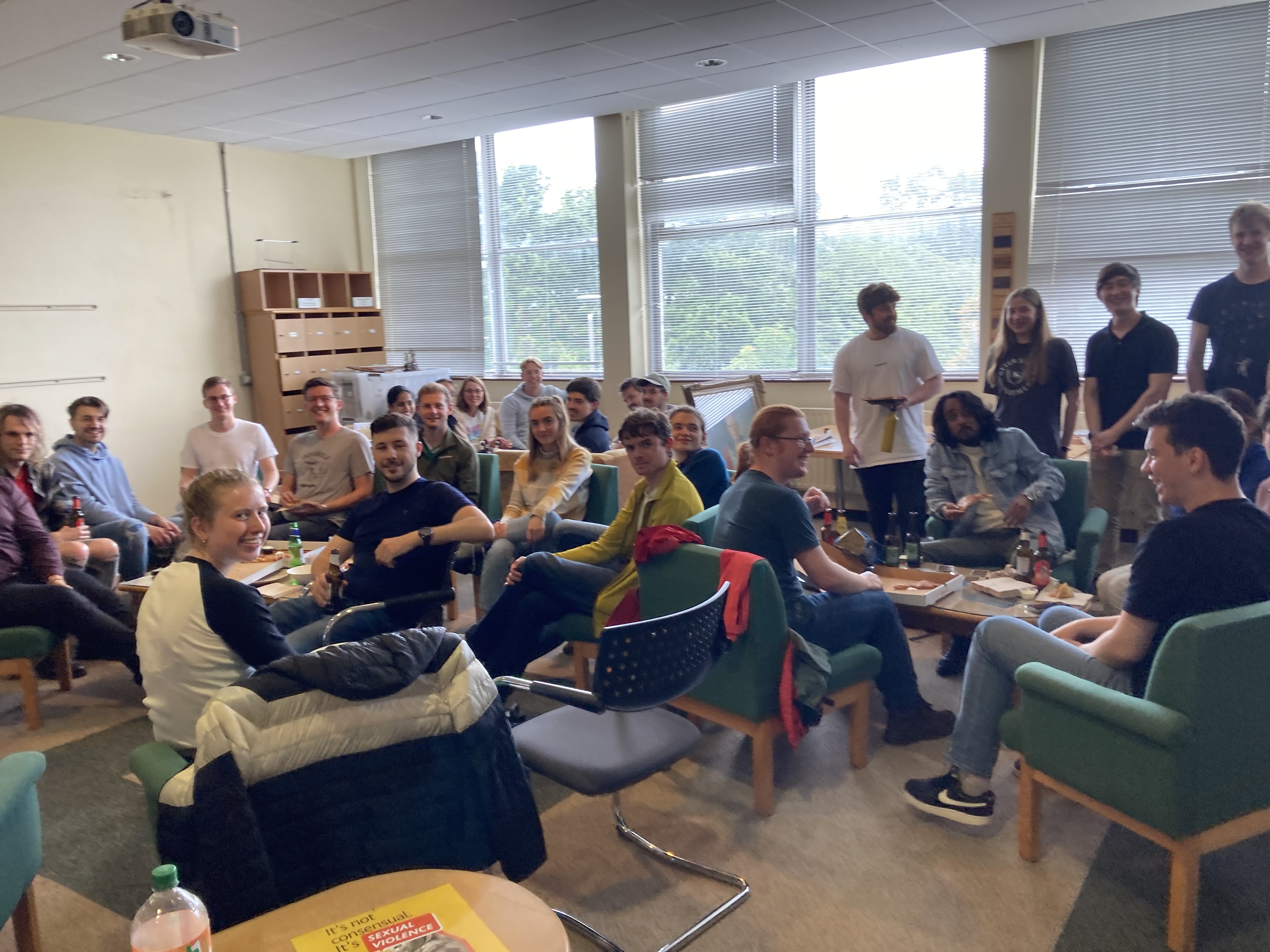 A Diverse Farewell to Science North
July 2023: On Friday 14th July 2023 UCD School of Physics hosted an EDI social gathering for all; staff, postgrads & Summer Interns. The event was hosted by PhD reps Conor and Kirsten. A diverse flavour of 40+ attendees enjoyed our pizza and drinks event, marking one of the final school events to be held in our Physics common room in Science North. Many called by briefly to say hello and support the event.

Though the common room was looking a little bare due to the move to Beach Hill it was great to get everyone together and squeeze another common room event in before we all move for good.

Thanks to everyone for coming down and I hope to see ye all at the next one.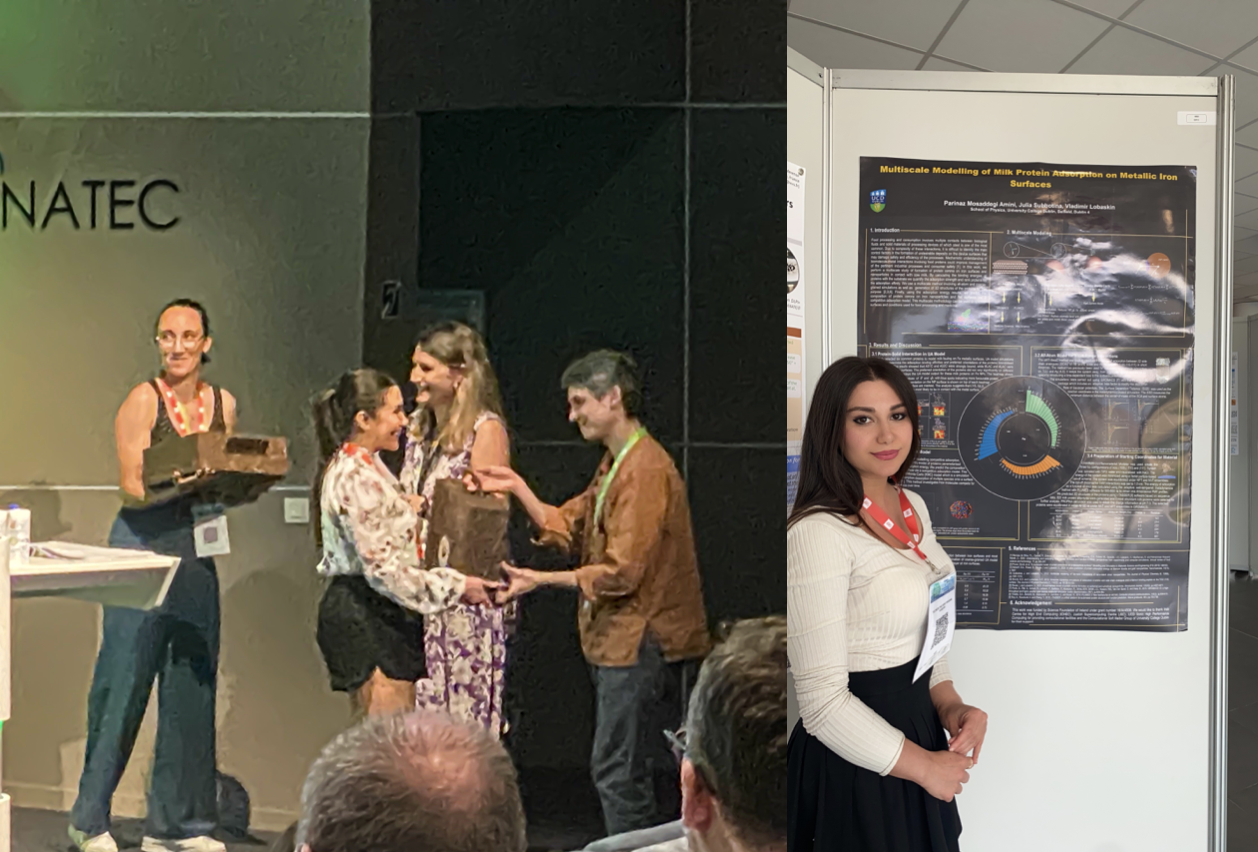 Best early career research poster at the nanoSAFE 2023 & NanoSafety Cluster joint conference
June 2023: Parinaz Mosaddeghi Amini received the Best Early Career Research Poster award at the nanoSAFE 2023 & NanoSafety Cluster joint conference program in MINATEC , Grenoble, France for the poster titled: "Multiscale Modelling of the Milk Proteins Interaction with Iron Surfaces"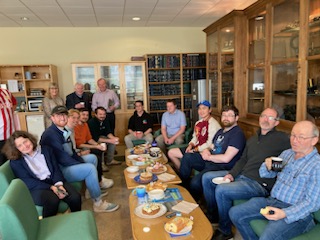 Intercultural Cake Friday
May 2023: On 19th May UCD Physics welcomed 45+ students & staff to our Intercultural Cake Friday in the School of Physics Common Room. Entertaining event to celebrate our diversity & enjoyed by all!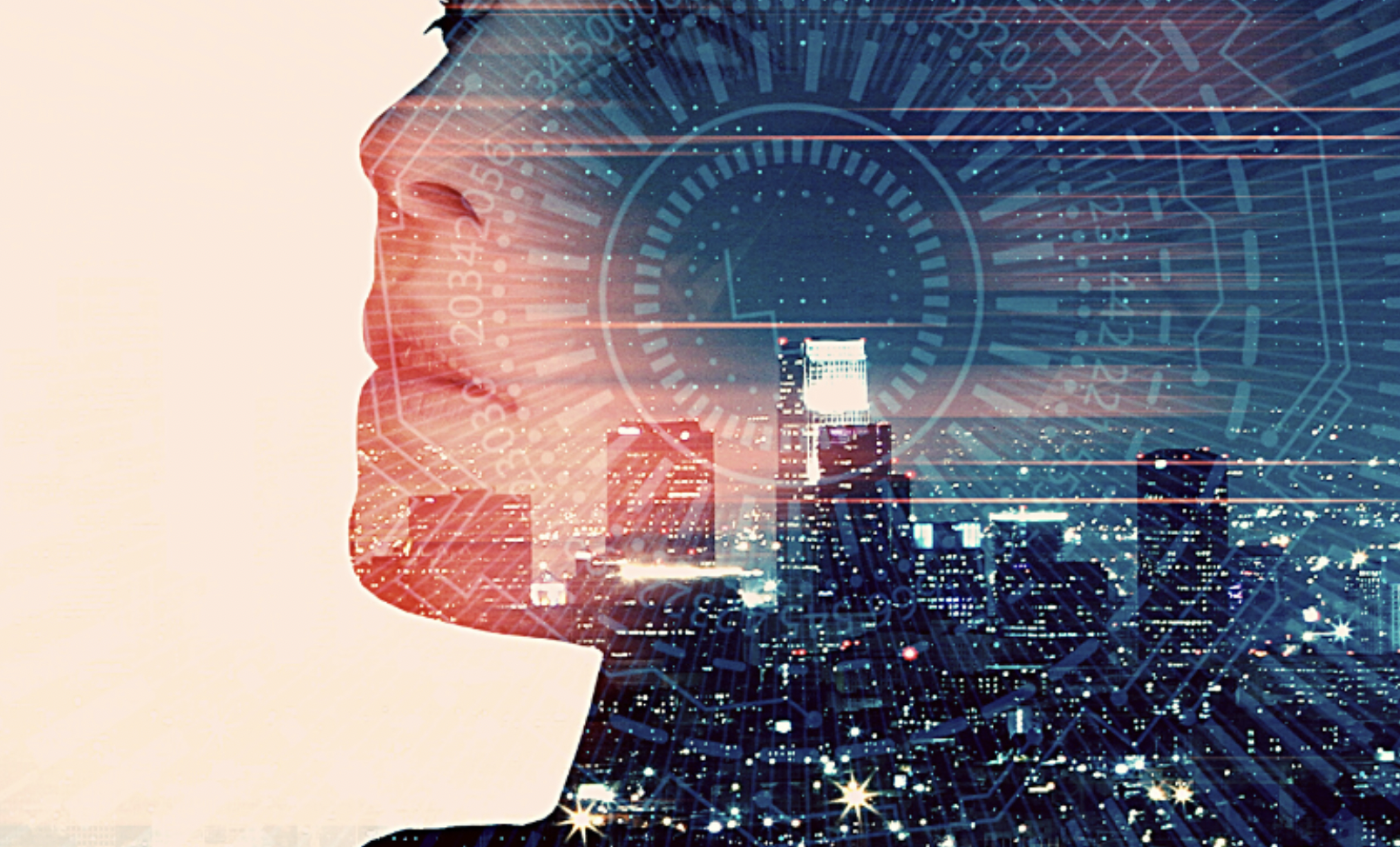 Dr. Colibaba awarded Best Invited Talk at It's Her! Women in STEMM Summit
March 2023: Postdoctoral researcher Dr. Anais Colibaba was awarded for the Best Invited Talk at It's Her! Women in STEMM Summit in Trinity College Dublin.

Her presentation "In silico characterisation of materials" described a new methodology of prediction of hydro- and lipophilicity of materials using atomistic modelling and machine learning.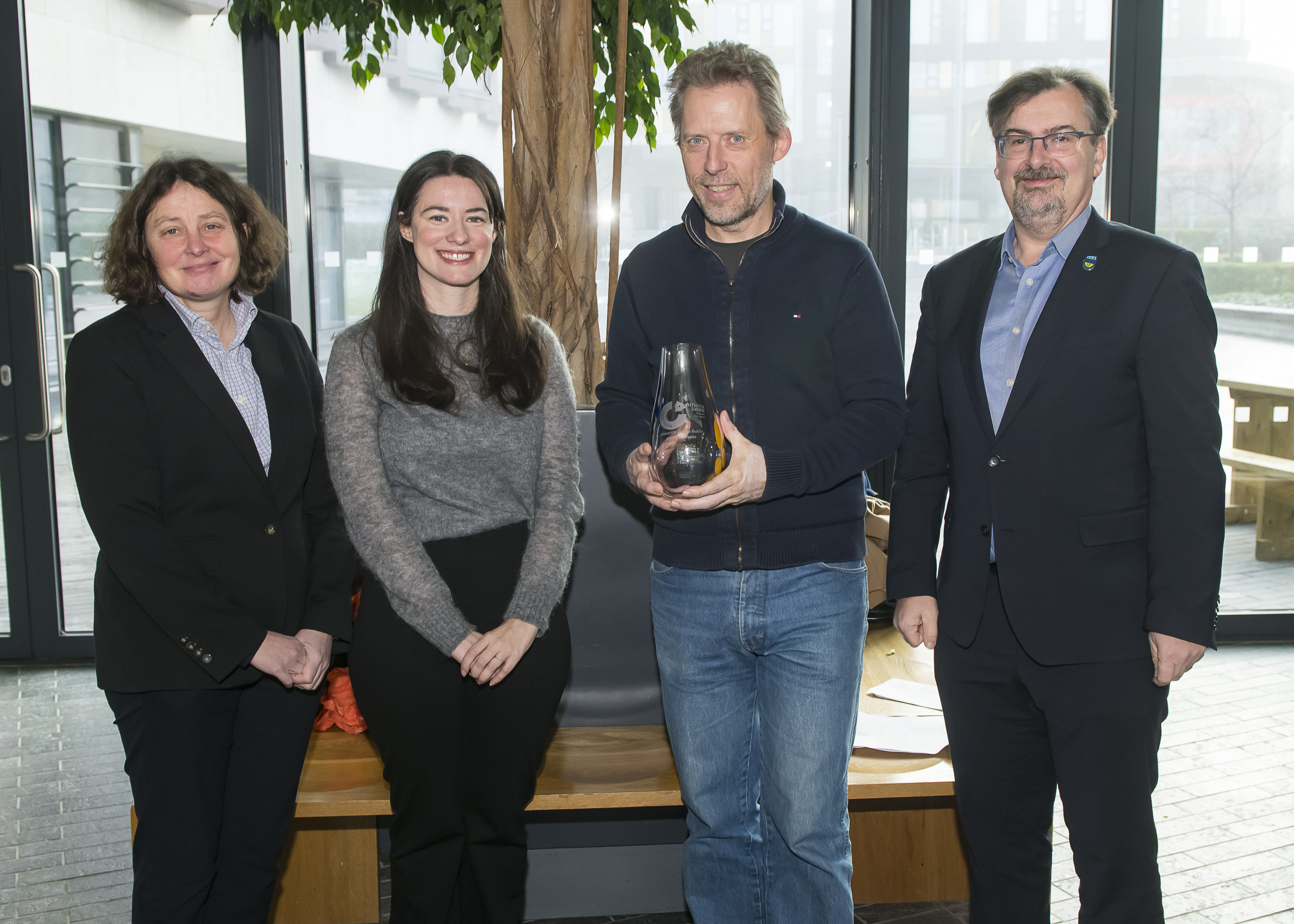 The School of Physics is delighted to receive the Athena Swan bronze award
December 2022: The Athena SWAN charter is an international framework used to support and transform gender equality in higher education and research for both students and staff. The School of Physics is the recipient of the Athena SWAN Bronze award following a successful conversion of the School's prior Institute of Physics IOP Juno award. The Athena SWAN award was celebrated at ATU Castlebar on Nov. 8th and again in UCD on December 12th 2022. In the picture (left-to-right): Prof. Emma Sokell (Head of School), Sarah Fink (Head of Athena SWAN Ireland), Dr. Brian Vohnsen (Equality, Diversity and Inclusion Co-Chair in the School) and Prof. Colin Scott (Vice-President for Equality, Diversity and Inclusion).
UCD School of Physics
University College Dublin, Belfield, Dublin 4, Ireland. T:
+353 1 716 7777