University Management Team
University Management Team
Professor Orla Feely
UCD Vice-President for Research, Innovation and Impact
Professor Feely is Vice-President for Research, Innovation and Impact and a Professor of Electronic Engineering. She holds a BE degree from UCD and MS and PhD degrees from the University of California, Berkeley, where her PhD thesis won the DJ Sakrison Memorial Prize for outstanding and innovative research. While at UC Berkeley, she also won the Outstanding Graduate Student Instructor Award. Her research is in the area of nonlinear circuits and systems, and she has been awarded research grants and prizes from a number of national, international and industry sources.
Professor Feely is a Member of the Royal Irish Academy and a Fellow of the IEEE (Institute of Electrical and Electronics Engineers), Engineers Ireland and the Irish Academy of Engineering. She has served as Chair of the Irish Research Council, the EU Advisory Group on Marie Sklodowska Curie Actions, and the IEEE Technical Committee on Nonlinear Circuits and Systems, and as a member of a number of editorial boards.
Professor Feely is the President of Engineers Ireland and Vice-President for Resources and Treasurer of CESAER (the Conference of European Schools of Advanced Engineering Education and Research). She is a director of the Young Scientist and Technology Exhibition and Deputy Chair of the Higher Education Authority.
Professor Dolores O'Riordan
UCD Vice-President for Global Engagement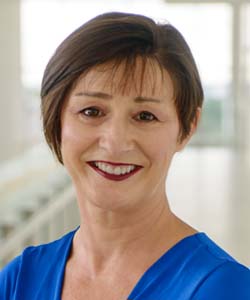 Professor Dolores O'Riordan is the Vice-President for Global Engagement. In this role she is responsible for the development and implementation of UCD's Global Engagement Strategy. She is a Full Professor of Food Science with a research focus on the physico-chemical properties of food ingredients and creating food structures that enhance health benefits.
Her research programme has active links with colleagues in Europe, the US, New Zealand and China.
She is UCD's lead investigator in a Private-Public Research Partnership, Food for Health Ireland (FHI) and has been the recipient of academic and innovation awards for her contribution to food research.
She has supervised 48 postgraduate students to completion and has over 100 peer-reviewed publications. Prior to joining UCD she worked in a research and development capacity with a multinational food company servicing global markets. She is a member of a number of national and European boards.
Tristan Aitken
Chief People Officer and Director of SIRC and Legal Affairs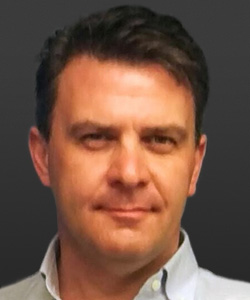 Tristan Aitken obtained his BSc (Hons) from the University of Glasgow, his MSc in HRM from the Strathclyde Business School and more recently his EMBA from UCD Smurfit Business School. Having had the opportunity to work across many global markets, he has developed a career in Human Resources Management, largely in the private sector, working with such organisations as News Corporations, Mercer, Heineken and Diageo plc during where typically his focus has been on driving and supporting organisation change and growth to help equip markets, functions and teams to perform better.
In late 2015 he was appointed to the position of UCD Human Resources Director and with his teams set about developing and implementing human resources strategies, services and partnerships, which directly contribute to the achievement of the University's aims and priorities, transforming the organisational culture to enable UCD to become both a University and an Employer of Choice on a national and international platform and working to enable all faculty and staff members to achieve their full potential whilst encouraging diversity and equality of opportunity.
In 2018 his remit was extended to include directing the activities of the SIRC and Legal Affairs departments.
Whilst in role Tristan has held several external leadership positions, including Chair of the IUA HRD Forum; Member of the HR Policy Workgroup – reporting to the Department of Education and Skills; Council Member for the 30% Club – promoting more women in Leadership; and Council Member of Gartner Research.
David Kelly
UCD Bursar/Chief Financial Officer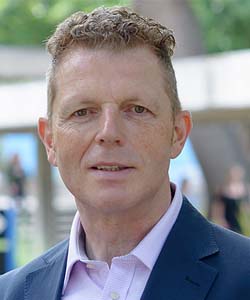 David has worked for UCD since 2006 and has been in his current role as Chief Financial Officer since 2018. Prior to that David worked in BBC television and radio in London, covering a number of business and financial roles. He trained as an accountant in Hanson PLC, also in London.
Professor Regina Uí Chollatáin
Principal – UCD College of Arts and Humanities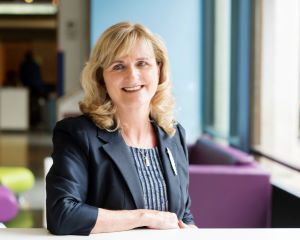 Professor Regina Uí Chollatáin is the College Principal and Dean of the College of Arts and Humanities. She is the UCD Chair of Modern Irish and Literature and Director of the Academic Strand of the UCD Ad Astra Academy. She was Head of the UCD School of Irish, Celtic Studies and Folklore from 2015-2021 and the Founder and Director of the UCD de Bhaldraithe Centre for Irish Language Scholarship from 2008-2019.
She was appointed Chair of Foras na Gaeilge, the North South Irish language public body responsible for the promotion of Irish on the island of Ireland in 2021. She is a founding committee member and was Chair of the Irish Newspaper and Periodical History Forum and is a member of the MoLI Academic Advisory Board and Éigse Cholm Cille in the University of Ulster. Previously she was also a member of the original State Board of TG4 and the Folklore Council of Ireland.
Her research focus is Language Revival and Irish language media with national and international publications in this area. Current research also includes Women and Irish language scholarship and a monograph entitled 'Athbheochan pobail agus teanga: Na Meáin Ghaeilge'. She holds a BEd from Carysfort College of Education, and an MA (research) and PhD from Maynooth University.
Is í Regina Uí Chollatáin, an Príomhoifigeach/ Déan ar Choláiste na nEalaíon agus na nDaonnachtaí. Is í an tOllamh Sinsearach le Nua-Ghaeilge agus is í an Stiúrthóir í ar an tSraith Acadúil d'Acadamh Ad Astra COBÁC. Ba í Ceann Scoil na Gaeilge, an Léinn Cheiltigh agus an Bhéaloidis COBÁC í idir 2015-2021agus bhunaigh sí agus ba í an Stiúrthóir í ar Lárionad de Bhaldraithe do Léann na Gaeilge COBÁC (2008-19). Is ball í de Ghrúpa Stiúrtha an Ionaid Náisiúnta Barr Feabhais mar chuid de thogra an rialtais d'Ardscileanna Teanga.
Ceapadh í ina Cathaoirleach ar Fhoras na Gaeilge i 2021. Ba bhall í de Chomhairle Náisiúnta Bhéaloideas Éireann agus de Bhord acadúil comhairleach Mhúsaem Litríochta na hÉireann, (MoLI). Ó 2008 is ball bunaidh í agus ba í an Cathaoirleach í, ar Fhóram Nuachtáin agus Thréimhseacháin na hÉireann idir 2016-19 agus ba bhall í de chéad Bhord Stáit TG4 (2007-12).
Athbheochan, iriseoireacht agus na meáin Ghaeilge, agus an cultúr cló na príomhréimsí taighde atá aici le foilseacháin náisiúnta agus idirnáisiúnta sna réimsí seo. Is é an taighde reatha atá ar bun aici ná Mná agus Traidisiún Scolárthachta na Gaeilge agus monograf dar teideal 'Athbheochan pobail agus teanga: Na Meáin Ghaeilge'. Tá BOid aici ó Choláiste Bhantiarna na Trócaire mar aon le MA (taighde) agus PhD ó Ollscoil Mhá Nuad.
Professor Colin Scott
Principal, UCD College of Social Sciences and Law
Professor Colin Scott is Professor of EU Regulation and Governance at UCD, where he currently serves as Vice-President for Equality, Diversity and Inclusion, Dean of Social Sciences and Principal, UCD College of Social Sciences and Law. He has previously held academic appointments at the Australian National University, the London School of Economics, the College of Europe, Bruges and the University of Warwick and was formerly Dean of Law at UCD.
His research encompasses issues of regulatory design and accountability, the regulation of government and transnational private regulation. He has held editorial responsibilities for the Modern Law Review, Law & Policy and Legal Studies and is currently a member of the Editorial Boards of The Conversation UK and Regulation and Governance and Convenor of the ECPR Standing Group on Regulatory Governance.
Professor Anthony Brabazon
Principal, UCD College of Business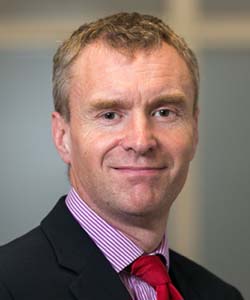 Professor Anthony Brabazon is Professor of Accounting, Dean of Business and College Principal, UCD College of Business.
Professor Brabazon's previous positions in UCD include Associate Dean and Director for UCD Smurfit School, Vice-Principal of Research and Innovation for the College of Business and Law, Head of Research for the School of Business and Programme Director for the Master of Accounting Degree. He was also academic project director for the design and construction of the undergraduate UCD Quinn School of Business. In addition, he has served in a variety of pro-bono and non-executive directorship positions in professional bodies and other organisations, including membership of the Ethics Board of CIMA and a member (and chair) of the CCAB-I (Accounting Standards Consultative Committee - Ireland).
His primary research interests concern the development of natural computing theory and the application of natural computing algorithms to real-world problems, including the domain of business and finance. He is co-founder and co-director of the Natural Computing Research and Applications Group at UCD. He has published in excess of 200 peer-reviewed journal and conference papers and has authored or edited fifteen books. He has also undertaken a wide range of research collaborations with academic and industry partners.
Anthony completed his BComm and Dip Prof Accounting studies at UCD before qualifying as a professional accountant with KPMG. Subsequently he undertook postgraduate studies at number of universities including Trinity College Dublin, Heriot-Watt, Kingston and Stanford.
Professor Aoife Ahern
Principal, UCD College of Engineering and Architecture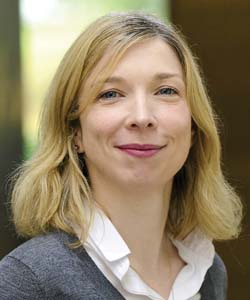 Professor Ahern is Full Professor, College Principal, UCD College of Engineering and Architecture, and Dean of Engineering. She graduated from Trinity College Dublin in first place in her civil engineering class in 1998. From there, she went on to do a PhD in University College London (UCL), where she was in receipt of a British Council Chevening Scholarship and a UCL scholarship.
Prior to joining UCD, she was a lecturer in the School of Civil, Structural and Environmental Engineering in TCD from 2000-2003. She joined UCD as a lecturer in 2003, spending her first few years in Earlsfort Terrace. She was appointed as Head of UCD School of Civil Engineering from 2016-2019.
Her research interests are in two main areas: creating opportunities and infrastructure for sustainable travel; and critical thinking in education. She has been involved in both national and international projects in both areas. She is a Fellow of the Institute of Engineers of Ireland, and a Fellow of the Irish Academy of Engineering.
Professor Cecily Kelleher
Principal, UCD College of Health and Agricultural Sciences
Professor Cecily Kelleher is Chair of Public Health Medicine and Epidemiology and has been the Principal of the UCD College of Health and Agricultural Sciences since 2015. She previously served as Dean and Head of the UCD School of Public Health, Physiotherapy and Sports Science.
She is the former Chair on the statutory Women's Health Council and served as Chair for the report to the Minister for Health in the Republic of Ireland of the COVID-19 Nursing Homes Expert Panel on Examination of Measures to 2021.
Her main areas of research are on Lifecourse epidemiology and cardiovascular disease, childhood obesity, Traveller health, and the public health impacts of tobacco smoke.
Professor Jeremy Simpson
Principal, UCD College of Science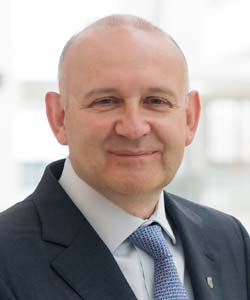 Professor Jeremy Simpson obtained his BSc (Hons) and PhD degrees from the University of Warwick. After postdoctoral work at the Scripps Research Institute in San Diego (USA) and the ICRF (now Cancer Research UK) in London, he was awarded a long term EMBO fellowship allowing him to move to the European Molecular Biology Laboratory (EMBL) in Heidelberg. For over nine years he worked at EMBL developing and applying novel high-throughput imaging approaches to study protein localisation and membrane traffic in mammalian cells.
In 2008 he was appointed as Full Professor of Cell Biology at UCD. His lab applies high-throughput imaging technologies in 3D cell models to study subcellular transport pathways and human diseases associated with their function, as well as the internalisation routes taken by synthetic nanoparticles as potential drug delivery vehicles. It also develops novel approaches for image analysis. He has authored over 115 peer-reviewed articles, including articles in Nature Cell Biology, Nature Methods, Nature Communications and a number of book chapters.
Since joining UCD he has held several leadership positions, including Head of Subject for Cell and Molecular Biology, Head of the UCD School of Biology and Environmental Science, and Vice-Principal (International) for the UCD College of Science.
UCD President's Office
University College Dublin, Belfield, Dublin 4, Ireland. T:
+353 1 716 1618