The winners of the prestigious 2021 Science Foundation Ireland (SFI) Awards have been revealed today by Professor Mark Ferguson, SFI Director General and Chief Scientific Adviser to the Government of Ireland, at the annual SFI Science Summit.
The Summit has taken place virtually for the second year running, allowing members of Ireland's research community to come together online to discuss challenges and celebrate the significant contributions made over the past year to science, technology, engineering and maths.
UCD's Professor William Gallagher was named SFI Researcher of the Year and Dr Dara Stanley was named SFI Early Career Researcher of the Year, Director of UCD Conway Institute for Biomolecular and Biomedical Research, Professor Helen Roche was awarded the SFI Mentorship Award and postdoctoral researcher Dr Aileen Doran was awarded SFI Science Image of the Year.
Acknowledging the award winners Professor Ferguson said: "The annual SFI Science Awards is an opportunity to recognise some of the very best outputs and achievements of our research community. I want to congratulate the award winners on their significant achievements, as well as their dedication and determination, in what has been another eventful and challenging year for our research community. I am confident that their success will be a source of inspiration to their peers and, more importantly, to the next generation of researchers in Ireland.
"I would particularly like to congratulate Professor William Gallagher as our 2021 SFI Researcher of the Year. At Science Foundation Ireland we very pleased to see the superb quality of research that our funding enables. By working closely together, the Irish research community continues to be impactful, inspirational and world-leading."
UCD Vice-President for Research, Innovation and Impact, Professor Orla Feely said: "We are immensely proud of all our winners in this year's SFI Awards. We recognise the prestige and significance of this awards scheme in marking our researchers' outstanding contributions to scientific progress and discovery, and are delighted to have their exceptional achievements celebrated in this way.
"Professor William Gallagher is a highly deserving recipient of the SFI Researcher of the Year award, based on his many outstanding achievements in the field of cancer research that reflect a rounded academic career of the highest quality.
"Dr Dara's Stanley's SFI Early Career Researcher of the Year award recognises both the far-reaching impact of her work on pesticides and pollinators, and also her strong commitment to engaging members of the public.
"SFI Mentorship Award-winner Professor Helen Roche is internationally renowned for her research in the field of nutrigenomics and also for her dedication to the development of research talent, including her supervision and mentorship of more than 30 PhD students and a similar number of postdoctoral scientists.
"Postdoctoral researcher Dr Aileen Doran's SFI Science Image of the Year wonderfully highlights the creative relationship between science and art that renders subjects such as mineral and isotopic geochemistry more accessible to broader audiences."
"These recipients together showcase the great research talent that we are fortunate enough to have at all career stages in UCD."
Details of the UCD award winners are:
SFI Researcher of the Year 2021
Professor William Gallagher is a Full Professor of Cancer Biology at UCD School of Biomolecular and Biomedical Science, Conway Fellow, UCD Conway Institute for Biomolecular and Biomedical Research and Deputy Director of Precision Oncology Ireland, a large-scale SFI Strategic Partnership Programme involving five academic institutions, six cancer charities (including the Irish Cancer Society) and eight industry partners. He is currently leading OPTi-PREDICT, an SFI Investigator Programme focused on identification and validation of prognostic biomarkers for early-stage breast and prostate cancer.
From 2016 to 2021, Professor Gallagher was Director of the UCD Conway Institute, one of Ireland's largest biomedical research facilities. From 2013 to 2019, he was Director of BREAST-PREDICT, the first funded Irish Cancer Society Collaborative Cancer Research Centre (CCRC) – a country-wide €7.5 million funded CCRC, involving six academic institutions and Cancer Trials Ireland.
From 2009 to 2014, Professor Gallagher was also co-PI and deputy co-ordinator of a major SFI-funded Strategic Research Cluster, Molecular Therapeutics of Cancer. He has co-ordinated three Marie Curie Industry Academia Partnerships and Pathways (IAPPs) projects under FP7, namely TARGET-MELANOMA, FAST-PATH and SYS-MEL. He was also co-ordinator of a large-scale, multi-million euro FP7 collaborative project, RATHER.
Professor Gallagher has received numerous awards for his research and innovation achievements in the oncology arena, including the NovaUCD 2011 Innovation Award, the inaugural Irish Association for Cancer Research Medal in 2017 and the SFI Entrepreneurship Award in 2019.
He has filed and been awarded multiple patents and has acted as consultant for a wide variety of industrial parties within the biomedical sphere. He has co-founded two molecular diagnostics companies, OncoMark Ltd and OncoAssure Ltd, the former being acquired earlier this year by a multinational molecular diagnostics company that aims to launch the signature OncoMasTR test in-clinic within the next 2 years.
Currently, Professor Gallagher is a primary driving force behind the All-Island Cancer Research Institute (AICRI) (see video), which is creating an overarching framework for cancer research across the entire island of Ireland (@AICRIproject on Twitter).
Commenting on receiving the award Professor Gallagher said: "I am greatly honoured to receive this prestigious award. I am indebted to the various members of my research group, both past and present, along with other colleagues in academia and industry across the world that I have had the great pleasure to collaborate with.
"One in two people in Ireland will be diagnosed with cancer at some point in their lifetime. Indeed, practically every family in the country is being or has been affected in some way by this complex collection of diseases, including my own. Our cancer research work has been focused on taking new discoveries from the laboratory bench and bringing them closer to clinical implementation.
"I would like to especially acknowledge the patients which have contributed their precious clinical samples for analysis, SFI and other funders, UCD for providing a rich environment for research and innovation and my family, particularly my wife Catherine, for their tireless support."
SFI Early Career Researcher of the Year 2021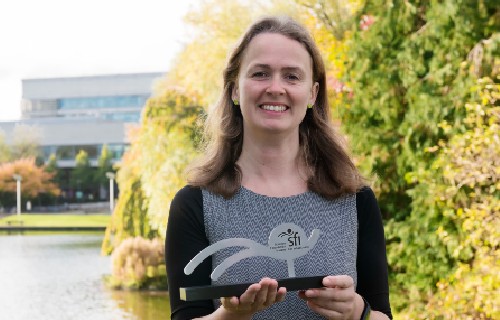 Dr Dara Stanley is an Assistant Professor in Applied Entomology at UCD School of Agriculture and Food Science and a Fellow of UCD Earth Institute. She was was the first to explore how pesticide use might affect the pollination of crops, going on to publish a seminal paper in Nature in 2015 (10.1038/nature16167). She further developed this research on threats to pollination services through the ongoing SFI-funded SUSPOLL project (Sustainable Pollination Services in a Changing World).
Dr Stanley spearheaded the movement towards researching non-insecticide pesticides and has become a crucial voice highlighting the knowledge gaps in assessing the impacts of these chemicals on bees, publishing a systematic review on the topic in 2019. She instigated and is co-ordinator of PROTECTS (Protecting Terrestrial Ecosystems Through Sustainable Pesticide Use), funded by DAFM (€ 1.1 million) across five institutions.
Outputs from her work have been used by the European Food Safety Authority as part of the evidence base for assessing risk of neonicotinoids to bees in Europe. The work was also used to support the All-Ireland Pollinator Plan research objectives.
In addition to many academic engagements, Dr Stanley also organises 'Walks and Talks' with the general public at multiple locations and events of ecological interest, including the Burren in Bloom Festival, BurrenBeo, Eureka Science Festival, for Birdwatch Ireland Carlow, Galway Museum, for multiple bee keeping associations and UCD World Bee Day.
She is also a co-organiser of Soapbox Science Galway (2017-2019) and Soapbox Science Dublin (2019-2021), that has brought over 70 female and non-binary scientists to the streets to talk about their work with the public – and she provides science communication training for all speakers.
SFI Mentorship Award 2021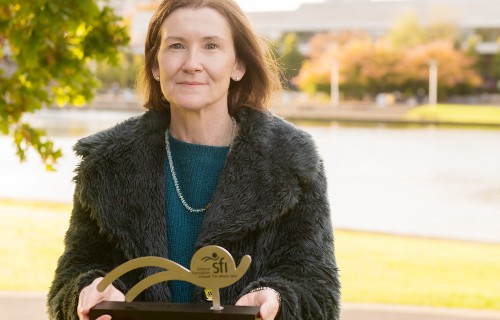 Professor Helen Roche is Full Professor of Nutrigenomics at UCD School of Public Health, Physiotherapy and Sports Science, Director of UCD Conway Institute for Biomolecular and Biomedical Research and Fellow of UCD Institute of Food and Health.
A leading expert in human nutrition, dietetics and molecular nutrition, her Nutrigenomics research team focuses on Precision Nutrition – specifically the impact of diet on metabolism and inflammation in obesity, type 2 diabetes (T2D), non-alcoholic fatty liver disease (NAFLD) and obesity-related cancer. Nutrigenomics uses state-of-the-art 'omics' to investigate the molecular effects of diet on health, to provide hard evidence. Whilst nutrition plays a critical role in health and disease, too often the mechanistic basis is lacking – and Professor Roche and her team seek to fill that evidence gap.
Her recent SFI Investigator Award entitled 'Diet, Immune Training and Metabolism' in collaboration with Dr Fred Sheedy and Professor Suzanne Norris (TCD) aims to determine the impact of diet and metabolism on innate immune responses in NAFLD.
She is co-PI in several multidisciplinary programmes: 'ImmunoMet' addresses interactions between nutritional status, metabolic health and the gut microbiome, in collaboration with Prof Paul O'Toole (UCC, Microbiome Ireland); in Precision Oncology Ireland Professor Roche's team are determining if/how the dietary environment potentiates obesity-related cancer risk, with Professor Jacinta O'Sullivan (TCD) and Dr David Gomez-Matallanas (Systems Biology Ireland, UCD).
In Europe, Professor Roche has led several initiatives relating to food, nutrition and health. She chaired the Scientific Advisory Board of the European Healthy Life, Healthy Diet Joint Programming Initiative (2015 to 2019). She advises UK and US grant agencies including the Crohn's and Colitis Foundation and UK Nutrition Research Partnership.
Promoting 'All-Ireland' research, Professor Roche is Visiting Professor of Nutrition at Queen's University Belfast, providing the opportunity to link universities and the work of their academics north and south. She is also a board member of the RCSI Hospital Group, aiming to bring scientific research closer to more fully support health care providers.
Professor Roche has supervised more than 30 PhD scientists and a similar number of post-doctoral researchers. As Director of UCD Conway Institute, a key personal remit has been to foster emerging investigator success, and facilitating UCD Ad Astra Fellowship achievement in the wider institution.
Commenting on receiving the award, Professor Roche said: "It is a great honour to have worked with so many bright young scientists, who brought alternative skills into the nutrition and health space – wherein using other disciplines and 'omics' approaches has strengthened our understanding of food, nutrition and health.
"Many thanks to SFI, DAFM and the EU for supporting our team at UCD – the mentees who nominated me really developed professionally within these funding initiatives. They represent the future of science in Ireland and abroad!"
SFI Research Image of the Year 2021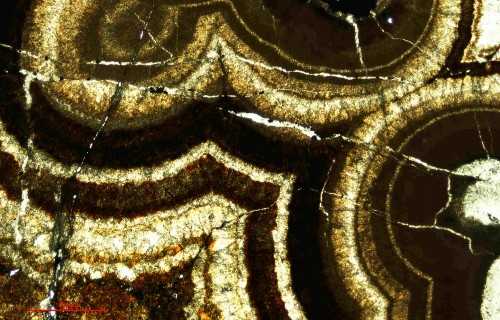 Image title: Colloform Sphalerite
Submitted by Dr Aileen Doran, UCD School of Earth Sciences and Postdoctoral Researcher in Economic Geochemistry with iCRAG SFI Research Centre in Applied Geosciences based at UCD.
The image is an example of colloform sphalerite from the Lisheen deposit in Ireland. Lisheen mine (closed in 2015) was Ireland's second-largest known base metal deposit and it was mined for zinc and lead. Sphalerite is a common ore mineral for zinc, which is a valuable metal required for many green technologies including wind turbines, and solar panels.
Ireland is currently one of Europe's top suppliers of zinc. Often, sphalerite can display textures such as these (colloform growth), with variations in colour generally linked to trace element variations. The image was taken using a transmitted light microscope at UCD School of Earth Sciences (scale included).
The other 2021 SFI Award-winners were:
SFI Outstanding Contribution to STEM Communication 2021
The Irish Universities Association and The Higher Education Authority.
SFI Industry Partnership Award 2021
Professor Garry Duffy, NUI Galway, in partnership with Boston Scientific.
SFI Best International Engagement Award 2021
Professor Barry O'Sullivan, University College Cork.
SFI Commercialisation Award 2021
Dr Elaine Spain and Dr Kellie Adamson, Novus Diagnostics Ltd.
Read more details of the awards and 2021 SFI Summit.