The French Connection at SBI: A Bastille Day special

Des scientifiques Françaises (Solene Gatault and Camille Ternet)
Some may have noticed a certain je ne sais quoi in the air chez nous. With eight current members and many alumni, French scientists have always played a major rôle in SBI life.
So why does SBI attract so many French people? What has made them swap the tricolore bleu, blanc, rouge for the green, white and orange? It can't just be the Kerrygold. I decided to investigate.
I asked one of our Gallic friends what they thought of SBI. "C'est vraiment magnifique!", they said. "I love everything about the place. Obviously for the science of systems biology, SBI is nonpareil, but it's also the esprit de corps you have here in the institute. There's no danger of ennui when everyone's so friendly and there's so much joie de vivre".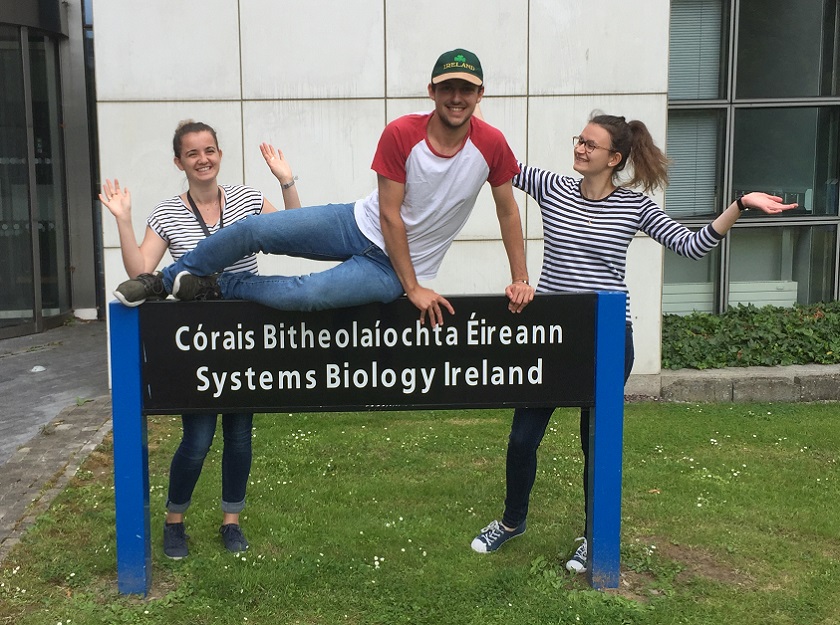 Roulez la jeunesse! (Lucie Mirande, Maxime Paulet and Chloe Houssay)
There's clearly no lack of amour for the institute, then. But what about life in Ireland?
"Everybody knows that France is the best country in the world, but Ireland is better" said another. "I came here to improve my scientific savoir-faire, but then had a coup de foudre for the Irish way of life. France has foie gras and champagne, but we have nothing like your Tayto crisps and Kimberley biscuits – miam, délicieux!"
"J'adore l'Irlande" said one of the nouvelle vague of recent SBI members, "I often find myself wishing I was Irish. Especially on the days we play you at rugby".
So, did anyone have any reservations after making the move? Having lived over five years in France myself, I wondered if anyone missed the food, wine, climate (and everything else...)?
"Je ne regrette rien!" was the unanimous response.
Un militant Breton (Thomas Lefeivre)

It looks like French scientists will be keeping SBI at the avant-garde of research for a long time to come. In the lead up to La Fête Nationale this July 14th, we can reflect on how SBI follows the founding principles of La République Française.

Liberté in scientific thought.
Égalité within the institute.
Fraternité between colleagues and friends.
Vive la France ! Et vive le SBI!
*Disclaimer: The auteur of this piece may have imagined some conversations.