SBI helping to close the gap in global childhood cancer outcomes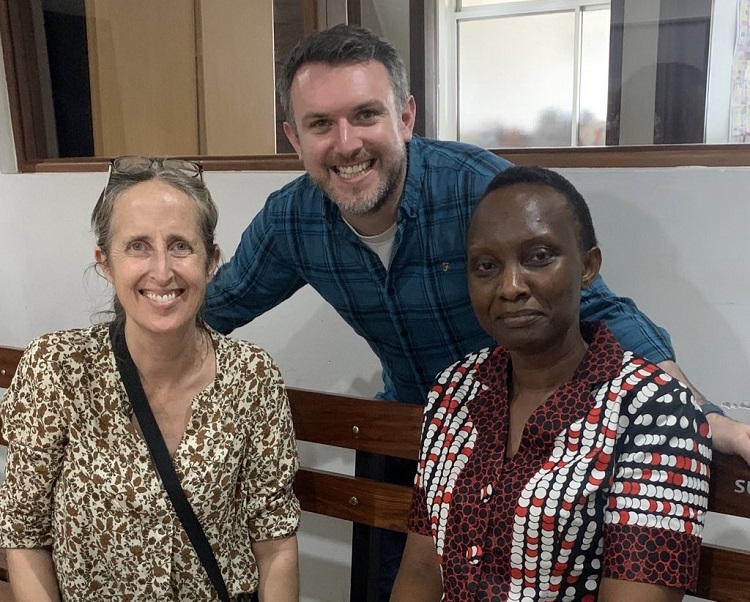 Dr. Trish Scanlan, Dr. Peter McCarthy & Dr. Lulu Chirande (photo credit: Peter McCarthy)
September is Childhood Cancer Awareness month, an opportunity for people around the world to come together to raise awareness of childhood cancer, pay tribute and offer support to those affected and to #LightItUpGold!
Thankfully more and more children with cancer are being cured every year – but unfortunately these positive outcomes are not shared equally across the world. Where you live is still the most important predictor of outcome. Over 80-90 percent of children with cancer in high-income countries (like Ireland) are cured but sadly this figure drops to only 20-30 percent in many low and middle-income countries. Indeed, the majority of the world's children, approximately 80 percent, live in places where survival from a childhood cancer diagnosis is 20 percent or less.
Improvements are possible however, with an excellent example seen through the work of our partners - TLM (Tumaini La Maisha or Their Lives Matter) at the National Paediatric Oncology Service in Tanzania. TLM works to ensure every child in Tanzania who develops cancer gets high quality care for free and they have seen survival rates improve annually from 5 percent in 2005 to almost 60 percent currently.
We are very fortunate to have developed an international research collaboration between Ireland and Tanzania working with our partners including TLM, Muhimbili National Hospital, the Irish National Children's Cancer Service at CHI @ Crumlin, Genuity Science Ireland and Systems Biology Ireland (SBI).
Much of the improvement seen in the treatment of childhood blood cancers has come from research into the genetic mutations in leukaemia cells, which helps to determine how each patient with blood cancer should be best treated. Similar improvements have not been possible in countries like Tanzania, mainly due to lack of financial and economic resources. Due to scientific and technological advances it is now becoming easier to perform comprehensive mutational testing or "next-generation sequencing".
We are using this technology in The SALAMA (Studying Acute LeukaemiA Mutations in Africa) Study. With our partners, we are working to define the molecular landscape of paediatric and adolescent leukaemia in Tanzania for the first time. The results of our research will help us to accurately adapt therapies and to improve how African children with leukaemia are treated.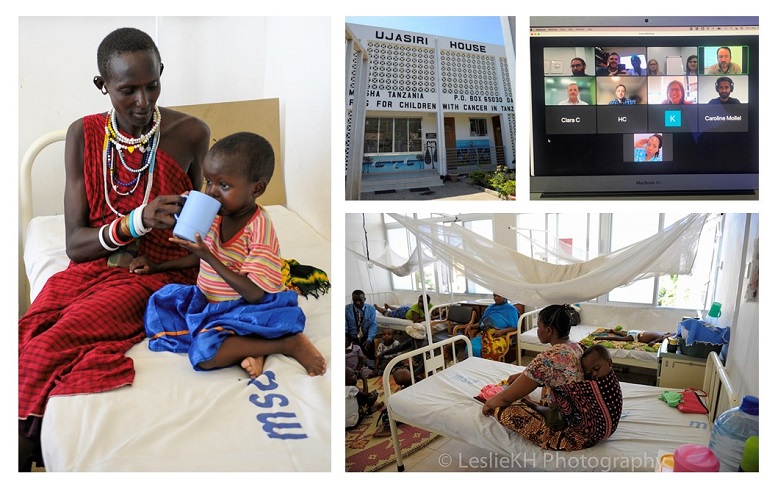 I recently returned to Tanzania to meet our local research partners and to support the ongoing work of the research team. Following extensive work establishing the project here in Ireland and Tanzania, we began to recruit patients in July of this year. We are well on our way, with over 10% of our target recruitment already reached! Each patient who enrols on the study will have DNA and RNA extracted in Dar es Salaam by the SEREN Laboratory. We are also prospectively collecting detailed clinical and outcome data for each patient, helping us to build up a detailed clinicobiological picture of the participants.
The SEREN lab is a social enterprise established by researchers from the University of Oxford. I was fortunate to meet with the lab team and tour their inspiring facilities. The team at SEREN will extract and store our samples until they are ready to be shipped to our Irish partners, Genuity Science Ireland. Genuity will then perform whole exome sequencing and RNA sequencing on the samples, before the results of this are shared with the research team here in SBI for further in-depth analysis. A genetic report will be prepared for each patient and sent to their clinical team. This analysis will mirror what is being performed for Irish patients.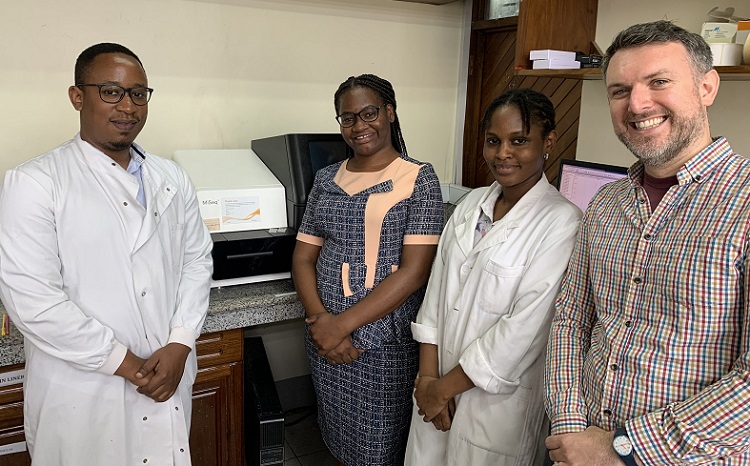 Emmanuel, Dr Clara, Heavenlight & Peter McCarthy at the SEREN Lab (photo credit: Peter McCarthy)
In addition to my research duties, I was also fortunate during this and previous trips to spend some time supporting the clinical team on the wards caring for patients, attend the haematology laboratory and to visit Ujasiri House, the hostel which becomes a home for families while their children are undergoing treatment. So much of this work is supported by TLM and partners including SBI, UCD and CHI @ Crumlin.
This project is a true collaboration with our team members in Tanzania and is building the long-term foundation for the clinical and scientific team work needed to overcome the global challenge of childhood cancer. My hope this Childhood Cancer Awareness Month is that through continued international collaborations such as this we can work to close the survival gap for all children with leukaemia.
The SALAMA Study is funded by a generous grant from the Little Princess Trust and the Children's Cancer and Leukaemia Group (CCLG) and I am supported by an Irish Research Council Government of Ireland Postgraduate Scholarship. I am also grateful to CHI Global for supporting my travel to Tanzania.


About the Author:
Peter McCarthy is an Clinical Research Fellow and PhD student at SBI in the Bond Group. He is also Medical Director at Barretstown and recently completed his clinical training in Paediatric Haematology at CHI @ Crumlin.