Programme Assessment and Feedback Strategies
Why use a programme approach?
Taking a programme approach to assessment and feedback can provide students with a more coherent learning experience, help clarify expectations of the programme and can be a more effective and efficient use of staff time. Assessment and feedback approaches at a programme level can:
ensure that module assessment and feedback approaches build coherently from previous (vertical integration) and, where possible, parallel modules (horizontal integration) and/or

develop integrative assessment where one or more assessments are designed to draw on the work of multiple modules, i.e. a capstone assessment, themed assessments, portfolio assessment (UCD Regs 4.4; National Forum, 2017b, 2017c)
These webpages present a framework, that was developed as part of a strategic project, to support UCD faculty to review, plan, articulate and implement their programme (or stage) assessment and feedback strategies. UCD Academic Regulations (2021-2022) also highlight that a programme's governing board should review and reflect on their assessment approaches, including 'assuring outcomes based emphasis in programme design and assessment' (Reg 1.6c) and 'ensuring that assessment strategy is appropriate and measures achievement of programme outcomes' (Reg 1.6d). Therefore, this approach is particularly useful for those responsible for programmes or stages, such as deans/associate deans, subject/major/discipline heads, programme/stage directors of either undergraduate or postgraduate taught programmes.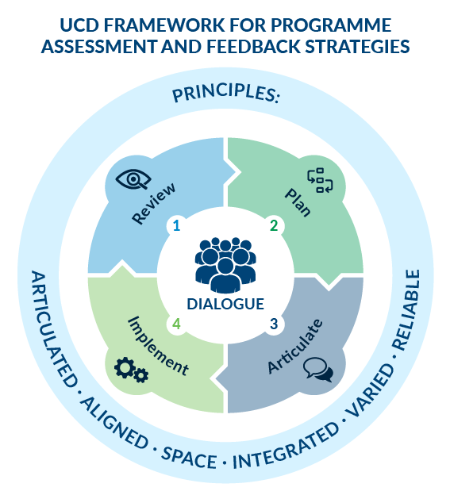 Figure 1: UCD Framework for Programme Assessment and Feedback Strategies
UCD Framework for Programme Assessment and Feedback Strategies
Enhancement of programme assessment and feedback approaches is a key step in a wider programme design process. The framework sets-out a process, which starts with reviewing your current practices.
Central to the process is bringing together the programme team as a whole or in specific groups (i.e. stage coordinators, core module coordinators) to have annual dialogue/discussion around the programme's assessment and feedback strategies (Figure 1). The programme team can include all faculty, professional staff and student representatives involved in the programme, or a subset of this cohort. Regular 'light' reviews of the programme/stage will assist in the preparation for more high stakes programme reviews, such as professional accreditation and external quality review processes.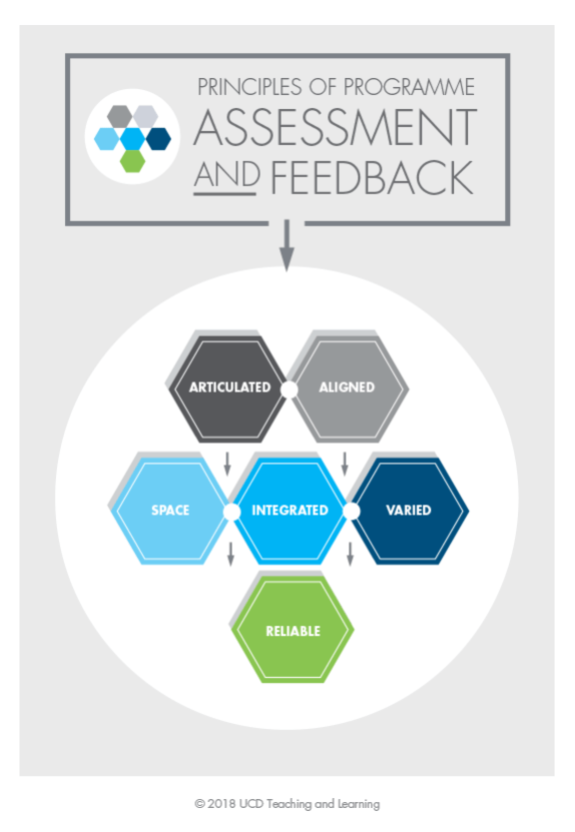 Principles underpinning the Framework
The framework is underpinned by six UCD Programme Assessment and Feedback principles:
Articulated : The programme outcomes and the programme assessment and feedback strategy are clearly articulated to the students and other stakeholders.
Aligned: The module teaching, learning, assessment, feedback approaches are aligned and are mapped to the programme outcomes.
Space: Consideration is given to the time and space for assessment and feedback approaches, including reducing staff and student assessment load, space for more complex learning.
Integrated: Integrated and coherent assessment and feedback approaches are designed vertically and horizontally into the programme.
Varied: A variety of assessment and feedback methods are used across the programme, in particular authentic, empowering and engaging approaches.
Reliable: Procedures are in place to ensure the reliability of the programme assessment and feedback approaches, including consistency, academic integrity and comparability in grading.
(UCD T&L, 2019c)
What supports are available to programme teams to implement the framework?
In addition to the resources on these web pages, UCD T&L can work with programme teams to facilitate dialogue and assist in exploring ideas for programme assessment and feedback enhancement. UCD T&L also run an accredited module on 'Leading in University Teaching & Learning' (7.5 credits), which includes ideas for leading change in programme design and assessment. For more details on these supports, please contact teachingandlearning@ucd.ie.