Academic Advising in Social Science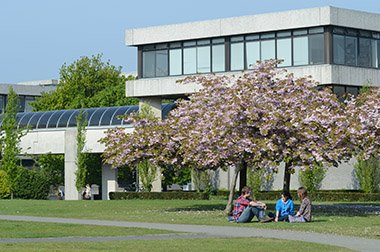 This Academic Advising project has been funded through the HEA and the National Forum.
PROJECT TITLE:
Building meaningful relationships through structured and reflexive dialogue: Academic advising in the Social Sciences undergraduate curriculum
PROJECT COORDINATOR:
Associate Professor Sara O'Sullivan
COLLABORATORS:

Core team: Sara O'Sullivan, Jacintha Vallely, Mairead McCann, James Conroy, George Kelly, Thobekile Ngwenya, Fiona Deegan.

Steering Group members: Jenny Murphy, Aideen Quilty, Holly Dignam, Ronan Cloney, Gary Ward.

TARGET AUDIENCE:
College community: students registered on DN700; faculty and schools offering subjects on DN700; college office
The BSc Social Sciences (DN700) was introduced in Sept 2018, with an annual intake of 500 students. The programme design included an academic mentoring component to enable student success. However delivery of an academic mentoring programme for all students and involving all faculty was challenging for students, academic staff and the college office. In response, a number of changes were made in subsequent years.
In 2019 a mentor was allocated to all students from stage two onwards.
The switch to remote learning meant no mentors were allocated in 2020.
In 2021 all Stage two students were allocated mentors and academic mentoring became an opt-in programme for stage three students who weren't allocated an academic mentor in 2020, with approximately 14 % of students signing up.
Additionally, the last two years saw a significant number of new academic appointments across schools and an expanded College team. This funding call offered a valuable opportunity to generate the research evidence needed to inform future decision making about the mentoring programme.
The project approach was guided by the student as partners ethos that has informed the work of the college for the past five years.
The project aimed to systematically review and evaluate the existing mentoring programme. The research outcomes were seen as providing the evidence base required to enhance our current approach.
The objectives were:
to better support our students who are navigating highly innovative but complex curriculum structures and a challenging external environment when they graduate;
to better support faculty who are supporting students as advisers;
to shift the focus from academic mentoring to a more focused and clearly defined academic advising system;
to better understand why the system was not working well;
to design a system that would better work in a large undergraduate programme with a poor staff student ratio;
to enhance student-faculty relationships.
The project adopted a qualitative approach including students from project design through implementation and evaluation. The proposal was reviewed by student partners and their advice incorporated. Two student interns were employed on the project for the autumn trimester as full members of the core team and remained involved as members of the steering group.
Data collection
Five student focus groups were undertaken by our student interns.
Analysis of 2020 survey of faculty involved in academic mentoring (N=32)
11 interviews with faculty, staff and student adviser
Findings
All the evidence suggests that the mentoring system was not effective and did not achieve its original objectives.
75% of mentors met zero or one of the students they were assigned
Students were not aware that the system existed
A number of factors were identified as reasons why the academic mentoring system had not worked. Faculty pointed to problems with the system including a lack of clarity about purpose, a lack of structure and a need for faculty training. There were also concerns raised that some female faculty were putting in an unequal amount of work compared to their counterparts without this being recognised. Students reported a reluctance to approach faculty for help. They linked this to a university culture where self-directed learning, where each student fends for themselves, is emphasised. Finally, there were a range of resourcing, logistical and practical issues.
Students and faculty supported the idea of an academic advising system and had many useful ideas about how it might work. Students highlighted the need for a known point of contact in each school - the go to person for academic queries. They recommended informal meetings between the adviser and groups of students (coffee mornings once a trimester etc), with one to one appointments available if needed (see also Felten and Lambert (2020). The core idea that emerged was that every subject should have a champion who had the information students needed or knew where to get it.
The evidence-based recommendations were presented to the College T&L Committee and the Programme Board for their feedback. Overall there was broad support for the proposed model. Many of the concerns echoed the findings from faculty interviews (workloads, logistics, overlap with other roles, boundaries, training). The feedback emphasised the importance of role clarity (TORs) and excellent supporting documents. The model was modified following feedback from colleagues at these meetings.
Outcome 1:
A definition of the purpose of academic advising in the social sciences informed by NACADA's work was developed:
'Academic Advising in UCD Social Sciences is the outcome of the relationship between academic and student where the student feels empowered by the knowledge received through meaningful conversation, to independently pursue their current and future academic goals. The academic feels connected to the student's academic pursuits through advice and guidance they have given, and is satisfied they have allowed the student to critically explore their academic goals as an independent learner while simultaneously giving them the tools to do so'.
Outcome 2:
This definition, along with the findings from the research, underpins the working model of academic advising developed which will be piloted in 2022/23.
The model is a satellite academic advising system. Each school will appoint one adviser for the pilot. The academic adviser will be a designated person visible to all students from stage one as the go-to person they know and feel comfortable approaching for academic guidance.
Feedback from students was that they would prefer to meet their advisers in person rather than receive an email. Academic advisers will be introduced to stage 1 students during orientation at the 'Meet your School' sessions. Part of this introduction will involve defining the role of academic advisers, giving examples of when students may wish to seek academic advice and outlining some of the benefits, encouraging students to use it. It will be important to highlight where academic advising fits in among the range of other student supports that are already available.
Training will be provided each year for academic advisors. A lead adviser will be selected from the adviser group to act as a link between schools, advisers and the college office. They would sit on the Teaching and Learning Committee and lead on a meeting for all advisers once a trimester as a mode of peer support and to get feedback.
The system exists alongside and complements other forms of advising and support in the University and college (see Figure 1 below).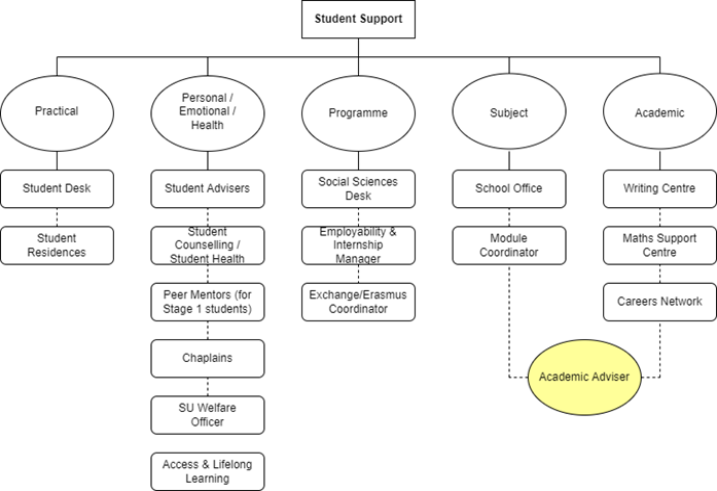 Figure 1 Supports
It will be a just-in-time system. Students will access the support of their academic advisers as and when needed. It will also be an integrated system where staff working in key supports (school offices, college office, student advisers etc.) would draw on the academic advising system, referring students onto the academic adviser where appropriate. The college principal has agreed that academic advising will be part of the remit of the role of the new programme director for DN700.
Advantages
The pilot is informed by the research evidence and an understanding of what did not work in previous iterations of the academic mentoring scheme. From the faculty, college and school perspective it is a model that is much more feasible than the previous scheme. No formal allocation of mentees means a less bureaucratic system and better use of resources. It will be less burdensome on schools as fewer faculty are involved. It does not preclude a move to a more personalised advising system post enhancements to staff student ratio outlined in current UCD Strategic Plan (Presentation by UCD President to College of Social Sciences and Law 27th April 2022).
It is also informed by student discussion of the current academic environment and engagement with faculty. Key here is reluctance to approach faculty for help which in the previous scheme translated into lack of engagement. It is a more student friendly system that offers a visible contact and clarity about both the purpose and benefits for students. Students will have access to more than one academic adviser. It has the potential to support students to build relationships with schools and foster a more positive culture.
Resources/Outputs
Resources will be developed over the summer including:
Terms of reference for academic advisers (amended from TORs to be shared by UCD Teaching and Learning)
Plan and materials for training workshop for academic advisers (to be held in early September)
Communications and promotions plan with materials for students, faculty and staff. This work will be supported by student interns (June-July 2022). The goals will be (a) to clearly communicate the purposes of academic advising in social sciences, including how it fits with other supports and the benefits of the system; (b) to develop strategies to make students aware of the support and encourage them to use it.