Academic Advising in the School of Civil Engineering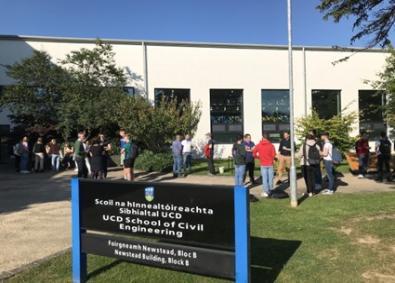 This Academic Advising project has been funded through the HEA and the National Forum.
| | |
| --- | --- |
| PROJECT TITLE: | Formalizing and Expanding Academic Advising Practices in the School of Civil Engineering |
| PROJECT COORDINATOR: | Dr Jennifer Keenahan |
| COLLABORATORS: | Dr Arturo Gonzalez, Dr Sarah Cotterill, Dr Paraic Carroll, Dr John O'Sullivan, Dr Shane Donohue, Dr Fiachra O'Loughlin, Dr PJ Purcell, Dr Daniel McCrum |
| TARGET AUDIENCE: | Students in the Civil Engineering School (Stages 2 to 5), faculty members in the Civil Engineering School in academic advising roles. |
We concur with the findings of the University Group on Academic Advising that there is a significant gap in the formalized provision of academic advice to our undergraduate and taught graduate students. The specific context for the project in the School of Civil Engineering took into consideration two distinct aspects.
Firstly, there has been a large turnover in academic staff in the School of Civil Engineering in the previous three years. Therefore, we envisioned this project as a timely and appropriate way to implement upskilling for these staff in their roles as academic advisors. The lack of training has been identified in the literature as one of the main obstacles for quality academic advising. Hence, the chosen approach included training for faculty members within the school.
Secondly, further context was linked to the short amount of time that many of our students had spent on campus prior to this academic year due to the pandemic. Hence, we were very keen to ensure that stage two and stage three students had a positive settling-in and welcoming experience. Furthermore, there are key decision points in stages two to four which would benefit from greater student peer input and academic advisor input.
Our aim was to formalize and significantly expand academic advising practices in the UCD School of Civil Engineering and to develop and evaluate a hybrid-model of academic advising that would be suitable for an engineering department.
Our objectives were:
Implementing an academic advisor up-skilling programme with the goal of training the academic advisors at our School. The workshops were recorded and kept in a shared google drive that can be accessed by any staff member in the future.
Creating a staff handbook that contains key academic advising information with the goal of having a formal document that can be consulted by faculty members at any time.
Fostering on-going Student Participation, including the creation of the staff-student Newstead forum, so that students could voice their concerns to be addressed by academic advisors.
Hosting regular student Coffee Mornings (Figure 1) with the goal of providing an informal environment for students and faculty to interact. This activity intended to help building a rapport between students and academic advisors so that communication became more fluid.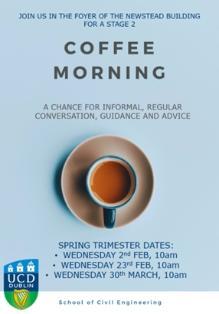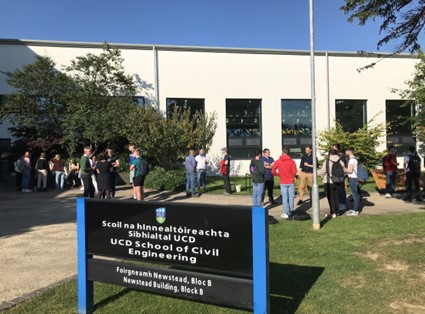 Figure 1: Coffee mornings
Carrying out activities that either informed students on key decisions (regular talks) or provided them with further opportunities to interact with faculty outside of the lecture hall (field trip – Figure 2).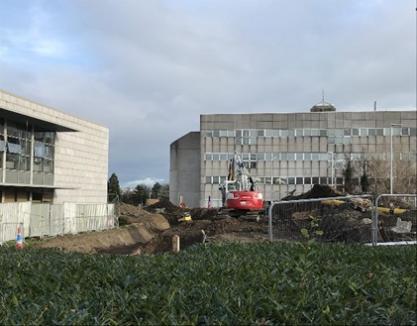 Figure 2: Field Trip to Enabling Works at UCD Centre for Creativity and Centre for Future Learning
Our approach was student-centered focusing on fostering regular engagement between academic advisors and students in the School of Civil Engineering. Firstly, ten students were selected for the project as student participants (Fig 3). They served as a link between the general cohort of students of their respective stages and year heads (designated faculty members at the school for each stage and programme being delivered). Furthermore, the student participants were included as members of the student-staff Newstead forum.
Figure 3: Flyer created to advertise the role of student participants on the project
The general cohort of students at the school was engaged via different methodologies, namely coffee mornings (Fig 1), regular informative talks (Fig 4) and the field trip (Fig 2). The coffee mornings proved a great tool to engage students outside of the classroom to build up a relationship between them and faculty members. The other two activities represented more formal settings that aimed at providing information on key topics for the students.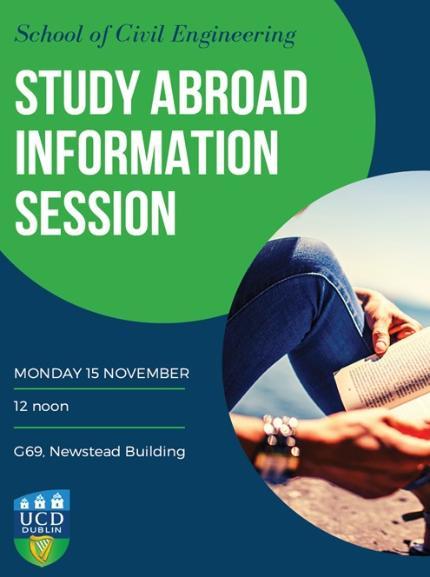 Figure 4: Flyer created to advertise informative talk on Study Abroad Opportunities
The key outcomes and impact of the project were:
Production of a student handbook to support 'Local Class Representatives' in future years.
Production of a staff handbook and shared google drive to support faculty members in academic advising roles.
Regular engagement of students with peers and staff, outside of lectures, in scheduled coffee mornings. This activity will be continued in future years.
Creation of a forum for the formal engagement between 'Student Participants' and Academic Advisors (Staff-Student Newstead Forum) which will be continued in future years.
Production of a webpage on the school website highlighting the names and contact details of academic advisors, and signposting students to other relevant information.
Journal paper: "Academic Advising in Civil Engineering: design and evaluation of a hybrid model" published in the Journal of Education Sciences, May 2022.
Submission to NACADA Conference, Portland, Oregon, Oct 2022.
Resources
List of resources/ outputs:
Class Rep/ Student handbook
Staff/ Academic Advisor handbook
Shared google drive of resources for academic advisors
Webpage for students
Recording of field trip: to be hosted on YouTube once editing complete
NACADA conference contribution: Portland, Oregon, October 2022
Video summary of the project
Poster detailing the background, the model used and evaluation of the project
Journal paper: Keenahan, J., Casero, M., Cotterill, S., O'Loughlin, F., O'Sullivan, J., Donohue, S., McCrum, D., Gonzalez, A., Carroll, P., Purcell, P. (2022) Academic Advising in Civil Engineering: design and evaluation of a hybrid model. Education Sciences; 12(5), 326. DOI: https://doi.org/10.3390/educsci12050326