Actively Learning Accounting Analytics Through Task-Based Simulation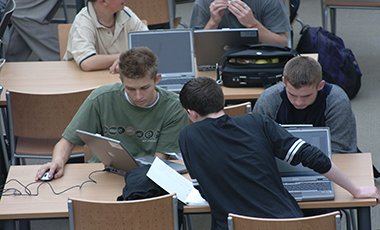 This Learning Enhancement project has been funded through the HEA and the National Forum for the Enhancement of Teaching and Learning.
| | |
| --- | --- |
| PROJECT TITLE: | Actively Learning Accounting Analytics through Task-Based Simulation |
| PROJECT COORDINATORS: | Dr Sean Power |
| MODULE: | Audit Analytics / B.Comm & Accounting Technology / M.Sc. Accounting & Financial Management |
| STUDENT COHORT: | Undergraduate and Postgraduate Full-time Students |
New technology is expected to have major implications for the future of audit and accounting work. Frey & Osborne (2017) highlight a high probability of accounting and auditing clerk (0.98) and tax preparer (0.99) roles being computerized in the next 10 to 20 years. Espinel, O'Halloran, Brynjolfsson & O'Sullivan (2015) state 30% of corporate audits may be performed by artificial intelligence by 2025. Data manipulation, data visualisation, artificial intelligence and robotic process automation are important skill sets for future accountants and auditors.
The aim of this initiative is to introduce these topics onto the syllabi of accounting modules using case-based simulation. New case studies are designed and delivered online using a tool which encourages engagement, problem solving and group work.
The goals of this initiative were:
Introduce technology-related topics onto accounting modules using case studies.
Develop a tool to deliver the case studies in a way that encourages engagement, problem-solving and group work.
A case study was developed for one of the topics, Robotic Process Automation. This case study required students to solve a problem. Students were required to automate a task: process a large sample of PDF sales invoices and compare the extracted details to associated entries in a CSV ledger file. Any differences found are output to a new CSV file.
A tool, in the form of a website, was developed to deliver the case study. To encourage group work, the case study and the tool were designed to be delivered in an open-plan computer lab. While the website was developed it has not been put into production due to impact of COVID-19 restrictions, preventing its use in classroom setting. When using this tool students enter a name for their group and a case study number. The group is presented with the case study and they are expected to complete the task as a group within a fixed time.
The method of delivery encourages engagement, problem-solving and group work. Students learn Robotic Process Automation in a way that is hands-on and relevant to their chosen field of study.
A comprehensive case study was developed on Robotic Process Automation. This case study was delivered on the ACC20030 (Audit Analytics) module on the B.Comm in 2020 & 2021 and will also be delivered on the Accounting Technology (ACC41020) module on the M.Sc. Accounting & Financial Management during the summer of 2021. The case study requires students to automate an audit task. Student feedback on the case study has been very positive.
Student feedback quotes:
I enjoyed doing the case study. It was something different, and the videos were easy to follow. I think it could help me in the future.
As professional accountancy moves to more automation, I think having some background or exposure to RPA will be useful.
The hands-on approach to the case studies allowed me to learn new skills which I'm sure I'll be using in the future.
The tool to deliver the case study online was developed but was not used in a classroom setting. It was not possible to utilise the tool in a computer lab with groups of students due to remote delivery. The case study was delivered remotely and students completed the case study individually. However, the tool will be used once on-campus teaching resumes.
The project was accepted for demonstration at an international teaching & learning conference (to be held in June 2020). However, the conference was cancelled in 2020 and 2021 due to COVID-19 travel restrictions.
Frey, C. B., & Osborne, M. A. (2017). The future of employment: How susceptible are jobs to computerisation?. Technological forecasting and social change, 114, 254-280.
Espinel, V., O'Halloran, D., Brynjolfsson, E., & O'Sullivan, D. (2015). Deep shift, technology tipping points and societal impact. World Economic Forum–Global Agenda Council on the Future of Software & Society.