An experiential learning approach to Developing cultural competence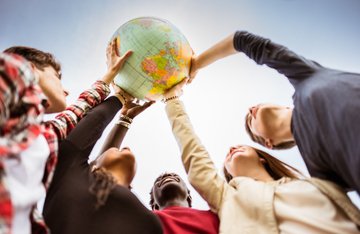 MODULE COORDINATOR:
Dr Dorota Piaskowska

COLLABORATORS (IF APPLICABLE)

:

Dr Julia Backmann

MODULE TITLE

:

Developing Cultural Competence, MSc Management

MODULE CODE (IF APPLICABLE):

BMGT 45110

STUDENT COHORT:

PG full time, approx. 100 students p.a.
With the increasing importance of collaboration and connectivity among diverse individuals, groups and organisations, an ability to function effectively in various cultural contexts becomes critical. The Developing Cultural Competence module aims to help students develop just such an ability.
First delivered in 2017, the module evolved from its coordinator's work on an earlier project that explored ways to develop a "global mindset" among UCD business graduates. As part of that project, the coordinator completed Cultural Intelligence certifications and delivered a series of workshops to students across all levels, staff and faculty.
In developing the module over the years, we drew from these earlier experiences as well as from extensive research into cultural intelligence, experiential learning and management education.
Currently we are actively researching, developing, trying and testing our approaches to developing cultural competence.
The overarching aim of the Developing Cultural Competence module was to help address cultural challenges typically encountered in MSc Management classrooms at UCD, where cultural and other demographic differences among subgroups of students tended to align with one another, leading to the so-called "strong faultline" group settings. Such settings can hamper collaboration and ultimately learning.
By helping students develop their cultural competence, the module contributes to creating an inclusive learning environment while also equipping students with life-long skills for the workplace and beyond.
Beyond this overarching aim, upon completion of the module students can also expect:
A greater understanding of their own motivation, cultural value preferences, and strengths and weaknesses in working in diverse contexts;

Knowledge of how cultures differ, and how to capitalise on the similarities and leverage on the differences across cultures in practice;

An ability to anticipate, analyse and respond to real-life business situations involving cultural differences.
To achieve its aims, the module blends the experiential learning and cultural intelligence approaches.
Experiential learning revolves in cycles of concrete experiences and reflecting on these experiences to gradually develop new insights. The experiential learning activities used in this module include games, simulations, role plays, case studies, and other group and individual tasks. The activities are mapped onto four key capabilities within the cultural intelligence framework, namely the motivational, cognitive, behavioural and meta-cognitive capabilities.
Throughout the trimester, students are provided with opportunities to reflect on and develop new insights from their experiences. While much of this happens during in-class discussions and activity debriefs, students' self-reflection and self-development work outside of class is key to achieving the intendent outcomes of the module. To this end, students complete a series of online self-assessments and reflective journal entries designed and timed to provide a roadmap for students' self-development work.
Consistent with the module's aims, students' reflective journals provide much evidence of increased awareness of self and others as well as examples of applying newly learned insights to actively manage cultural differences the students encounter.
An average improvement in students' cultural competence, when measured using the cultural intelligence scales, is approx. 20% over the course of the trimester.
In their feedback, students describe their experience and various activities and tasks in the module as "very thought-provoking," "extremely eye-opening," "very helpful," "one of the most insightful experiences of my life."
Students also appreciate the longer-term benefits of their learning in the module:
"Coming into this module I didn't really think I would enjoy/gain much from it - I was very pleasantly surprised. (…) I really felt I understood at a much greater depth the value of teamwork and indeed multicultural teams. I think it is a really great and insightful module and I will definitely be enlisting the skills I learnt throughout my career." "(…) very applicable to a business context. I definitely think I am more culturally competent than before."
Alexandra, V. (2018). Predicting CQ development in the context of experiential cross-cultural training: The role of social dominance orientation and the propensity to change stereotypes. Academy of Management Learning & Education, 17, 62-78. doi:10.5465/amle.2015.0096
Backmann, J., Kanitz, R., Tian, A. W., Hoffmann, P., & Hoegl, M. (2020). Cultural gap bridging in multinational teams. Journal of International Business Studies 51, 1283–1311. doi:10.1057/s41267-020-00310-4
Dietz, J., Fitzsimmons, S. R., Aycan, Z., Francesco, A. M., Jonsen, K., Osland, J., . . . Boyacigiller, N. A. (2017). Cross-cultural management education rebooted: Creating positive value through scientific mindfulness. Cross Cultural & Strategic Management, 24, 125-151. doi:10.1108/ccsm-01-2016-0010
Earley, P. C., & Ang, S. (2003). Cultural Intelligence: Individual Interactions across Cultures. Stanford, CA: Stanford University Press.
Eisenberg, J., Lee, H.-J., Brück, F., Brenner, B., Claes, M.-T., Mironski, J., & Bell, R. (2013). Can business schools make students culturally competent? Effects of cross-cultural management courses on cultural intelligence. Academy of Management Learning & Education, 12, 603-621. doi:10.5465/amle.2012.0022
Kolb, D. A. (2015). Experiential Learning: Experience as the Source of Learning and Development (2nd ed.). Upper Saddle River, NJ: Pearson Education.