UCD Community Engaged Learning and Teaching (CELT) Community of Practice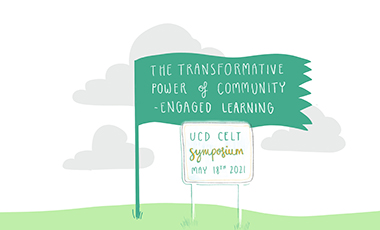 This Learning Enhancement project has been funded through the HEA and the National Forum for the Enhancement of Teaching and Learning.
| | |
| --- | --- |
| PROJECT TITLE: | UCD Community Engaged Learning and Teaching (CELT) Community of Practice |
| PROJECT COORDINATORS: | Dr Deirdre McGillicuddy & Theresa O'Leary |
| AUDIENCE: | Opened to all members of UCD community. |
| COHORT: | Faculty, academics and students. |
Community Engaged Learning and Teaching is considered to be transformative for students and practitioners, underpinned by civic participation in community and society. One of the strategic themes of the UCD Rising to the Future Strategy is "Building a Healthy World" a core objective of which is to "continue to build our engagement locally, nationally and internationally". Community Engaged Learning (CEL) and Teaching affords the University an opportunity to build and strengthen strong partnerships with social and community organisations in a meaningful and transformative way. It provides faculty, students and community organisations opportunities to engage in a symbiotic manner, learning from each other whilst bridging the gap between academic learning and the lived reality(ies) of society.
A key aspect of this approach is that learners work on the needs/projects identified by the community. CEL encourages students to explore critical issues within society with the ultimate goal "to develop graduates who have a wide and deep sense of their role as active citizens both personally and professionally" (McIlrath and McDonnell, 2018).
Establishing the CELT CoP in UCD afforded a timely opportunity to develop faculty, academic and student capacity in considering CEL as a pedagogical approach across all disciplines in the university. The Community of Practice provided a timely opportunity to bring together those already adopting CEL in their teaching and learning and those who were interested in learning more. Furthermore, this community meaningfully contributed to the core objectives one, two and three in UCD's Rising to the Future Strategy.
The main goals of this project were to establish a Community of Practice (CoP) for faculty, academics and students engaged/interested in engaging in Community Engaged Learning (CEL) across the university. It sought to:
Provide a supportive network for faculty, academics and students to share learning, to enhance understanding and to improve practice in community engaged learning and teaching.
Establish a core UCD CELT Community who shaped the core activities of the CoP.
Host a symposium bringing together practitioners, community partners and students to explore best practice, to identify possibilities for collaborations and to strengthen networks in supporting and developing CEL across all disciplines in the university.
Present opportunities for CPD in CEL through awareness raising about the Campus Engage Community Engaged Learning online short course.
Afford the opportunity for cross-pollination of ideas within and across disciplines facilitated through a shared learning event held as part of the symposium.
Enhance the learning for students across the university by (a) improving the quality of their experience on CEL modules and/or (b) supporting faculty and academics to consider using CEL in their approach to teaching and learning in UCD.
The arrival of the pandemic and the announcement of the national lockdown the day before our first face to face meeting of the community meant that we had to pivot and rethink how best to bring the community together. This resulted in us having to take a more innovative and creative approach. As people became increasingly zoomed out, we had to consider how best to engage in a meaningful and dynamic way.
The CELT CoP adopted 3 core activities:

Alumni Talk
We launched the CELT CoP and brought its message to the broader UCD community. We collaborated with UCD Alumni to launch the community as part of their 'In Conversation' talks in Summer (July) 2020. The theme for the talk was "The transformative power of community engaged learning" and featured Dr Deirdre McGillicuddy in conversation with Assoc Prof Hilda Loughran (School of Social Policy, Social Work and Social Justice) and Mr Gary Broderick (SAOL). It is one of the most viewed talks on UCD Alumni Facebook with over 2.3k views.
Cups of Cha(t) Monthly
From September 2020 until April 2021 we hosted monthly Cups of Cha(t) via Zoom to establish the community and bring people together in an informal way to hear more from peers/students about their experience of CEL. Over 50 people signed up to community from across all colleges and units in the University. It was the interdisciplinarity of the community which really gave it such strength and depth to conversations. The community comprised of those experienced in adopting CEL as pedagogy in their teaching and those who were there to learn more. It also included students who had experienced the CEL approach as well as those who wanted to learn more.
Each month had a theme:
September 2020 – Introducing the Community
October 2020 – The purpose of the Community
November 2020 – Capacity Building in CEL – Introducing the Short Course
December 2021 – A Christmas Cup of Cha(t)
January 2021 - Community Engaged Learning and Teaching as pedagogy
February 2021 – Identifying the needs of the community
March 2021 - Getting Started with Community Engaged Learning led by Kathleen O'Reilly (UCD School of Business) & Josephine McDonnell (UCD Innovation Academy)
April 2021 – Student Experience of Community Engaged Learning led by Tobias Gunning (PhD Student UCD School of Law) and Lorraine Lally (Master's Student UCD School of Law)
Dynamic Online Symposium – May 2021
The inaugural CELT CoP symposium was held in May 2021. The symposium continued to build on our theme: " The Transformative Power of Community Engaged Learning". It was really important to the community that we had an inclusive and dynamic discussion which captured CEL from the academic, pedagogic, student and community partner perspective while also providing the opportunity for attendees to come together and share their learning/perspectives on the type of transformation there were seeking. There were 4 distinctive conversations held at the symposium:
The Keynote Discussion
Theme: From the Individual to the Collective: Creating Community-engaged learning experiences through faculty conversations.
Keynote Speaker: Assoc Prof Helga Dornan (Eötvös Loránd University (ELTE), Hungary)
Chair: Assoc Prof Niamh Moore Cherry (VP Teaching and Learning, UCD College of Social Science and Law)
Facilitator: Claire Mulvany (Facilitator/UCD Innovation Academy)
The Panel Discussion
Theme: The Transformative Power of Community Engaged Learning
Asst Prof Sarah Morton (UCD School of Social Work, Social Policy and Social Justice)
Dr Laura O'Reilly (Urrús Addiction Training Centre, Ballymun Youth Action Project)
Sinead Jordan (Graduate of the Community Drugs Programme & Northside Partnership, Coolock)
Facilitator: Claire Mulvany (Facilitator/UCD Innovation Academy)
The Cup of Cha(t) Breakout Rooms
Reflecting on today - what type of transformation are you seeking?
Tobias Gunning (PhD Student UCD School of Law)
Asst Prof Adamaria Perrotta (UCD School of Mathematics and Statistics)
The Visual Illustration
Visual summary of the discussions captured by Eimear throughout the symposium
Eimear McNally (Visual Facilitator)
All recordings and the visual from the symposium are available on the UCD in the Community website and at the result section of this showcase.
The CELT CoP grew from strength to strength as the year progressed with circa 50 members encompassing faculty, academics and students (across all Colleges) signed up to our email list and culminating in over 90 people registering for the CELT Symposium reflecting on "The Transformative Power of Community Engaged Learning". Community members have indicated that they found CELT CoP a really impactful resource for learning more about CEL. It has also resulted in new connections and community based project developments between students, faculty and academics arising from connecting through the CELT CoP.
Feedback from our survey indicated that all respondents would like the community to continue to run next year. This feedback also indicated that CELT provided the community with the opportunity to learn from others, to make connections, to initiate new projects and to consider using CEL in the approach to their teaching in UCD.
CELT CoP was helpful in:
Making visible all of the community engaged work that is ongoing or being initiated.
We have seen how to apply a CoP model in different environments. The interaction between different schools and different subjects have inspired me on how to adapt such methodologies and ideas in my area.
It was great meeting colleagues from across the university in a more informal setting and finding out what work they are doing in the community.
Hearing the personal experience of those who have engaged in embedding community work in their modules.
Listening to the experiences and practises of others in the group. A lot of new stuff for me and always good to get new perspectives.
One community member suggested that:
I think this is a really valuable contribution to UCD. It creates a space that encourages sharing/expansion of knowledge & skills and the benefits are so wide-ranging. All teaching staff from all schools/units should be invited to join and it should be in the "Welcome to UCD" info pack for new staff.
The feedback for the symposium was particularly impactful with attendees sharing the following one word reflections:
Inspiring, Hope, Agency, Empowerment, Relational learning, Relational understanding, the Power and Responsibility of Community Engaged Learning, Possibilities, Brilliant Morning, Motivating, A bright future, Timely and Important, Dream Big, Keep Trying, Get Involved, Try new things, Be the change, food for thought
Using the 3 stars (aspects that went well) and a wish (hope for the future) reflection it is clear:
Star 1: We can build a community of individuals interested in Community Engaged Learning across all Colleges and Units in UCD
Star 2: We can meet new colleagues and nurture new opportunities within our Community of Practice
Star 3: We can see the transformative power of building the CELT CoP in UCD
A Wish: We would like to continue to build this community, to secure funding to support our work and to find the institutional/contextual structures to help support and promote CEL across UCD.
Resources