Co-Creating a Tutor Training Module for Arts and Humanities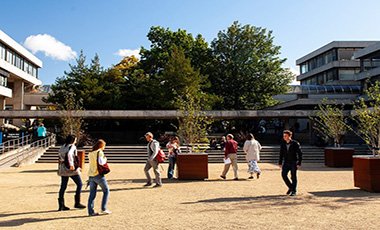 This Learning Enhancement project has been funded through the HEA and the National Forum for the Enhancement of Teaching and Learning.
| | |
| --- | --- |
| PROJECT TITLE: | Co-Creating a Tutor Training Module for Arts and Humanities |
| PROJECT COORDINATOR: | Dr Naomi McAreavey |
| COLLABORATORS: | Associate Professor Lucy Collins & Tutors: Ms Charlotte Berkery, Ms Jenna Byers, Ms Anna Graham, Ms Rachel Healy, Ms Laura Loftus, Ms Fiona Lyons, Ms Kelly Michels, Ms Chiara Tedaldi and Ms Zhengfeng Wang |
| MODULE NAME: | Tutor Training for Arts and Humanities/Structured PhD |
| MODULE CODE: | HUM50010 |
| STUDENT COHORT: | The module is offered to current PhD students who are also employed as tutors in the College of Arts and Humanities. |
The development of a College Strategy for the Support and Professional Development of Tutors revealed considerable variance in the training opportunities for postgraduate tutors across the College of Arts and Humanities. The differing sizes of schools, together with varied disciplinary teaching practices, meant different capacities and approaches to tutor training.
The preparatory phase of this project involved extensive research and review, including information-gathering workshops with tutors, faculty, and administrators; consultation with Heads of School and other College stakeholders; conversations with colleagues in UCD Teaching and Learning; and review of existing models of in-school training and courses available through UCD T&L and the National Forum.
All revealed the need for a robust model of tutor training at college level – one that will ensure that all Arts and Humanities tutors have an equal opportunity to receive quality training, development, and support, and will foster collaborative learning among our graduate tutors. The move to online teaching and learning precipitated by Covid-19 gave us the opportunity to reimagine the training in blended form, providing a more flexible, sustainable and inspiring model of tutor training for graduates juggling a range of personal and professional commitments.
The project aimed to work with existing postgraduate tutors to develop high quality professional training in university teaching and learning for all Arts and Humanities tutors.
This involved:
Creating a bespoke module for Arts and Humanities tutors by involving tutor representatives from all seven schools in the college in the design of the module.
Guaranteeing relevance and authenticity by working with tutors to create new high quality reusable digital learning materials and to curate a range of existing resources.
Ensuring that the module is sustainable in the long term by creating the module in a highly flexible blended format within Brightspace.
Making high-quality tutor training available to all Arts and Humanities tutors in both the autumn and spring trimesters each year.
Contributing 10 ECTS at Level 5 to the structured PhD programme.
Fostering a community of practice among postgraduate tutors in our college.
The new module provides a coherent and sustainable alternative to the varied training opportunities currently on offer in schools by combining flexible and renewable resources with mentoring and peer support to create an innovative learning experience. It encourages critical reflection and cross-disciplinary dialogue to support tutors in becoming more skilled, learned, and confident university teachers. This helps to ensure that our undergraduate students receive a quality education from trained and supported postgraduate tutors.
LEP funding allowed us to recruit experienced postgraduate tutors from across the seven schools of the college to participate in this project. Through a series of planning workshops on Zoom, tutors from different disciplines collaborated with us in the design and development of the module.
We worked together to identify the learning outcomes and to develop the module content and assessment strategy, paying particular attention to the developing needs of new tutors. Our tutor design team worked with their peers to create learning materials in various formats including interviews, lesson plans and technology reviews. The involvement of experienced tutors in the design of the module ensures that it meets the specific needs of their peers, addressing key areas of personal and professional development from building confidence in the classroom to planning innovative sessions and grading assignments with skill and consistency.
In developing transferable skills in communication, critical reflection and feedback, this module will support the professional development of all postgraduate tutors, whether they are seeking an academic position or pursuing other career paths. In addition, our design team gained considerable benefit from the experience, refining their expertise in university teaching and learning and developing networking and creative problem solving skills.
Our new module has now been built within Brightspace and will be launched in Autumn 2021 (see appendix for the module outline). Tutors involved in co-creating the module speak of the value of learning from their peers, reflecting on their own practice as tutors, honing their skills, and developing a module from scratch.
Charlotte says that 'the opportunity to collaborate with a team of tutors and to foster new connections was extremely rewarding'. Several said that they wished they had the opportunity to take a module like this when they began teaching, with Anna welcoming the opportunity to 'create the systems that would have helped me'. Zhengfeng is confident that the module 'will guide [tutors] through the tutoring journey'; Rachel hopes new tutors will feel 'more confident and prepared'; and Laura anticipates that tutors will become more 'confident and effective educators'. Jenna speaks about the value of the 'practical tools and tips' provided by the module; Fiona expects that tutors 'will gain various tools and skills […] that they can implement in the classroom'; and Anna hopes that tutors 'feel encouraged to try new things'. Laura highlights the benefits of peer learning, which 'is one of the cornerstones of the module'; and Zhengfeng emphasizes the short videos where tutors will hear the 'tips and insights' of Arts and Humanities colleagues. Kelly speaks for all of us when she anticipates that 'tutors with any level of previous experience will find this module foundational, a collaborative and dynamic resource that will act as both a support and a source of inspiration in the classroom.'
Resources
We drew upon a wide range of material, including our own experiences as students on the Graduate Diploma of University Teaching and Learning. We found valuable resources on the UCD Teaching and Learning website, the UCD OER, and through the UCD Teaching and Learning Community. A module reading list is available on request.