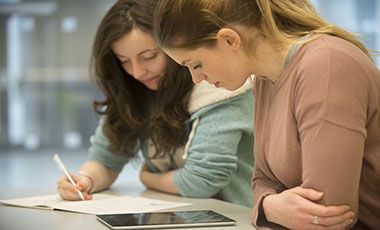 This Learning Enhancement project has been funded through the HEA and the National Forum for the Enhancement of Teaching and Learning.
| | |
| --- | --- |
| MODULE: | Multiple Modules |
| MODULE COORDINATOR: | Assoc Prof Paul Perry, Dr Priscilla Morris |
| MODULE CODE: | Multiple Modules |
| TARGET AUDIENCE: | UCD Full-time and part-time students of all levels who require help with their creative writing |
The Learning Enhancement Project set out to supplement existing writing services offered by the UCD Writing Centre, by offering support to students in creative writing. Creative Writing is one of the most successful and fastest growing subjects in the College of Arts and Humanities. With a large elective programme, the new BA in English with Creative Writing, and provision at MA, MFA and PhD levels, there is a real demand for support for creative writing students.
The original idea was to train three Creative Writing postgraduates to give face-to-face consultations in the Writing Centre from April to December 2020. Not only would this benefit students by offering them in-depth, individual feedback on their assignments, but it would also give the trainee tutors invaluable teaching experience.
However, COVID and the closure of the campus meant we had to change tack. Instead, we asked the selected postgraduates to focus on producing a portfolio of Creative Writing resource documents to be made available to students on the UCD School of English, Drama and Film webpage.
When UCD continued online for the Autumn trimester, we decided to offer feedback consultations via Zoom. We supported three Creative Writing tutors in the delivery of these consultations, which were open to all UCD students.
The following were the goals for this initiative:
To support student success in their creative writing assignments by:
Producing a portfolio of online creative writing resource documents.

Offering one-to-one Zoom feedback consultations.
To develop postgraduate professional skills by:
Working closely with postgraduates to develop and edit the resource documents they authored.

Supporting postgraduates in the delivery of feedback consultations.
To foster links and encourage reflection among Creative Writing staff by:
Asking staff to share their expertise to help with the writing of the online documents.

Passing on to all staff the nature of the problems and queries students brought to the consultations to raise awareness of students' individual experiences of writing creatively.
Online Resource Documents
We put out a call for applicants and selected three postgraduates (one poet and two prose writers). We worked closely with the postgraduates to develop the 3-5 page documents, going through several drafting stages. Dr Priscilla Morris also contributed two documents herself, incorporating the shared expertise of the Creative Writing staff. We have finished with a portfolio of eight extremely useful documents for students to refer to. There are two in poetry, three in fiction, one in creative non-fiction, one on writing a critical reflection and a creative writing rubric. The documents will be uploaded to the UCD School of English webpage and can be viewed in below Creative Writing Portfolio.
Creative Writing Portfolio
A happy offshoot of the project was that teaching fellow Dr Catherine Morris volunteered to make a brief video on writing reflectively.
Feedback Consultations
We asked three Creative Writing tutors (current or recent postgraduates) to offer online consultations. Students sent their creative writing to the relevant tutor in advance of the consultation. The tutors delivered thirty-minute Zoom consultations in which they gave detailed oral feedback. Students were then offered a thirty-minute follow-up consultation a few weeks later to discuss their revisions and consolidate their learning. To record student queries and advice given, tutors used a specific Tutor Form. 20 consultations were carried out in total.
Online Resource Documents
The eight creative writing resource documents and one video will outlive the limited period of funding for the Learning Enhancement Project. They will have a great impact on student learning, supporting students in all stages of writing from initial ideas to editing. Creative Writing staff, when approached about their advice on writing critical reflections expressed there was a great need for such guidance. Staff feedback on the resulting documents has been enthusiastic: "excellent" and "wonderful". There's a clear opportunity to develop further online resources in the future.
Zoom Feedback Consultations
Twenty consultations took place: twelve students took advantage of the six-week service, and, of these, eight had follow-up consultations. Students came from a wide range of disciplines, schools and stages in their academic study. Nine undergraduates and three postgraduates came for creative writing help. Five undergraduates majored in English with Creative Writing while four majored in Maths & History, Maths & French, Sports & Exercise Management, and Politics & International Relations. Two postgraduates were taking Creative Writing MA/MFAs and one was doing a Professional Diploma in Creativity, Innovation & Leadership. The majority came for advice on prose with three looking for feedback on poetry.
Feedback was overwhelmingly positive. 83% completed feedback forms. 100% agreed the tutor was approachable; that the feedback was clearly explained and useful; and that they would recommend the creative writing service to others. 90% said the session responded to their writing needs, while 70% said they now feel more confident about their creative writing assignments.
Some students commented:
"Having someone else with a professional understanding of writing, reading and reviewing my work was invaluable."
"I appreciated the one-on-one time to go through individual aspects of work which often isn't possible in creative writing class."
"I really enjoyed the service. It is really, really helpful. Can't recommend it enough."
The postgraduate tutors reported similarly positive experiences:
"I am very much enjoying these sessions!"