Human Learning: Promoting Students' Personal Abilities for Success at College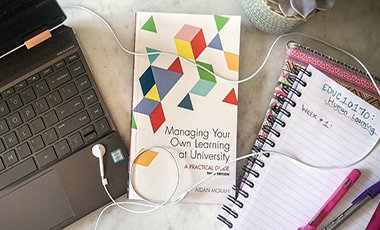 This Learning Enhancement project has been funded through the HEA and the National Forum for the Enhancement of Teaching and Learning.
| | |
| --- | --- |
| PROJECT TITLE: | Human Learning: Promoting Students' Personal Abilities for Success at College |
| PROJECT COORDINATORS: | Associate Professor Jennifer Symonds |
| COLLABORATORS: | Professor Christopher Jepsen, Ms Sarah Brown |
| MODULE: | Human Learning |
| MODULE CODE: | EDUC10170 |
| STUDENT COHORT: | Undergraduate students. Elective offered across UCD. Number registered in 2020/2021 =87. |
Student success at college is not just achieving high grades
The National Forum for Teaching and Learning defines student success as the process by which students fulfil their potential and flourish at college and in society. This is a broader activity than simply achieving high grades. Psychosocial competencies are core to the definition of student success: these are the 'soft skills' or 'non-cognitive skills' that enable students to cope well with learning challenges, engage deeply in learning, and develop their identities as learners and as active citizens. Transitions are a key issue within this priority area, with transitions such as the move from school to college presenting both challenges and opportunities for students.
Psychosocial competencies education has the potential to enhance student success at college and in the workplace
Momentum for supporting students' psychosocial competencies at college is growing. Employers are increasingly recognizing the value of soft skills including professional etiquette, work engagement, and critical and creative thinking (Symonds & O'Sullivan, 2017). Furthermore, modern career pathways require individuals to be flexible and dynamic, with success riding on the extent to which individuals can craft their own careers and manage their engagement in different types of work (Tims & Akkermans, 2019). However, the psychosocial competencies important for managing one's own learning are not often directly taught at college, leaving potential to develop new forms of education for promoting student success.
Project aim
Our Learning Enhancement Project aimed to investigate the effectiveness of an undergraduate module designed to promote students' psychosocial competencies important for managing their own learning at college.
The Human Learning module
Human Learning is an undergraduate elective module offered to all students at UCD. It is designed to promote student success by directly teaching motivation, self-regulated learning, emotional regulation, critical and creative thinking, flow, concentration, happiness, learner identity, and stress management. Each psychosocial competency is taught through weekly lectures (pre-recorded online lectures in 2020, large group lectures pre-2020) and readings. Each week, students develop supportive learner relationships and apply the competency to real world situations during a small-group active learning tutorial. Tutorials feature self-assessment, quizzes, vignette discussion, simulation games, role play, and structured debate.
The module is designed by an educational psychologist (Symonds) and a career and skills consultant (Brown). The module has run annually since 2017. In 2020-21, Human Learning was adapted to a 9-week 100% online course due to the COVID-19 pandemic.
An effectiveness evaluation was carried out to assess the impact of Human Learning on students' ability to engage with academic learning at college during the COVID-19 pandemic. The research was approved by the UCD Human Research Ethics Committee.
Who took part?
All students registered to Human Learning (N = 92), and a control group of all other students at the UCD College of Social Sciences and Law, were recruited in September 2020. The final sample (N = 288; male = 30.5%) comprised 223 control group participants and 65 Human Learning participants. Six Human Learning students participated in a focus group interview. All participants were given a €10 book token in gratitude.
How did we do it?
Pre- and post-module online surveys were administered in late September (week 1) and late November (week 9) to the control and Human Learning groups. Using robust psychometric instruments, surveys measured students' learner self-efficacy, engagement at college, drawbacks and value of going to college (motivation), and college learner identity. Students also reported on their gender, age, perceived family socioeconomic status, first generation college status, and migrant status.
An innovative concentration workshop was run in the fifth week and was also offered to all Human Learning students and control group participants. We collected momentary engagement data during the workshop.
Focus group / individual interviews with Human Learning students were conducted in late November. We also collected students' college entrance achievement and semester GPA.
In this section we present the results of the pre- and post-test surveys, and qualitative interviews. The dataset from Human Learning is extensive and is still being analysed for publication and presentation in teaching and learning outlets.
What did we find?
All statistical analyses were conducted in MPlus version 8.6 and controlled for age, gender, first generation status, and migrant status. At pre-test, Human Learning students had lower engagement, lower interest in college, and higher perceived drawbacks of going to college, compared to the control group. However, across the semester, Human Learning students had an increase in self-efficacy whereas the control group reported a decrease. Human learning students also became more positive about going to college, with reduced drawbacks reported. They became more like the control group in engagement and interest in college, after taking the module. There were no group differences in identity. In general, Human Learning students became more efficacious, engaged, and motivated, as a result of taking the module.
The qualitative analysis uncovered that students recognised the importance, and challenges, of needing to manage their own learning at college. Several students remembered the lecture and tutorial on managing academic emotions as a highlight of the module. One reflected that this had helped them academically and personally. Students identified problems with other students in breakout groups not participating, as a challenge of learning online. They also recommended for the module's content to be enhanced with information on cognitive learning strategies (e.g., mind-mapping). This suggests that students would appreciate more, rather than less, direct education at college on how to learn.
Resources
Our suggestions for other educators wishing to develop a psychosocial competencies module are:
Base each week of learning on a single core competency to give students adequate time to engage with it conceptually and practically.
Select competencies that have a strong evidence base for improving student learning at college. Use high quality empirical evidence as the basis for the readings.
Build meta-cognition (reflection and mental monitoring) into as many learning activities as possible. This experience will give students greater control over their own learning and will promote self-efficacy in learning when combined with frequent positive feedback.
Use a variety of learning activities – including social and non-social activities – to motivate and suit a diverse group of learners who will have different learning needs and preferences.
Work with a diverse team of educators to develop your module – seek out specialists and bring them together to create a powerful learning experience that is enriched by different views and traditions.
Create a module that is non-threatening to students while maintaining high academic standards. When students believe they can succeed in a module they are more motivated and happier.
Design tutorial activities to help students transfer knowledge about psychosocial competencies to real world situations and problems.
Have students write a reflective essay about their own learning at college – focusing on common learning challenges and what they have done or can do to overcome these. This activity helps develop their metacognition, allows them to identify areas for improvement, and ensures that they set out a practical plan for how to learn more effectively at college.