Immersive Technology in Education: A Collaborative Learning Initiative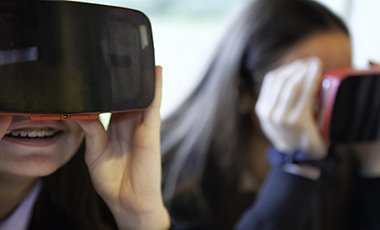 This Learning Enhancement project has been funded through the HEA and the National Forum for the Enhancement of Teaching and Learning.
| | |
| --- | --- |
| PROJECT TITLE: | Immersive Technology in Education: A Collaborative Learning Initiative |
| PROJECT COORDINATORS: | Ms Rachel Farrell |
| MODULE: | Immersive Technology in Education |
| STUDENT COHORT: | All student teachers, methods lecturers and co-operation teachers involved in the School of Education teacher education programmes. |
| COLLABORATORS: | Mr Mark Baldwin, SchooVR |
This project is underpinned by an innovative short online course on Immersive Technology in Education. It stems from the research of Rachel Farrell, UCD School of Education, in the area of 'democratic pedagogical partnerships' (Farrell, 2021) in teacher education and is designed and facilitated by post-primary school teacher Mark Baldwin of SchooVR.
The aim of the course is to foster an appreciation of the emerging role of immersive technology in education and to provide student teachers, subject methodology lecturers and co-operating teachers with a dynamic, innovative forum in which to explore the potential for immersive technology to optimise teaching and learning. Under the guidance of expert Mark Baldwin, participants explored how immersive technology can be effectively used to interrogate Development Education and the Global Goals for Sustainable Development.
The collaborative partnership with the SchooVR, Ubuntu, QUB, Ulster University and DCU (through a SCoTENS funded project) provided a medium for shared learning, capacity building and the dissemination of leading practice across a range of subject areas and institutions. The project will also be showcased at the Teaching Council Féilte event in October 2021.
The objective of this project was to investigate the use of immersive technology in initial teacher education (ITE) and to provide opportunities for shared professional learning for the extended teaching community in the School of Education.
The key research questions were:
What digital skills and pedagogical content knowledge (PCK) (Shulman, 1986) are needed by student teachers to create VR/AR/MR materials to support subject-specific learning in schools?
What opportunities are there for collaboration between teacher mentors and student teachers on the potential of VR/AR/MR technologies for subject-based learning during school placements?
What professional development is needed to provide methods lecturers with the necessary skills to support this initiative at university level?
Research instruments developed as part of an ongoing SCoTENS project were used to discern perceptions, dispositions and skills before and after the collaborative learning intervention. The results of these will form part of the SCoTENS report that will be published later this year. The desired outcome of the initiative was to produce an online course and a portfolio of curriculum relevant immersive learning experiences that can be shared amongst the teaching profession.
The project involved inviting Professional Master of Education (PME) students from a range of subject areas to work with their co-operating teacher to implement the use of immersive technology in teaching and learning while on their school placement. Methods lecturers, student teachers and co-operating teachers were provided with sustained professional development by industry specialists – Mark Baldwin of SchooVR in the form of a bespoke online module and onsite visits to schools (this moved to online support during Covid-19). During these onsite visits, specialized equipment was made available so that pupils in the school could experience the full benefits of immersive technology.
Immersive learning technologies such as virtual reality (VR), augmented reality (AR) and mixed reality (MR) have the power to truly revolutionise teaching and learning. Throughout this project, teachers were introduced to several cutting-edge immersive tools that allowed them to enhance their own teaching practice. The project resulted in teachers from different subject areas collaborating on designing and developing a library of immersive learning experiences across a range of subject areas in the post-primary curriculum. By making these resources accessible to all, teachers who participated in this project will help enhance teaching and learning in classrooms across Ireland and beyond.
The range of student teachers' innovative resources has demonstrated their capacity for creativity and an ability to acknowledge the importance of using immersive learning resources to enhance teaching and learning with their classes. The planning and development process allowed teachers to reflect on the importance of creating authentic learning experiences for their students while it provided a pathway for teachers to innovate their daily teaching routines. This will inform the future development of subject methods modules to align to national priorities in education with particular reference to technology enhanced active learning methodologies. Furthermore, this project has highlighted meaningful ways:
For schools to enact elements of the Digital Learning Framework (DES, 2017).
To enable faculty and staff to learn from students.
To strengthen school-university partnerships on the Professional Master of Education Programme.
Collaboration between the key stakeholders, teachers and students was crucial to this project's success as it has allowed the partners to pool their resources and skills to work together to adapt and modify the support offered and future interventions.
Resources
A wide variety of interactive resources were created during this project. You can view a short video to see an example of virtual reality resources' creation, namely the SchooVR MFL Ideas for German by Mr Till Weyers.
A bespoke online module informed participants about the role of immersive technologies in education. The online module includes several informative tutorials about VR/AR/MR immersive learning tools.
The project resulted in teachers from different subject areas collaborating on designing and developing a library of immersive learning experiences across a range of subject areas in the post-primary curriculum. Some of the experiences created by teachers included immersive 360-degree images, curriculum-aligned content, guided audio and higher order thinking questions and classwork activities. The experiences are located on an online platform and can be accessed via iPads, Chromebooks, Tablets and virtual reality goggles for an even more immersive experience.
Participants were supported by Rachel Farrell and Mark Baldwin throughout this project. Teachers were encouraged to reflect on their own classroom practice and the possibilities of embedding VR/AR/MR technologies in their own teaching. Teacher feedback was collected during the project and can be accessed on the link below.
The online module, resources and testimonials may be accessed at the SchooVR website.