Intercultural Development Programme (ICD)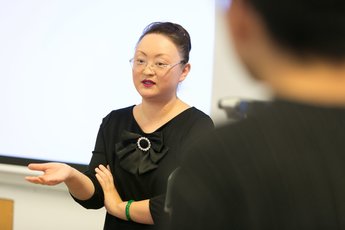 | | |
| --- | --- |
| PROGRAMME TITLE: | Intercultural Development Programme (ICD) |
| PROGRAMME COORDINATOR: | Dr Linda H Yang |
| MODULE CODE: | SBUS45390 |
| STUDENT COHORT: | All 1200+ postgraduate students including full-time and part-time at Smurfit school are automatically enrolled into ICD. |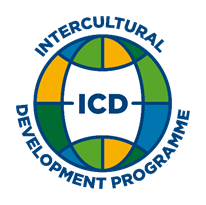 Global student mobility or student migration has become a burgeoning phenomenon that impacts on countries and their higher education practices. Ireland is no exception. The Irish higher education landscape has changed significantly in the past 20 years and the number of international students studying in Irish higher education institutions has more than doubled since 2007.
It has been well documented that diversity of the student body does not automatically lead to integration between international and domestic students. The forming and maintaining of multicultural relationships on campus and successful working in diverse student groups remains a challenge due to language, cultural cliques and cultural differences. Domestic students end up missing out on the value of intercultural learning while international students still want more.
Internationalization at home and intercultural education are the two theoretical foundations that underpin the design and the delivery of the Intercultural Development Programme (ICD).
I developed the Intercultural Development Programme (ICD) achieve the following goals.
Develop postgraduate students' 12 sets of the Key 21st century skills: intercultural competence (the core), communication, adaptability, global mindset, critical thinking, creativity, conflict management, listening and observing, problem-solving, decision-making, emotional intelligence and teamwork. (Shown in the flower framework below)
Help students to maximise their intercultural learning inside and outside of the classroom in a multicultural setting.
Enhance integration among international and domestic students inside and outside of the classroom.
Prepare students to be employment-ready for the global job market.
The design of ICD is driven by research in Internationalisation at Home, which can be defined as the purposeful integration of international and intercultural dimensions into formal and informal curricula for students within domestic learning environments. ICD is part of the informal curriculum and is non-credit bearing. Due to demand from the students, from 2021/2022 academic year, all postgraduate students are automatically enrolled into ICD.
To ensure all students have equal opportunity and the flexibility for intercultural learning, I have adopted a blended approach combining online delivery and in-person delivery. As shown by the programme structure and timeline diagram below, there are two levels of ICD, namely Level 1 Fundamentals ICD and Level 2 Advanced ICD. This structure offers flexibility for students to choose the approach that fits their learning style and schedule the best.
Level 1 Fundamentals ICD provides essential knowledge and skills for effective learning in a multicultural context and sets a foundation for students' success in the global job market. It is 100% self-paced online learning which requires 6 learning hours.
Level 2 Advanced ICD provides a deep dive into key 21st Century skills needed for higher academic achievement in a multicultural context and prepares students for the global job market. To complete Level 2, student needs to complete Level 1 and also attend at least three Level 2 workshops. This requires students to complete a minimum of 12 learning hours. The Level 2 workshops are student-centred and highly interactive. Each workshop is 2.5-hours long with a 10-minute break.
More information, including the programme brochure and employer's comments, are available on the ICD webpage.
ICD has been in high demand since its establishment in 2018. Numbers have grown from 128 in the first year of operation, to 498 in 2019/2020, and then in 2020/2021 to a record 708 students, with students drawn from more than 30 nationalities and across 21 MSc Programmes. The top three nationalities are 35% Irish, 27% Indian, and 21% Chinese and the gender balance is 61% female and 39% male.
To ensure all students have equal opportunities for intercultural development, from 2021/2022 academic year, all students at UCD Michael Smurfit Business school will be automatically enrolled into ICD. There are unlimited places for the Level 1 Fundamentals ICD. There are limited spaces for the Level 2 Advanced ICD.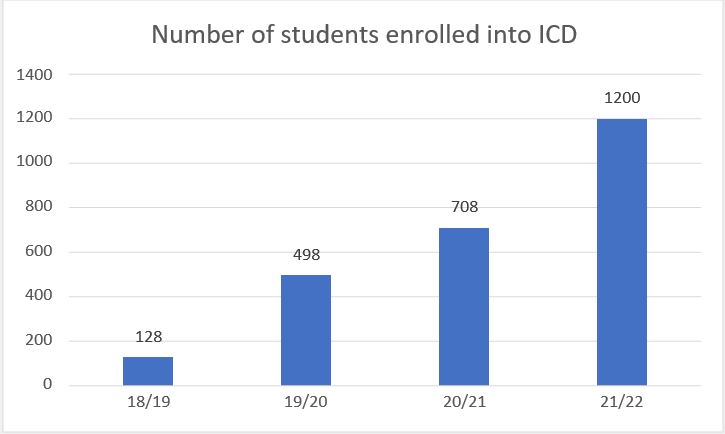 ICD has had significant impact on the quality of the student educational experience. Feedback from students has shown that participating in ICD had a significant impact on their overall student experience. Three annual ICD Students' Experience Surveys indicated that 80% of students believed that ICD helped them with working in groups, 92% students indicated that ICD has met their expectations and 100% students would defiantly recommend ICD to future students. The top five areas that ICD has helped students are Teamworking (95%), Communication skills (91%), Intercultural experience and competence (90%), Adaptation (88%), Meeting other students (86%). Student comments included:
"Dr. Yang's one of a kind ICD workshop was without a doubt, among one of the best learning experiences I had throughout my time at Smurfit. I not only became competent across a myriad of intercultural areas but also made loads of new friends and valuable connections that will prove vital to my success following the completion of my studies" (Irish, M.Sc. Human Resource, FT)
ICD Alumni testimonials can be accessed via the link https://www.youtube.com/playlist?list=PLnFnW7TrbbRzwOrCQhrE7SyixKM-iPqwI
Beelen, J. (2016). Global at home: Internationalisation at Home in the 4th Global Survey. Global and local internationalization, Brill Sense: 55-65
Clarke, M., et al. (2018). "The internationalisation of Irish higher education." Higher Education Authority.
Clarke, M. and L. H. Yang (2019). Strategic approaches to internationalisation and intercultural dialogue: Policy and practices in the Republic of Ireland. Educational Approaches to Internationalization through Intercultural Dialogue, Routledge: 57-70
Leask, B. (2009). "Using formal and informal curricula to improve interactions between home and international students." Journal of Studies in International Education 13(2): 205-221.
Leask, B. (2015). Internationalizing the curriculum, Routledge.
Robson, S. (2017). "Internationalization at home: internationalizing the university experience of staff and students." Educação 40(3): 368-374