Looking Through the Green Lens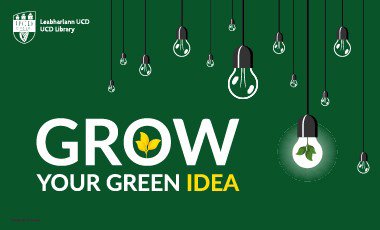 This Learning Enhancement project has been funded through the HEA and the National Forum for the Enhancement of Teaching and Learning.
| | |
| --- | --- |
| PROJECT TITLE: | Looking Through the Green Lens |
| PROJECT COORDINATORS: | Mr James Molloy |
| COLLABORATORS: | Ms Catherine Bodey, Ms Alison Jameson & Mr Quintin Ahern |
| TARGET AUDIENCE: | Project available to all registered students at all levels. |
The newly formed UCD Library Green Group wanted to foster cross campus collaboration as they believed this would assist in realising their green goals. They saw the Learning Enhancement Project as a direct route to the student cohort who, motivated by their passion for the planet, would be willing to help the Library with this task.
Students were asked to create short videos for the competition.
By working with a Digital Media expert (Quintin Ahern from Army of Id), we wanted participating students to learn the following:
How to respond to a detailed communications brief.
How to work in an environment that encouraged cross-discipline participation.
How to work collaboratively.
How to turn a creative concept into a video with high production values.
How to build a successful digital media campaign.
How to present their work in an engaging and professional manner.
Student outcomes:
To enhance students' understanding of digital technology.
Arm participants with the skills that employers look for, including teamwork, communication, critical thinking, and creativity.
We hosted a series of online digital communications workshops where participants were shown how digital technologies can be used to tell a story and to engage attention.
We gave students a brief and asked them to develop a strong visual message about the environmental challenges facing the planet. The challenge was to inspire their peers to 'see' the problem anew. This peer-to-peer learning/influencing, using visual images, is an excellent way for the creator to tell a story, engage attention, spark a conversation, and experiment with digital technology.
The workshops ran on the 8th and 15th March and the deadline for final submissions was the 26th March.
A showcase and judging ceremony of the final video submissions was held on the 1st of April and Professor Jacky Croke, Head of School of Geography awarded the final prizes.
Full details of the project can be viewed on our UCD Library Green Guide.
Participants developed some of the skills that employers look for, including teamwork, communication, critical thinking, and creativity;
Participants learned how to take an idea and turn it into a tangible product;
24 students from a variety of disciplines participated in the project and submitted total of six videos;
A great experience for students along with the opportunity to create a point of difference on their CVs;
By participating in the 'Looking through the Green Lens' initiative, participants were credited for this activity on their UCD Advantage Award application;
There were cash prizes for participants who delivered a compelling and professional digital campaign. All of the projects were promoted online and at a 'live' showcase event. Participants received feedback from a digital media expert and UCD staff with a special interest in environmental issues. All of the participants felt as though they had made a real contribution towards solving or raising awareness in relation to an environmental challenge. Many of them went on to forge new friendships with like-minded individuals.
All six final video submissions can be seen on the Library's YouTube channel.
Student Feedback
I really enjoyed my experience on the Go Green library project. It gave me the opportunity to reflect on the environmental issues we as students could help address. The video communication training was also very helpful as creative communication is key in any project! I was also fortunate to have fantastic team members who worked very well together and we've now gone on to develop our ideas further to drive real change in our communities.
Sanghamitra C. Mukherjee
We really enjoyed the showcase and had a great time working together on the project. We really appreciate the work that you and your colleagues have put into making it happen.
Thank you for hosting an amazing competition. We all had a great time creating the video.