TILL21 – Toolkit for Impactful Lifelong Learning in the 21st Century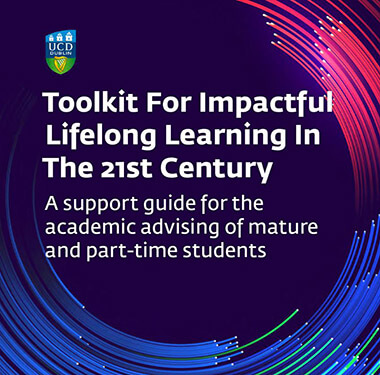 This Academic Advising project has been funded through the HEA and the National Forum.
PROJECT TITLE:
TILL21 – Toolkit for Impactful Lifelong Learning in the 21st Century
PROJECT COORDINATOR:
Dr Conor Buggy
COLLABORATORS:
Dr Caitriona Cunningham
Prof Eleni Theodoraki
Ms Catherine Tormey
Ms Cheyenne Downey
TARGET AUDIENCE:
Academics and support staff that teach or plan to teach mature and part-time students
Traditionally mature and part-time learners have been underserved with many HEIs lacking bespoke resources to support academic teams deliver on advising for this diverse cohort (age, family status, caring responsibilities, and employment status) as they progress through their learning journey. Through the co-design of TILL21 with mature and part-time student input, our team developed a set of proposals supported by wide ranging international resources and information that can be used to develop relationships allowing for appropriate academic advising of the learning journeys of mature and part-time learners and make their unique capabilities and experiences an asset in enhancing learning processes for all students.
Our approach was informed by over five decades of collective experience encapsulated by the team as they have taught, supported and advised mature and part-time students on their learning journeys.
Utilising the NACADA framework and the UCD working objectives for academic advising developed, the toolkit was designed to enable academics support and advise mature and part-time learners to fully realise their potential, and flourish in an equitable fashion to their more traditional student peers while allowing their experience related skills and knowledge to come to the fore in learning processes to the benefit of their peer learners.
Develop a toolkit which would provide resources to enable academics consider their current teaching and learning processes that support academic advising while also supporting new initiatives to integrate into their modules and programmes which would consider mature and part-time students and their support and advising needs in particular.
Ensure that the toolkit was cognisant of the principles of universal design in teaching and learning.
Incorporate the experiences of mature and part-time learners so that they could share / explore unique challenges they face and discuss supports and advising processes they find useful, what they would like academics to understand about being a mature and part-time learner, what their favoured learning approaches are and what interventions can support and advise them to become lifelong learners; and
With that student input, design a suite of accessible resources comprising the toolkit which academics can use to redesign or develop initiatives which would enable academic advising processes to flourish within their modules and programmes.
From the outset, this project had three student partners, all of whom were mature and/or part-time students on programmes within our school (SPHPSS). Each of these students brought their own first-hand experiences (as well as that of their fellow classmates that provided them with input) to date as mature/part-time learners grounding it in the reality of their learning journeys.
Mature and part-time students were also recruited from within the school to take part in focus groups to determine their considerations on pastoral care, academic advice, peer mentoring and lifelong learning. Twenty students took part. Eleven focus groups were held across multiple days and times (evenings and weekends were included) to accommodate mature and part-time students. Each focus group was small to ensure that participant(s) had the opportunity to fully explore and express their experiences and ideas relating to academic advising, relationship building, mentoring, and fostering lifelong learning.
The UCD student advisors were also recruited to take part in their own specific focus groups to elaborate on their experiences of supporting and advising mature and part-time students so that we could corroborate what the students themselves had to say on their experiences. Ten student advisors took part.
The key outcomes of the project were the production, completion and publication of the toolkit on May 31st, 2022. The toolkit was also independently evaluated by an expert in universal design in teaching and learning from UCD Access and Lifelong Learning prior to its finalisation and publishing.
As the toolkit has just been published it is not possible to evaluate its impact as yet. The impact on students themselves will build over time, the longer TILL21 is utilized across the university and hopefully higher education in Ireland and beyond. The true impact of TILL21 will emerge over time as we see academics adopt practices and processes which allow for relationship building with these students which then enables an environment where academic advising can flourish. The impact of those enhanced academic advising processes will be seen through the mature and part-time students as they continue their learning journey as lifelong learners and as connected alumni to UCD that continue to return to UCD for their educational needs.
Resources/Outputs
All the resources utilised and developed are contained within the toolkit itself.