UG Research Accelerator for the Social Sciences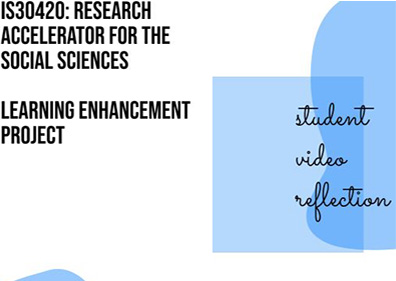 This Learning Enhancement project has been funded through the HEA and the National Forum for the Enhancement of Teaching and Learning.
| | |
| --- | --- |
| PROJECT TITLE: | Undergraduate Research Accelerator for the Social Sciences: Engaging Students in the Learning Process through Video Production |
| PROJECT COORDINATORS: | Associate Professor Crystal Fulton, Dr Claire McGuinness |
| COLLABORATORS: | Dr Marta Bustillo, Andrew Browne, Professor Suzanne Guerin, Page Pope |
| MODULE/PROGRAMME: | IS30420 -Social Sciences Research Accelerator, now SSCI30050: Digital Research Skills for the Social Sciences |
| STUDENT COHORT: | Stage 3 UG/Full-time/Stage 2, B.Sc. College of Social Sciences & Law (CoSSL) |
The LEP student video project grew out of our team's previous work on a self-paced online digital research skills module that we created for BSc Social Sciences students, to support their development as emerging social scientists and help to prepare them for their research projects in stage four of their programme. The module, now titled SSCI30050 Digital Research Skills for the Social Sciences, invites students to independently work through six learning units focused on foundational research skills, and includes a range of interactive learning activities, utilising new and existing resource collections within the university.
Although GPA neutral, completing the module requires high levels of motivation, self-discipline and reflection; with support from a tutor, students learn to manage their own learning effectively as they work through the content and assignments. Inculcating a sense of ownership over the module content can increase this engagement and enhance the overall learning experience. One way of doing this is to invite students to create module learning content themselves, positioning them as partners with their instructors, and valuable contributors to future iterations of the module.
The process also supports students' development as digital citizens, who have the necessary skills to interact with information competently and confidently.
The project aimed to provide professional basic training in video production skills to students on the Digital Skills module, with the overall objective of equipping them to create their own individual videos to add to the existing module content. Traditionally, learning materials are created, developed, and curated by academic teaching staff and then rolled out for student consumption. This project turned that model around, inviting students to contribute materials through a Students as Partners (SaP) approach. Research has shown that the SaP model can support deeper understanding of the learning process, increase employability skills, and develop an enhanced sense of agency in students.
The project also aligns with several priorities of the National Forum for the Enhancement of Teaching and Learning in Higher Education, including student success, teaching and learning in a digital world, and teaching and learning enhancement within/across disciplines. We chose to prioritise student success because our project is focused on student engagement with the creation of teaching and learning objects for enhanced student learning. Through our project, we aimed to work with students to help them "become creators of knowledge who are community engaged, ethically conscious, professionally competent and equipped to flourish in a global world."
Introduction to Video Content
Working with a postgraduate Project Assistant provided a key point of peer support for video production. At the initial stages, the Project Assistant introduced the video production project to the students, and outlined the assignment remit.
Training
The Project Assistant guided students throughout the process of training and creating their videos. Students received live online training with a professional videographer, who was also available to assist students with the video creation and editing process. In 2020-2021, there were two offerings of the module; one in Autumn, and one in Spring. In the Autumn 2020 offering, the students attended two video training seminars, one based on pre-production and one on post-production. In Spring, this was condensed into one live video session. This Zoom seminar was recorded and uploaded to BrightSpace as a permanent resource for students in the module.
Video Content
Each student selected a critical digital research skill, method, or approach from the general module content (e.g., research ethics). They then developed a script and filmed a two-minute video to share their learning experience around the topic. The combination of learning reflection and concept review will support future students as they engage with the module.
Over two trimesters (Autumn 2020 and Spring 2021), eleven student videos were submitted. The videos demonstrated enthusiastic engagement with the video production process, as well as showcasing the students' personal experiences and understanding of their emerging digital research skills. Five students consented to have their videos included as learning resources in future iterations of the module. This has created a solid base from which to build a student-driven library of digital research skill resources.
The video content is now available to future students taking this module. The module is now offered through the School of Information & Communication Studies and CoSSL as SSCI30050: Digital Research Skills for the Social Sciences. The module has been expanded to a significantly larger cohort of 100+ students, which will contribute to a growing body of student created resources and the students-as-partners approach.
In addition to these immediate outputs, the project expanded the role of assessment by providing opportunities for students to reflect creatively on the research skills they have acquired and communicate their learning to a wider audience of future students. This outcome fulfils CoSSL's T&L Committee Undergraduate Research Education Working Group 2019 Recommendation 6. The project has also supported CoSSL's goal to include students actively in shaping their learning experiences through working with academic teaching and support staff in a Students as Partners (SaP) model.
Further, the project offered a meaningful approach to embedding digital research skills in the undergraduate curriculum. By developing learning materials which seek to explain complex research skills to others, the students' own understanding of these concepts is deepened.
Key points for implementation of this approach
This LEP project used video not only to help students to gain particular technical skills, but also to provide them with confidence in contributing to their learning. We recommend alternative approaches, such as video, to support student learning.
When adopting new and alternative learning approaches, we recommend the inclusion of training and instruction to scaffold students through activities.
The module is offered fully online, and so was the video work with students, as a result. We recommend that a tutor role is provided to support student queries throughout their learning.
Students may have varying levels of comfort when it comes to presenting themselves via video. Workarounds, such as voice overs or alternative assignments, should be included to support the varying needs of students.
Consent forms are essential to reuse student-created videos in future modules. There is a template in CoSSL for this purpose.
Resources
Learning Resources:
IS30420: Research Accelerator for the Social Sciences. Student Video Reflection. (2021). Infographic (Available with this case study).
Conference Presentations and Publications:
Fulton, C., McGuinness, C., Pope, P., Owens, E., Cohen, G., Bustillo, M., Guerin, S., Browne, A., & Carrie, D. (2022). Inspiring Innovation: Lessons Learned from an Academic-Library-Student Partnership to Support Digital Development. Conference Poster. IFLA 2022 (Congress of the International Federation of Library Associations), Dublin, Ireland.
Fulton, C., McGuinness, C., Pope, P., Owens, E., Cohen, G., Bustillo, M., Guerin, S., & Browne, A. (2022). Partnering with Students Through Peer Video Learning at University College Dublin. AISHE-J: The All Ireland Journal of Teaching and Learning in Higher Education14(1):1-7.
Fulton, C., McGuinness, C., Bustillo, M., Guerin, S., Pope, P., & Browne, A. (2021). UCD Research Accelerator for the Social Sciences: Engaging students in the learning process through video production. In Shaping the Future of Social Sciences Education: Innovation, Partnership, and Enhancement, pp. 14-17. UCD College of Social Sciences and Law.