Veterinary Business Management Education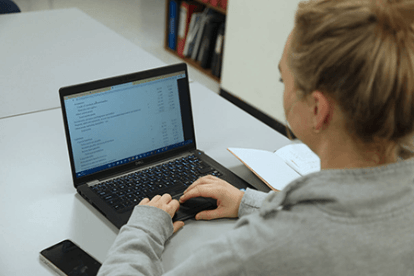 This Learning Enhancement project has been funded through the HEA and the National Forum for the Enhancement of Teaching and Learning.
| | |
| --- | --- |
| PROJECT TITLE: | Implementation of veterinary business management education using blended learning across the veterinary medicine curriculum. |
| PROJECT COORDINATORS: | Ms Pamela Kelly |
| COLLABORATORS: | Dr Nicola Walsh, Dr Emmet Kelly, Ms Lisa Sheeran, Ms Emma Kelly |
| MODULE/PROGRAMME: | Professional Growth/ Veterinary Medicine |
| STUDENT COHORT: | Full-time undergraduate Veterinary Medicine, Stages 1-4 |
Recent evidence indicates that there is a large gap between the business competencies of veterinary graduates and the expectations of their employers. Weaknesses among the business skills identified as particularly relevant to new graduates included their competence in discussing finances with clients and their confidence in charging for veterinary services. Business orientation, employee development, negotiating skills, leadership and personal finance have also been recognized as deficient.
Accrediting bodies such as the American Veterinary Medical Association (AVMA) now identify economics of veterinary medical services, personal and business finance and management skills as mandatory elements of the veterinary medicine curriculum. The implementation of veterinary business management education is therefore of importance not only for our accrediting bodies but also to increase employability of our graduates.
Veterinary medicine is a highly intensive, content-laden course that offers little space for less overtly clinical competencies. Appropriate strategies to introduce and improve veterinary business in the curriculum without the addition of large amounts of content to already full timetables are therefore a priority. Like other veterinary schools, we suggest incorporating the teaching of business management as part of the professional growth strand.
The professional growth strand is a relatively recently introduced teaching stream that runs throughout most of the veterinary curriculum in UCD and is still being developed and expanded. Our initiative was to embed veterinary business management education within the curriculum using e-lectures with interspersed interactive assessments and face-to-face workshops created in association with stakeholders.
The main aim of this project was to enhance veterinary business management education within the professional growth strand of the veterinary medicine curriculum using blended learning. Veterinary professional growth is a dynamic teaching strand extending from stage one through to stage four of the current curriculum. This education strand encompasses the teaching of several non-technical professional competencies that are required by members of the veterinary profession. The teaching of non-technical professional competencies is a mandatory curriculum requirement for accreditation by the American Veterinary Medicine Association (AVMA).
The core topics required for teaching business management are human resource management, personal and business finance, leadership and management skills, and marketing. This project aimed to develop e-lectures and associated interactive assessments in the following four areas:
Veterinary human resource management and employment education.
Management styles and leadership skills.
Personal and business finance.
Marketing and promotion.
An interdisciplinary team was created including a Vet (Pamela Kelly), Veterinary Nurse and Clinic manager (Lisa Sheeran) and an Accountant (Emma Kelly). Throughout the development of the material, other Veterinary related professionals were engaged to assist in either helping to create material or to review material.
The learning outcomes for the business curriculum were created following several meetings and discussion with key stakeholders. After searching the literature and other Veterinary Medicine programmes a blended approach to include face-to-face and online resources was decided.
Articulate 360, Storyline
The online resources were developed using Storyline, Articulate 360, a programme that allows for the easy development of user intuitive interactive online courses that can be accessed from any digital device (e.g. laptop, iPad, smart phone). These resources were then made available to students via the Brightspace platform within their stage professional growth module.
Face-to-face workshops with assessments for learning were also designed and developed.
The online interactive courses were made available to stage one and stage four Professional Growth modules in 2021-2022 and will be made available to stage three Professional Growth 2022-2023. The new stage two Professional Growth will commence in 2023-2024 and the stage two students will have access to the online courses then.
The online interactive course is a resource that the students are using to prepare for class and following class to help with their assessments and to enhance learning.
Students, in relation to the business aspect of the Professional Growth modules have been very interactive and enthusiastic. They have approached the team lead about different aspects of business and management that they would like to cover or expand within their curriculum. The online courses are easily edited, designed, and produced allowing for changes to be made without difficulty. The team has also worked with students in developing the Dublin chapter of the European Veterinary Business Alliance.
The students that have completed the stage one-four professional growth modules that contain business and management content have yet to graduate. However, students recognise the importance and relevance of business skills for their future careers in Veterinary Medicine.
Resources
The programme used to develop the online lectures was Storyline, Articulate 360. This is an easy-to-use programme that is similar to PowerPoint except it allows for user interaction and the end product is a HTML.