All Aboard 2017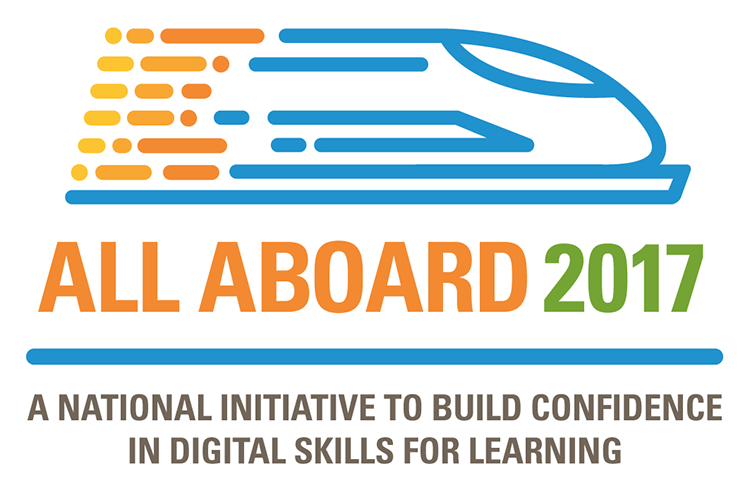 All Aboard 2017 was an initiative that was co-run by The National Forum for the Enhancement of Teaching and Learning in Higher Education and Ireland's higher education institutions. All Aboard 2017 was a week-long (3-7 April 2017) series of national and regional public events designed to build confidence in Ireland's digital skills for learning.
Coordinated by UCD in the Community, UCD are hosting a range of events 2017 including public lectures, interactive workshops, seminars and much more which are all designed to help staff, students and community groups to explore a wide range of skills and knowledge in the digital world. A range of units across campus are involved including Access and Lifelong Learning, UCD Library, Teaching and Learning, IT Services, and UCD Careers Network.
All of the UCD events below can be found here on the All Aboard 2017 website. Please note this event has now concluded.
Date and Time
Event

Monday 3rd April

1pm- 1.45pm

Through the Looking Glass - The Weird and Wonderful World of the Internet and How It Shapes Our Lives

UCD Chaplain and Internet aficionado, Scott Evans, will be speaking about the incredible opportunities, the cultural shifts and the subtle dangers of the digital age.While conversations about the Internet can describe it as everything from the saviour of humanity to the end of civilisation, Scott will be walking us through the new normal and how to maintain our mental and emotional health in this new space.

All Welcome

Register HERE

Science Centre East

Monday 3rd April

6-8pm

Social Media Training for Access Leaders and Future You Mentors

This interactive workshop has been designed by Cliona Curley, from Cybersafe Ireland, especially for UCD access student leaders.The workshop aims to prepare UCD Access student leaders and Future You mentors to deal with issues which they might encounter during their outreach work with schools and communities.

Invitation Only

Science Centre East E2.16/2.17

Tuesday 4th April

10am

Scratch for Schools - Coding Workshops

The ability to code computer programs is an important part of literacy in today's society.

Scratch helps young people learn to think creatively, reason systematically, and work collaboratively — essential skills for life in the 21st century. When people learn to code in Scratch, they learn important strategies for solving problems, designing projects, and communicating ideas. Students can program their own interactive stories, games, and animations — and share their creations with others in the online community.

Registration Closed

Outreach Lab, Science Centre East

Tuesday 4th April

10am - 1pm

Documents That Dazzle!

This session will give you a taster of some of the technology courses that staff and students in UCD attend. Students from Fairview to Fiji have sharpened their IT skills. Today you can join them!

Learn about the Drawing tools in Word. Divide your document into sections to allow you to switch page orientations between sections. Add references and a bibliography in a few clicks. Add a Table of Contents and a Table of Figures.

All Welcome

Register HERE

Room G3

Daedalus Building

Tuesday 4th April

1pm - 3pm

Digital tools for effective job search: getting the most from online Resources

Participants will learn how to create an effective LinkedIn profile by marketing their skills, experience and competencies in an impactful way. They will also learn how to use LinkedIn and other online networking tools to identify potential opportunities and make new contacts. A number of other useful online job search resources will also be covered, including personal branding tools, company review databases, interview preparation tools and online job-posting aggregators.

Open to UCD Staff and Students

Register HERE

H2.40 ALE O'Brien Science Hub

Tuesday 4th April

7pm - 9pm

Digital tools for effective job search: getting the most from online resources

Participants will learn how to create an effective LinkedIn profile by marketing their skills, experience and competencies in an impactful way. They will also learn how to use LinkedIn and other online networking tools to identify potential opportunities and make new contacts.
A number of other useful online job search resources will also be covered, including personal branding tools, company review databases, interview preparation tools and online job-posting aggregators.

All welcome

Register HERE


E1.17/1.18 ALE Science Centre East

Wednesday, 5th April

11am-12pm

Free website sources for historical maps of Ireland

This presentation, organised by UCD Library in partnership with dlr Lexicon, will feature a range of free websites where you can find, view and print historical maps of Ireland, including county maps and detailed town plans. Delivered by Jane Nolan, Maps Librarian, UCD Library, the presentation will take place at dlr Lexicon.

All welcome

More info HERE

dlr Lexicon, Dun Laoghaire.

Wednesday 5th April

12.45pm – 2pm

App Swap Lunch - (BYOD)- Mobile Apps for Teaching and Learning

Have you ever considered integrating mobile apps into your teaching practices? This informal 'app swap lunch' will enable faculty and staff to share and explore how mobile apps can be used for teaching and learning purposes.

To kick start the 'app swap' session the facilitators will demo some mobile apps and suggest how they could be integrated into teaching practices with particular focus on the above themes. To participate fully and explore apps swapped during the session you are strongly encouraged to bring your own mobile device (BYOD).

Open to UCD Staff

Register HERE

UCD Science East E1.17/1.18

Thursday 6th April

10am- 1pm

Documents That Dazzle!

This session will give you a taster of some of the technology courses that staff and students in UCD attend. Students from Fairview to Fiji have sharpened their IT skills. Today you can join them!

Learn about the Drawing tools in Word. Divide your document into sections to allow you to switch page orientations between sections. Add references and a bibliography in a few clicks. Add a Table of Contents and a Table of Figures.

All Welcome

Register HERE

Room G3

Daedalus Building

Thursday 6th April

1pm - 2pm

Digital Mind Mapping

Mind maps are an invaluable learning tool for students who are visual learners or think by association rather than linearly. In this interactive workshop we will demonstrate mind mapping educational use cases and best practices. A free online mind mapping tool will be used in the exercises. Participants will use the tool to build a mind map of a subject of their choice. Participants will need to bring a laptop to the workshop. Registration is necessary. Light lunch will be provided.

Open to UCD Students

Register HERE

H2.40, Science Centre Hub

Thursday 6th April

7pm - 8.30pm

Historical Sources from UCD Digital Library

This talk will centre on the rich historical and cultural heritage resources available from the UCD Digital Library. There is a wealth of Open Access online material from this source. The ever expanding collection includes Historical Irish Maps, images of iconic Georgian Dublin, papers from Michael Collins and Roger Casement, voices from the Irish Dialect Archives, and a broad selection of other Irish Historical primary source materials, as well as many more digitised historical items.

All Welcome

More Information HERE

James Joyce Library, UCD

Saturday 8th April

11am - 1pm

College Awareness and Technology Training

The Dyslexia Association of Ireland and UCD Access and Lifelong Learning are hosting this session for parents and students which will provide useful information on apps and technologies which post-primary students can use to maximize their potential and achieve their academic goals.

The session includes a tour of UCD Campus, information on entry routes, a full overview of supports available at university and an interactive workshop where participants can learn about the range of apps and tools to help students with dyslexia succeed in university. Topics include: Reading Tools, Writing Tools, Note taking Tools, Organisational Tools, Study Tools

Open to Parents and Students

More information HERE

Daedalus Building, UCD
Contact UCD in the Community
Room E0.56, UCD O' Brien Centre for Science (East), University College Dublin, Belfield, Dublin 4, Ireland. T:
+353 1 716 2268
| E:
ucdic@ucd.ie