UCD Welcomes Killiney Ladies Guild
UCD Welcomes Killiney Ladies Guild
During the summer of 2017, the UCD Evolution Garden had some new visitors with thanks to Dr Caroline Elliott-Kingston of the School of Agriculture and Food Science. Dr. Elliott-Kingston hosted a group from the Killiney Ladies Guild and provided the ladies (and three gentlemen) with a detailed tour of the plants and species that make up the Evolution of Land Plants Garden that sits in front of the O'Brien Science Building.
The group were absolutely thrilled with their visit to see the award winning garden, with many of them saying that they "wouldn't have missed that for anything" and that it was the "best time for ages". Mrs. Gillian Mollard of the Ladies Guild thanked Dr.Elliott-Kingston for taking the time to show them around the garden and praised her for giving them an enriching and enjoyable experience.
This is the perfect example of some of the wonderful outreach work that goes on in UCD, with members of staff volunteering their time to reach out to the local community and offering their knowledge and expertise to benefit others. Dr. Elliott-Kingston aims to further strengthen this relationship by providing the Ladies Guild and the Men's parish group with a tour of the orchard at Rosemount later on in the autumn.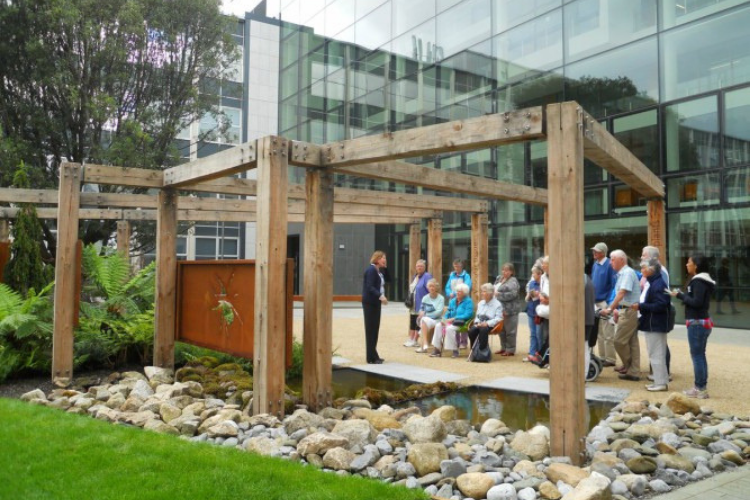 Dr Caroline Elliott-Kingston shows the Killiney Ladies Guild the Garden of Evolution, UCD
If you are involved with any groups in the community, we would love to hear about it and showcase the great work you are doing. Please contact Theresa or Holly at ucdic@ucd.ie.
Contact UCD in the Community
Room E0.56, UCD O' Brien Centre for Science (East), University College Dublin, Belfield, Dublin 4, Ireland. T:
+353 1 716 2268
| E:
ucdic@ucd.ie