Khaing Min Thant | Myanmar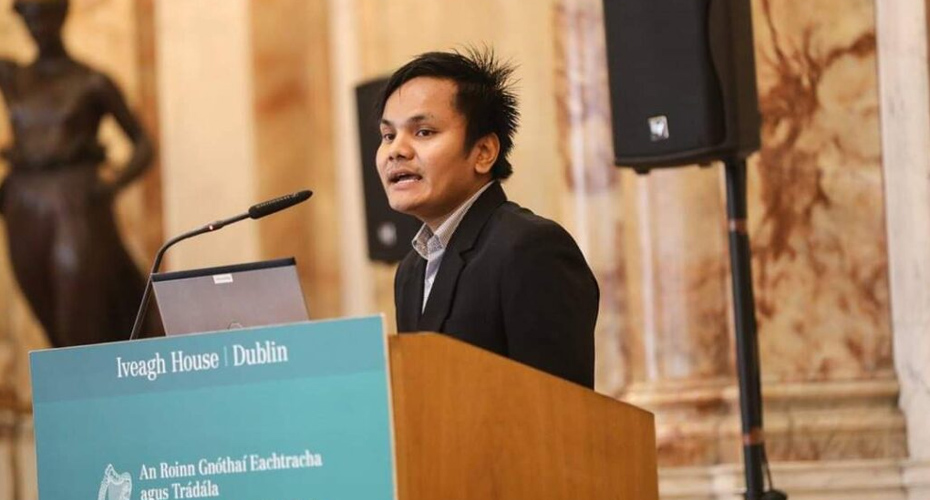 Khaing Min Thant worked as a Programme Officer for the Irish NGO, Trócaire in Myanmar for over seven years. He is currently Programme Management Senior Officer with UNOPS, a non-profit organization that helps the UN and its partners provide humanitarian and development solutions. He received a fellowship award to study for the MSc (Agr) in Environmental Resource Management at UCD and graduated in 2018.
1. What was your UCD experience like – the social scene, classes, lecturers?
My experience studying at UCD was wonderful. Not only did I have the opportunity for a cross-cultural exchange of knowledge and experience in Ireland, but I also met and connected with classmates from all across the globe. When I first arrived, UCD organised various events and tours for freshers and this really helped me get settled in; also living on campus helped me mingle, network and meet new people. This really made life a lot easier – it also made getting to class super easy. My lecturers and professors were so approachable and always took the time to listen and interact with students' questions and discussions.
2. What is your fondest memory from your time at UCD?
The fondest memories of my time at UCD are my morning campus runs on the wonderful woodland walking track that circles the campus. I loved it – all those gorgeous trees and green spaces, nature on my doorstep. I also remember first stumbling across the secret lake with some classmates – that was so cool! It also goes without saying that I miss the bar & restaurant. I loved hanging out there and having a Guinness or two!
3. What are your favourite memories of Ireland & Dublin?
One of my favourite memories was a school visit to county Clare where we visited the Burren National Park to study the unique landscape of the karst system, the orchids that grew in the Burren and how the traditional grazing practices have preserved the landscape. It was such a fantastic experience. We all stayed in the only hostel in the area, where we had plenty of time to enjoy the local scenery, learn something new, and socialise.
4. Apart from family, what did you miss most about home whilst you were overseas?
Myanmar's traditional food was at the top of the list of things I missed from home – Monhinga in particular, a traditional rice noodle and fish soup in Myanmar. If memory serves me I had issues with the chillies here, I was always complaining about how the chillies in Ireland are not spicy enough.
5. How has your degree benefited your career?
I have absolutely grown both personally and professionally. Having a Masters in Environmental Resource Management has benefited my professional growth – now I am seen as a leader in the field of indigenous community land and resource rights movement in Myanmar. Colleagues from the current organisation and other civil society organisations in Myanmar seek my input and advice on all types of environmental considerations in their development and humanitarian programming operations.
6. How did you end up in your current area of work?
Soon after I graduated with my bachelor's degree, I started volunteering at charitable and NGOs and this was how I ended up with my current area of work.
Supporting community development was always an area of interest and passion for me. As Myanmar is still a developing country, it is not surprising that I ended up working in programmes that would support and strengthen communities.
7. The programme you manage for Trocaire is called the Resource Rights Programme – can you tell us a little more about it?
This programme aims to protect indigenous and community land rights in Myanmar and to empower communities to claim their land and resource rights. Many of the indigenous communities in Myanmar face land dispossession, in the name of economic development and implementation of the country's climate commitments. The programme also aims to strengthen indigenous customary governance systems of land and natural resources and to manage them sustainably.
8. What interests you the most about your job?
They say when your job is your passion, it will feel like you are not working at all, and this is exactly how I feel about my job. Supporting community empowerment, development, and promoting human rights is my passion – I love my job.
9. What do you think your career priorities will be in 10 years' time?
Community development and human rights will always be the core focus of what I do. I will continue to help my country progress and improve. With the ongoing crisis in Myanmar it is more important than ever for me to support and contribute to my best ability for the development and peaceful transition of Myanmar.
10. Where do you see your career taking you next?
I will always be in the field of community development, where I have envisaged a just and peaceful world that we strive to achieve. Given the ongoing challenges and crises Myanmar is now facing, we need more support now than ever before, and this is where I will prioritise and continue to work over the coming years.
11. What is the best piece of advice you've ever been given?
Something that has always stayed with me is from Mahatma Gandhi's biography – "be the change you want to see in the world" – it reminds me that change starts with the individual. This is what I would always have in mind whenever I want to change something – be it at the individual level, in the community, or in the world.
12. Describe yourself in three words.
Agile, resilient, and hardworking.
If you want to know more about the work Khaing does – check out Irish Aid's website here. Also, find out more about Khaing's favourite Burmese dish here.
UCD Alumni Relations
University College Dublin, Belfield, Dublin 4, Ireland. T:
+353 1 716 1447
| E:
alumni@ucd.ie
© 2023 All Rights Reserved.