Turning Stone into Bread: Millstone Quarries in Post-Medieval and Early Modern Ireland
PhD Candidate: Nial Colfer
Supervisor: Professor Gabriel Cooney
Funded By: Irish Research Council
Supported By: Research facilities at the UCD Humanities Institute
Abstract
This will be the first detailed study of post-medieval millstone quarries in Ireland, locating them within a wider social, historical and European context. Due to their size post-medieval millstones survive to the present day in large numbers. Hence they are a key but to date unrecognised source of information on trade and communication flows as "particular sources of rock became widely known for the suitability of their product for millstones, having the necessary qualities of hardness, coarseness and toughness" (Tucker, 1982, 191).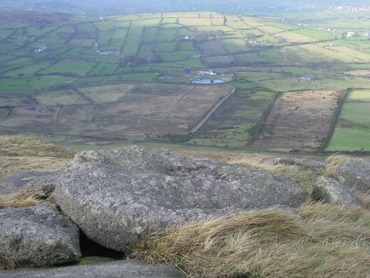 Unfinished millstone, the Mourne Mountains, Co. Down. Facing West
It is possible to track millstones back to particular areas and quarries where the evidence of the formation of this industry is still visible in the form of broken and unfinished millstones and the circular 'dishes' or 'scars' from where they were extracted. The transformation of natural stone into cultural artefacts as monolithic millstones was a decisive component in the local economy of such areas with a suitable geology.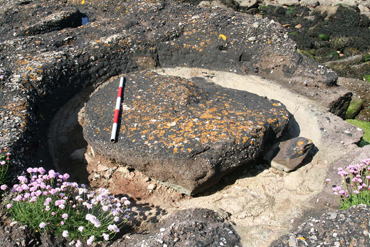 Dish and scar of removed millstone, Harrylock Millstone Quarry, The Hook Peninsula, Co. Wexford.
Agriculture in post-medieval Ireland has been the subject of much academic research (e.g., Feehan, 2003, Bell and Watson, 2008), yet the comparative lack of research undertaken on millstones in Ireland to date has meant that this critical part of the post-medieval industrial and agricultural landscape in this country is as yet undefined (Rynne 2006). The central aim of the proposed project is to provide a detailed understanding of the millstone industry, and in a wider context to contribute to the study of the agricultural and cultural history of post-medieval Ireland. It has two components; the establishment of an island-wide distribution of millstone quarries and assessment of four possible regional case studies.
The establishment of a national distribution of millstone quarries provides a platform on which to answer such questions as the sources of stone used. Research to date has indicated the existence of 24 millstone quarry sites, or areas containing several millstone quarries, on the island of Ireland. Areas which are known to have a high number of millstone quarries and mills during the post-medieval period will be chosen as case studies. This will be followed by intensive field-based investigation which will focus on research questions concerning geology, transport, typology, what techniques were used to transform a "rough-out" piece and the role individual quarries played in the overall industrialisation of millstone production. The Hook Peninsula in Co. Wexford (Colfer, 2011) and the Mourne Mountains in Co. Down (Evans, 1978) have been confirmed for analyses. The location of a further two case studies will be based on fieldwork assessment.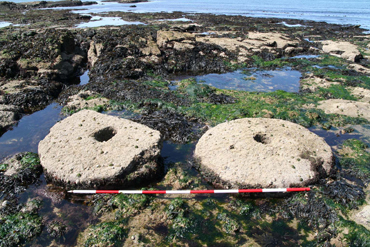 Pair of millstones, Harrylock Millstone Quarry, The Hook Peninsula, Co. Wexford
An analysis of relevant historical, literary and scholarly sources pertaining to mills and agriculture will provide an understanding of the wider social and economic context of the millstone quarries. Hence while this will be a focused study of millstone technology, its intellectual ambition is to situate them within a wider context to enrich our understanding of life during the post-medieval period.
Bibliography
Bell, J. and Watson, M. 2008. A History of Irish Farming, 1750-1950. Four Courts, Dublin.
Colfer, N. 2011. Millstone quarries on the Hook Peninsula, County Wexford. In Aalen, F.H.A., Whelan, K., Stout, M. (eds). 2011. The Atlas of the Irish Rural Landscape, Vol. 2. Cork University Press.
Evans, E. E. 1978. Mourne Country-Landscape and life in South Down. Dundalgan Press, Dundalk.
Feehan, J. 2003. Farming in Ireland: History, Heritage and Environment. Faculty of Agriculture, UCD. Dublin.
Rynne, C. 2006. Industrial Ireland 1750-1930: An Archaeology. The Collins Press, Cork.
Tucker, D.G. 1982. Millstones north and south of the Scottish border. Industrial Archaeology Review, vol. 6, no.3, 186-193.