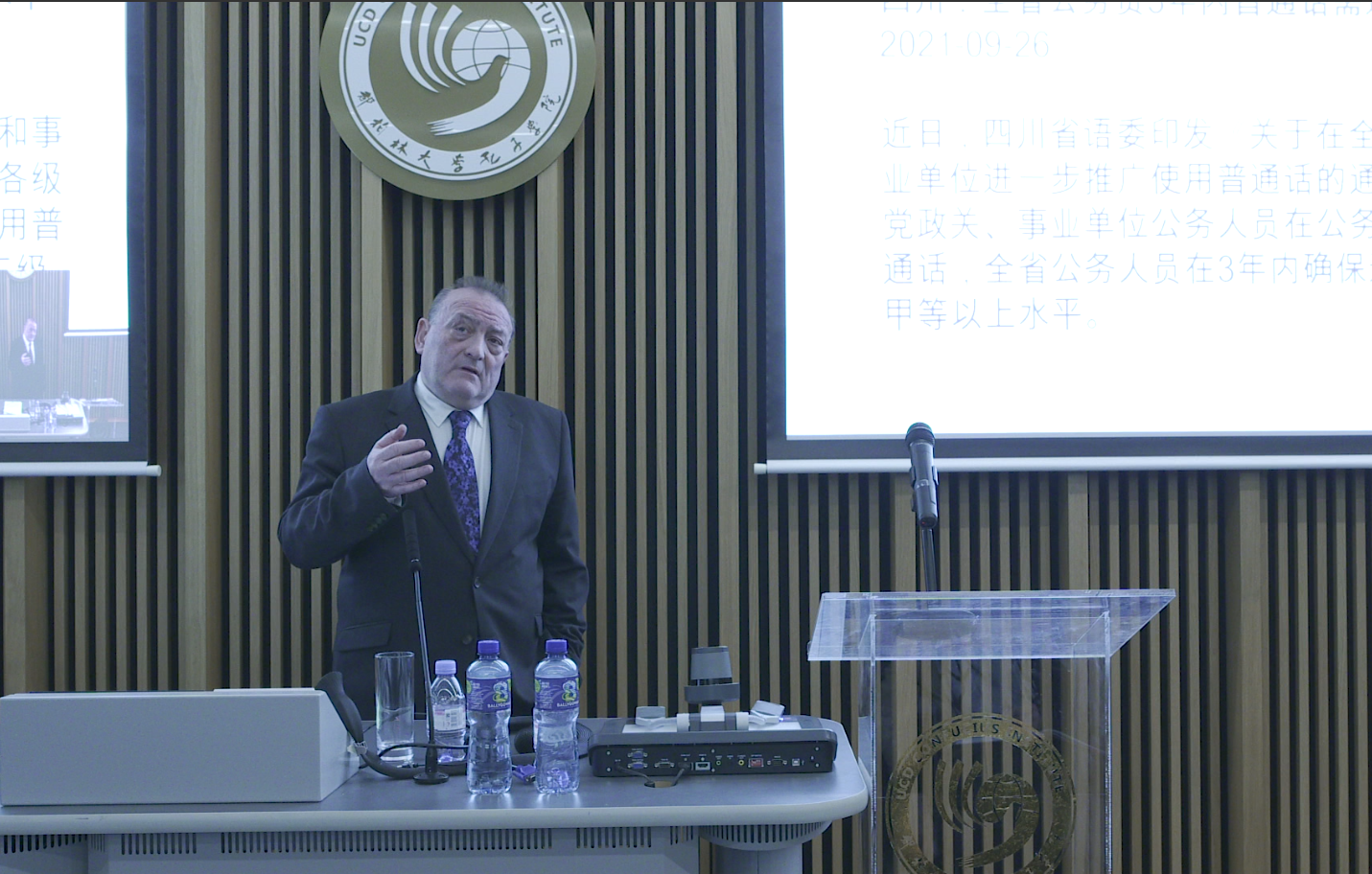 Professor Gregory Lee at the public lecture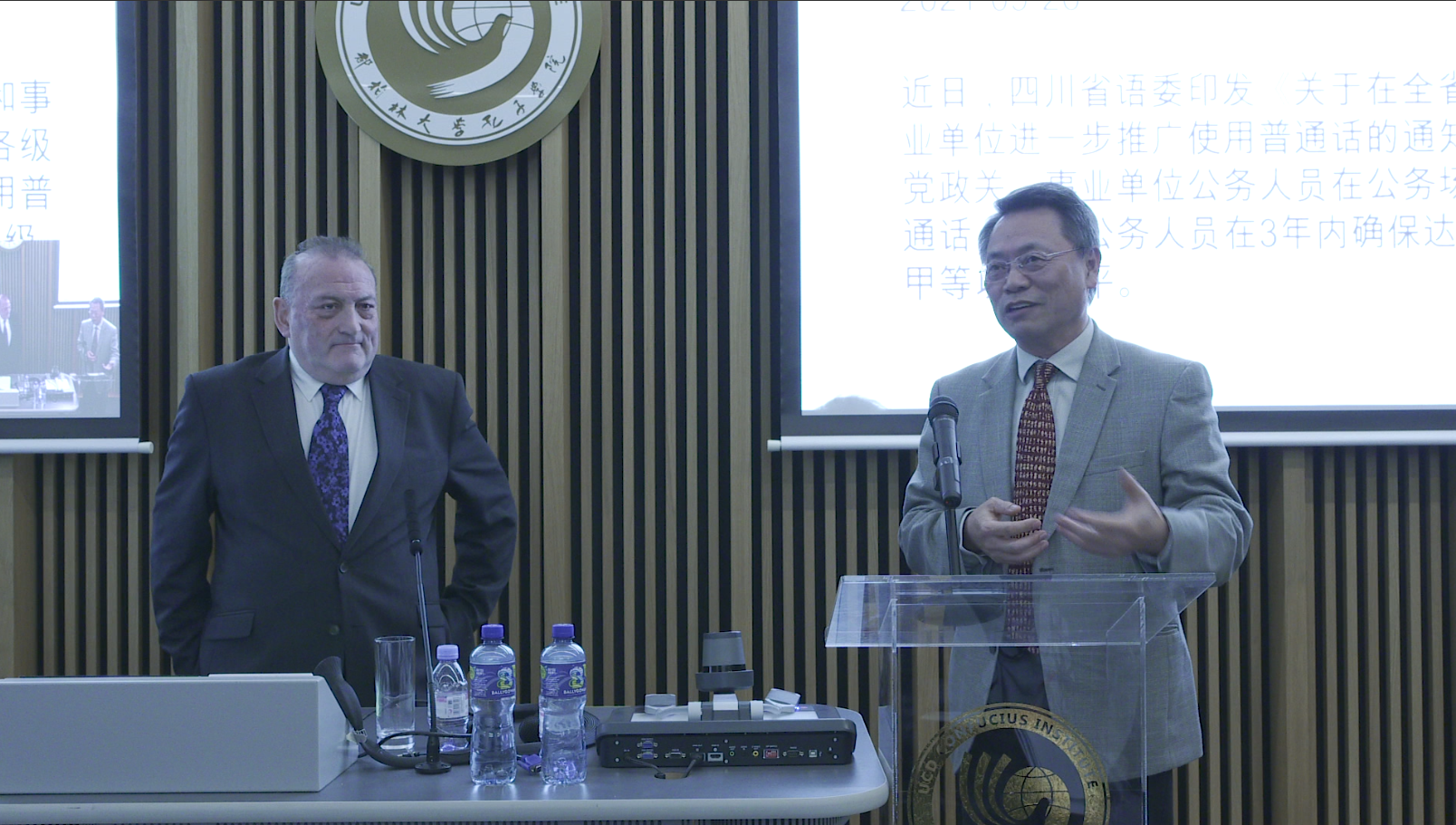 Professor Liming Wang hosted the event
'What is Chinese'—A Public Lecture Delivered by Professor Gregory Lee at the IICS
On 7 April 2022, Professor Gregory Lee, the founding professor of Chinese Studies and Head of the Department of Chinese Studies at the University of St Andrews, gave a lecture entitled "What is Chinese" at the UCD Irish Institute for Chinese Studies (IICS) Public Lecture Series/47th Confucius PhD Student Forum. Professor Liming Wang, Director of the IICS, chaired the lecture.
The talk, including two parts, shed light on the complexity of Chinese-ness in historical and contemporary contexts. In the first part of the talk, Professor Lee compared and examined the Chinese and English terms for China, the Chinese language, the Chinese literature, as well as Chinese national and diasporic communities, pointing out the paucity of expressions in the English language to describe complex concepts that relate to Chineseness. In the second part, Professor Lee discussed Chinese as the national language and its relationship with other varieties of Chinese or languages in China. Professor Lee offered more insights into the Chinese language during the Q&A session. Topics of language policy and planning, Chinese language teaching and learning, and how Chinese researchers position their research in the Western context generated interesting discussions.
The lecture was well attended by close to 100students and scholars. It was also the first event of a series activities in Ireland to celebrate 2022 International Chinese Language Day.
Watch here
利大英教授在都柏林大学爱尔兰中国研究院做题为'什么是中文'的公开讲座
2022年4月7日,英国圣安德鲁斯大学中国研究创史人利大英教授在都柏林大学爱尔兰中国研究院公开讲座系列暨第47届孔子博士生论坛上做了题为"什么是中文"的讲座。爱尔兰中国研究院院长王黎明教授主持讲座。
讲座分为两部分,探讨了历史语境和当下语境中"中国"这一概念背后的复杂含义。在讲座的第一部分,利大英教授对比分析了中文和英文中用以指称"中国"、"中文"、"中国文学"、"中国人"、"海外华人"等概念的词汇,指出英文词汇在表达这一系列复杂概念方面的局限性。在讲座的第二部分,利大英教授讨论了中文作为国家语言的地位及其与地方语言、少数民族语言之间的关系。在讲座结束后的问答环节,利大英教授就语言政策与规划、汉语言教学、中国学者如何在西方语境下进行学术研究等话题与现场听众进行了深刻且生动的讨论。
近100学生及学者出席了讲座,现场座无虚席。此次讲座作为2022年国际中文日系列庆祝活动的首场,取得了圆满成功。
在此观看