UCD PhD student wins All-Ireland Energy Thesis in Three Challenge
Friday, 8 December, 2023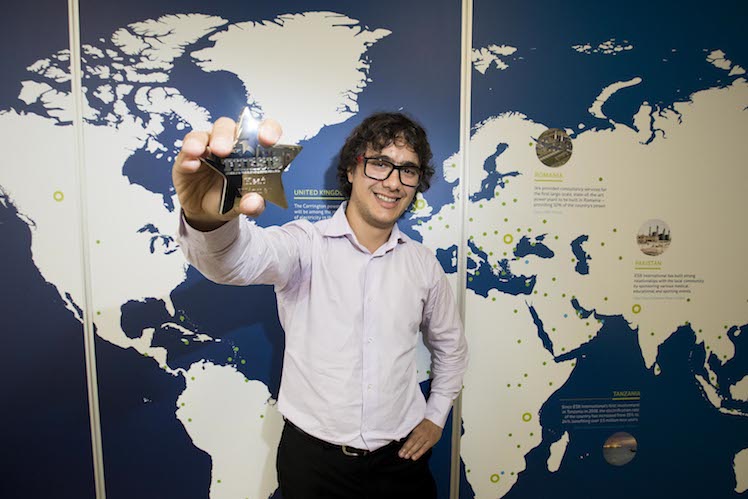 UCD PhD student wins challenge for thesis on integrating new technologies into electricity networks
Top postgrad researchers present theses in three minutes using just three slides
Winner of competition now goes on to represent energy sector in national Thesis in Three competition
UCD Electrical Engineering PhD student Valentin Rigoni has won the 2016 All-Ireland Energy Thesis in Three Challenge – a heat in the national Thesis in Three Challenge.
The Energy Thesis in Three competition involves postgraduate researchers in the energy sector from around Ireland presenting their research in three minutes using just three slides.
Pictured top: UCD PhD student Valentin Rigoni, from Argentina, who won the 2016 All-Ireland Energy Thesis in Three Challenge for his thesis on securely integrating new technologies, such as solar energy, into low-voltage electricity networks; and below, video footage of the highlights of the 2015 Thesis in Three Challenge final
The exercise is regarded as a real-world challenge that prepares researchers for seeking backing in so-called elevator or sales pitches. The judges score the pitch on context, clarity and charisma.
Originally from Córdoba in Argentina, Valentin focused his thesis on securely integrating new technologies such as solar energy into low-voltage electricity networks.
Explaining the focus of his thesis, Valentin said: "In order to decrease carbon emissions, small renewable energy generators (e.g., solar panels) are expected to be installed on domestic electricity networks.
"The problem is that these networks were not designed to host these technologies. Therefore, if their presence is excessive, several technical problems can lead to blackout. In my PhD, I develop strategies to allow for these technologies to be integrated in a secure manner."
Valentin commenced his PhD at the UCD Energy Institute in September 2015 under the supervision of Associate Professor Andrew Keane, Head of the UCD School of Electrical and Electronic Engineering and Head of the UCD Energy Institute.
He has worked as a project engineer in different companies in Argentina working in electricity substations and distribution networks.
Now in its third year, the Energy Thesis in Three Challenge is run by UCD IEEE Power & Energy Society Student Chapter and hosted by ESB International for the second time. The UCD Energy Institute sponsored the event.
The judging panel at the event was made up of ESB International's John Quinn, Richard Crowley of Eirgrid, and Dr Ronan Meere from Science Foundation Ireland.
Topics on the day centred around the social, renewable and environmental issues affecting the energy market.
"Events like this provide a fantastic opportunity to meet the brightest and the best within our sector, and to see how they perform under the pressure of condensing complex research into bite-size persuasive presentations," said managing director of ESB International Ollie Brogan.
The national final of the Thesis in Three Challenge will take place in Dublin on Monday, November 7, 2016
By: Jamie Deasy, digital journalist, UCD University Relations
Contact UCD School of Electrical and Electronic Engineering
UCD Engineering and Materials Science Centre, University College Dublin, Belfield, Dublin 4, Ireland. E:
eleceng@ucd.ie
|
Location Map