Poetry as Commemoration Website Launch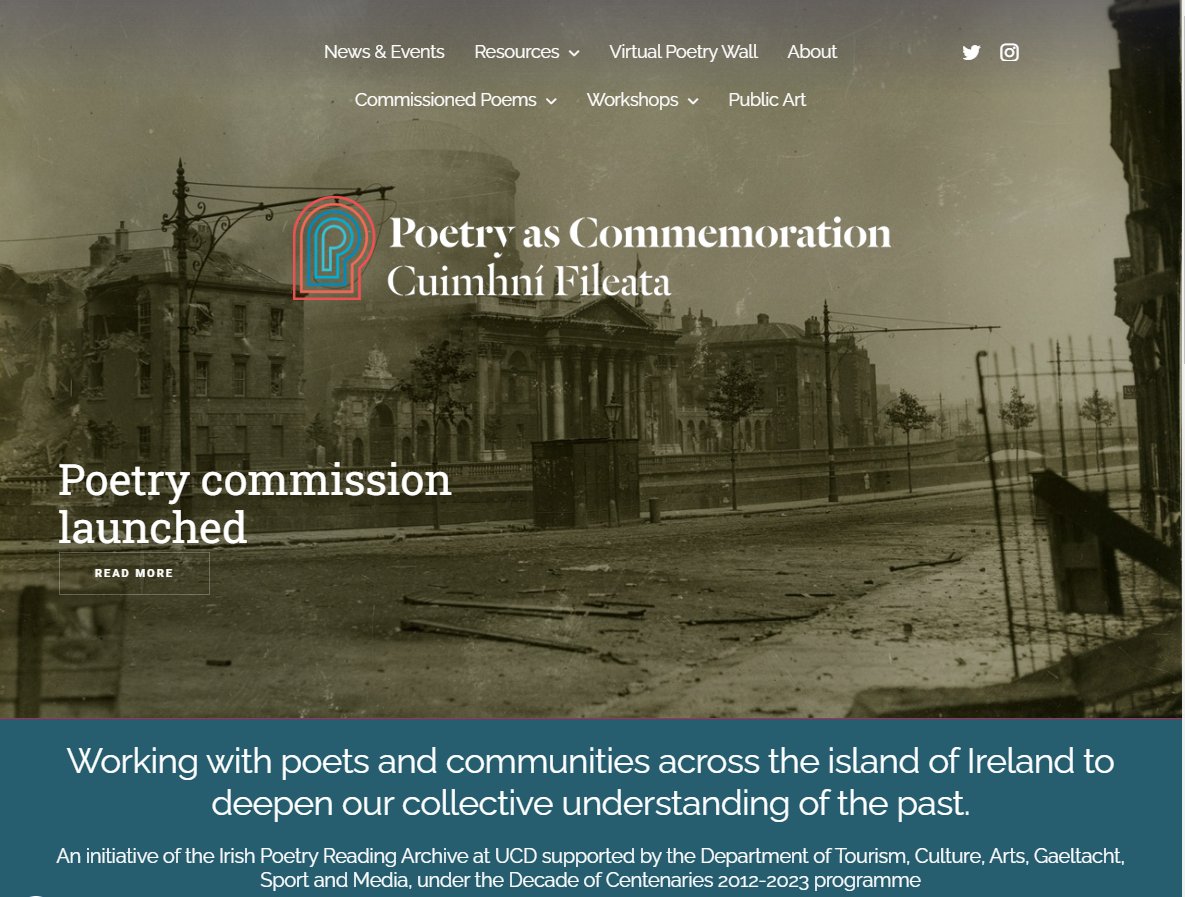 The Poetry as Commemoration initiative has launched a new website to continue its aim to deepen our collective understanding of the past. In addition to the launch of the website, there are now new poetry commissions, creative poetry workshops and public poetry installations. For more information please visit Poetry as Commemoration.
From the about page: "2022-2023 marks the centenary of one of the most challenging periods in Irish history including the ratification of the Anglo-Irish Treaty, the establishment of the Free State and the ensuing Civil War. As we embark on this difficult phase of the Decade of Centenaries, Poetry as Commemoration invites communities to turn to poetry as a mode of understanding and expression.
Poetry, as a medium, invites nuanced interpretation, unpacking complex issues in a compressed space. As former Director of Poetry Ireland, Niamh O'Donnell, has stated, poetry has a generative capacity, 'offering interaction and discovery as an alternative to confrontation, offering curiosity not certainty, hope not hate'. Poetry can communicate the effect of significant events on the lives of ordinary people, while simultaneously promoting a shared understanding of these events.
Poetry as Commemoration encourages people on the island of Ireland, to build a greater understanding of our shared past through creative engagement with archival materials relating to the War of Independence and Civil War.
The project involves 3 core activities:
Poetry Commissions
Ten new poems will be commissioned, inspired by primary sources, in English and Irish, on topics, themes and events relating to this challenging period of Irish history.
Creative Writing Workshops
A community engagement programme of creative writing workshops for a range of age groups will be rolled out in 2022 and 2023. Archival materials relating to the War of Independence and Civil War era will be used to inspire these workshops. Poems created in workshops will be gathered to form a new archive which will be housed in the Irish Poetry Reading Archive, UCD Library, as a record of public commemorative practice. This archive will be part of the legacy of the Decade of Commemorations and will, in time, be made available to the public for research and teaching.
Public Art
Touring public art installations will make the written word come to life in our public spaces, bringing poetry to new audiences and opening up unique perspectives on the past."
The project is headed by UCD Library and both Associate Professor Lucy Collins and Dr. Catherine Wilsdon are involved.