The Irish Writers Centre is Currently Accepting Applications for its Young Writer Delegate Programme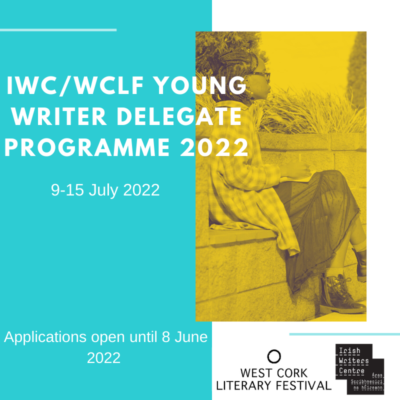 The School greatly encourages our undergraduate Creative Writing students to consider applying for this exciting opportunity.
From IWC's website:
"We invite ambitious young writers aged 18-26 to apply for this extraordinary opportunity to attend and contribute to West Cork Literary Festival as IWC/WCLF Young Writer Delegates.
---
Deadline Extended to Wednesday 15th June at 5pm
In 2022, the Irish Writers Centre launched a new 5 year strategy. For over 30 years the IWC has acknowledged and uplifted those with the courage and compulsion to write by providing opportunities for them to develop their skill, advance their ambitions and join a vibrant and diverse community of people who share their passion and purpose.
At the Irish Writers Centre, we seek to enhance opportunities for people across all communities to explore and participate in creative writing. Now in its fifth year, the IWC Young Writer Delegate Programme is intended to give young writers an opportunity to immerse themselves in a literature festival, soak up the atmosphere and to contribute to it as active participants. The selected four young writers will attend WCLF Festival events, and reflect on their experiences through social media.
During this period, they will be supported by an IWC facilitator and writer mentor to reflect on the festival, develop creative work, and share their views through WCLF and the IWC's social media platforms. Delegates will also be provided with a small honorarium for participation in a creative showcase, along with free tickets to each of the events.
Please note: We are very glad to be returning to in-person events this year, with accommodation provided for three participants from outside the West Cork area, with a fourth dedicated place for a YWD living in West Cork."
For full details please visit the IWC's website here.