Joyce's Dublin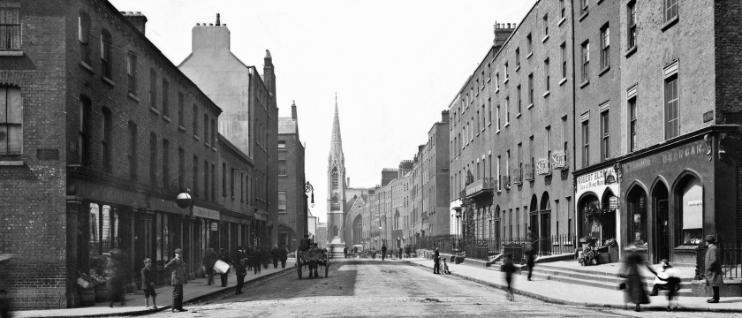 Photograph of Great Denmark Street, looking toward Findlater's Church, circa 1900. Source: The National Library of Ireland
A Portrait of the Artist as a Young Man: A Digital Multimedia Edition of James Joyce's 1916 Novel
Launched in December 2016, this multimedia edition of Joyce's first novel, A Portrait of the Artist as a Young Man was created as part of the Decade of Centenaries (2012-2022), which celebrates Irish history and cultural heritage. This edition was inspired by the new insights which digital analysis offer into the world of the novel and the society of the city it portrays in such painstaking detail. It reproduces the text of the first publication of this novel as a single volume, by B. W. Huebsch Inc, in New York, 1916 and is available to download as a free audiobook recorded by Irish actors Sam and Barry McGovern, as well as in Kindle form. Each chapter includes a map of the social networks and an audio version of the chapter. Readers inspired to explore Joyce's Dublin are also offered a map to find the places mentioned in the novel and how they correspond to the places where Joyce himself lived as a young man, which they can access in Google maps. This edition has been created by Professor Gerardine Meaney, Dr. Karen Wade and Dr. Maria Mulvany from the Nation, Genre and Gender Project, in association with Athena Media, with support from the Irish Research Council and UCD Research and Innovation.
James Joyce: The Dead – iPad/iPhone App
This iPad app was released in January 2014 to mark the centenary of the publication of James Joyce's short story collection, Dubliners. It features the full story of 'The Dead' read by Irish actor Barry McGovern together with a range of period images and audio commentaries.
https://itunes.apple.com/ie/app/james-joyce-the-dead/id786833893?mt=8
Joyce's Dublin: An Exploration of 'The Dead'
Joyce's Dublin: An exploration of 'The Dead' is an audio podcast series displayed in a multimedia website which provides links and resources to assist readers of Joyce's work. These podcasts help us not only to understand the religious and political debates of the time, but also to hear the popular songs that Joyce knew, to picture the streets that he knew, and to appreciate how the story sits within a rich history of Dublin and of Ireland. By directing us to the archives and to the photographs, songs, journals, maps, books and other items within them, the podcasts and website open for us a vision of Joyce's Dublin that brings a new life to the story, just as the story brings new life to the archives.
'Joyce's Dublin' is led by Professors Gerardine Meaney and Anne Fogarty, with research conducted by Dr John O'Neill of University College Dublin. This project was commissioned by UCD and is an Athena Media production and is funded through the Irish Virtual Research Library and Archive (IVRLA), a component of the UCD Humanities Institute which is funded by the HEA through the Programme for Research in Third-Level Institutions.