Lafcadio Hearn's 'Celtic Lullaby' & the Resonance of Irish Aesthetics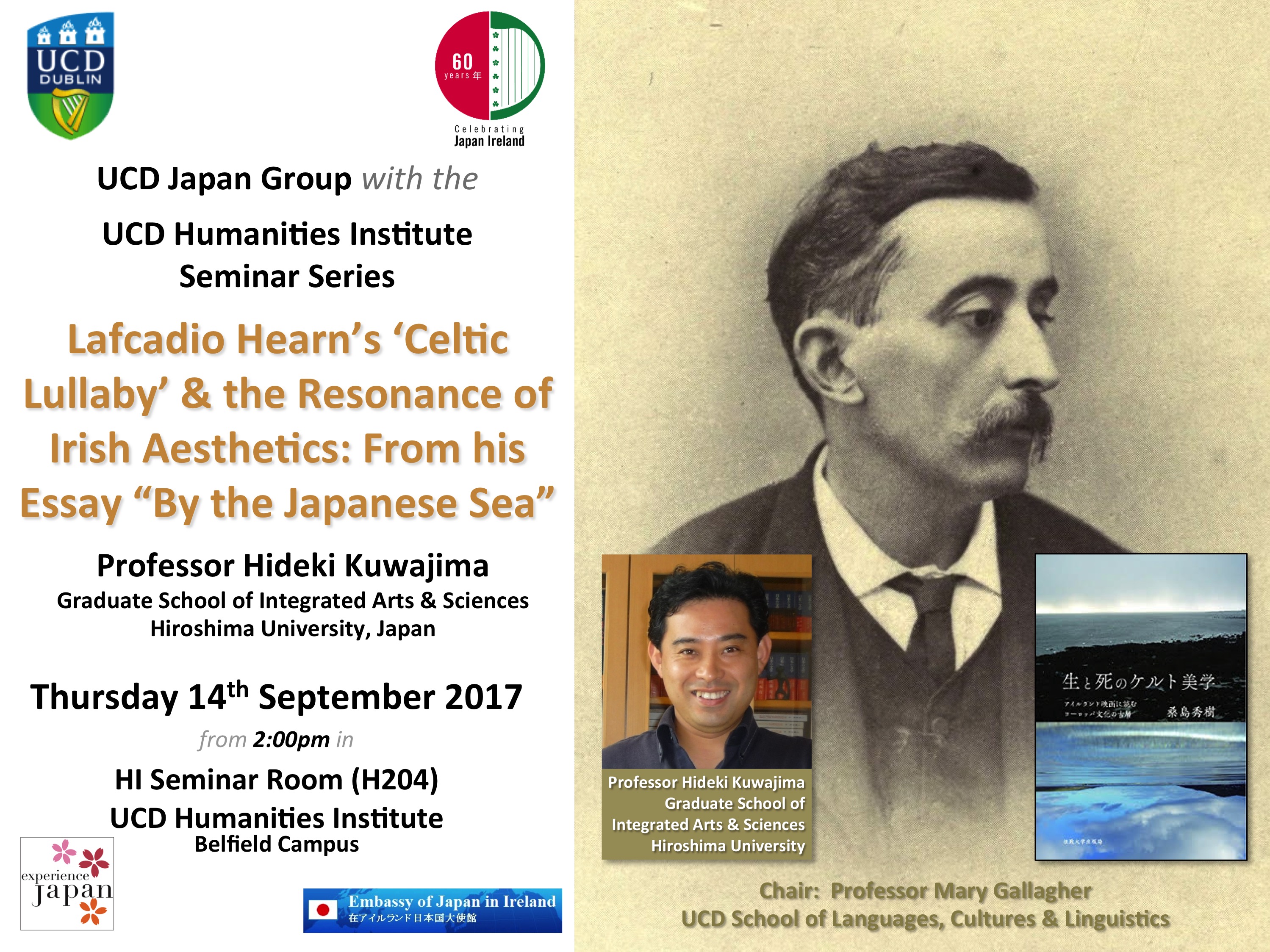 ‌Speaker: Professor Hideki Kuwajima, [Hiroshima University]
Chair: Professor Mary Gallagher, UCD School of Languages, Cultures & Linguistics
When: Thu 14th Sep 2017, 14:00-15:00
Where: Seminar Room H204, UCD Humanities Institute, Belfield Campus, UCD
Speaker's Biography: Prof. Kuwajima is full Professor, teaching aesthetics and culture philosophy at the Graduate School of Integrated Arts and Sciences, Hiroshima University. He holds BA in aesthetics and literary science at Osaka University, MA in art science at Osaka University, and PhD on Edmund Burke's Aesthetics and his Irish Background from Graduate School of Letters, Osaka University. He then took up the post of Research Fellow at Japan Society for the Promotion of Science [JSPS].

He was a Visiting Research Associate on Irish History at Trinity College, Dublin (April 2011- March 2012). He is an editorial board member of several Japanese academic societies (e.g. the Japan-Ireland Society, the Japanese Society for Eighteenth-Century Studies). He published two books concerning aesthetics: Sukō no Bigaku (Aesthetics of the Sublime), Tokyo: Kodansha, May 2008, and Sei to Shi no Keruto Bigaku: Airurando Eiga ni yomu Yōroppa bunka no Kosou (Aesthetics of the Irishness: Analysing Four Irish Cinemas and the Old 'Celtic' Layer in Europe), Tokyo: Hōsei University Press, September, 2016. He is the recipient of the 14th Shigenobu Kimura Award from Japanese Society for the Ethno-Arts, April 2017 for the second book mentioned above.
This is a free event. All welcome!
Directions to the Humanities Institute can be found on this website.