Student Life at UCD Sutherland School of Law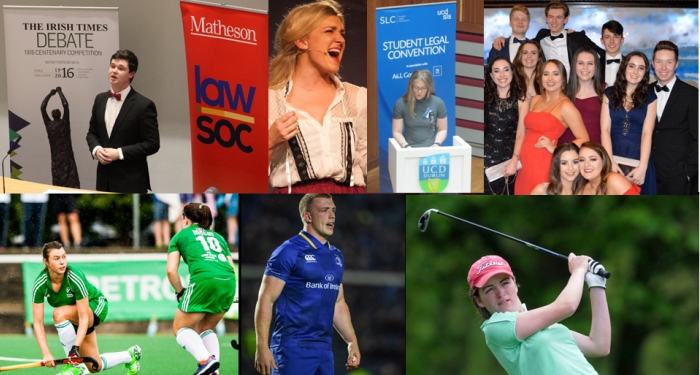 In the Sutherland School of Law we encourage our students to fully avail of all that is on offer to make their time in UCD as memorable as possible. The UCD campus has unrivalled facilities including an Olympic-sized swimming pool, a full gym and a 90 seater cinema. In addition, there are over 100 clubs and societies at UCD and the two most popular with our students tend to be Law Soc, which runs both debating and social activities, and the Student Legal Service (SLS) which runs clinics offering legal information to other students across UCD. In recent years, law students have excelled both on the stage and behind the scenes in the UCD Musical Society and the renowned UCD Choral society regularly includes representatives from law. Other societies include: DramSoc; Photographic Society; St Vincent de Paul Society; and, UCD Volunteers Overseas.
Sport is a major part of student life in UCD because of the excellent facilities that the campus has to offer. Amongst the law student body there have been many leading sports people in recent years, including former captain of the UCD Hockey team and member of the Ireland squad, Deirdre Duke. In rugby, Rory O'Loughlin, Garry Ringrose and Dan Leavy have all played at either provincial or national level while studying for law degrees. In golf, leading amateur golfer, Chloe Ryan is also a recent graduate. Other sports played by law students include GAA and Soccer and less traditional sports such as rowing, archery and fencing.
More information about the societies and clubs in UCD is available at:
Dignity and Respect in the Sutherland School of Law: see more information here