Study Abroad Opportunities for UCD Sutherland School of Law Students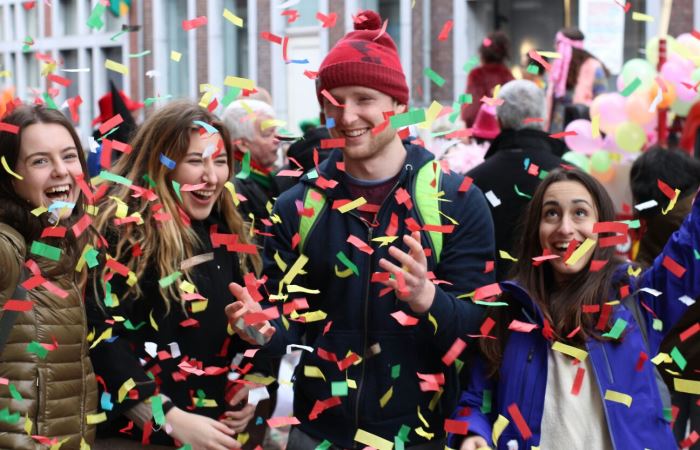 At UCD Sutherland School of Law, we actively encourage our students to travel abroad as part of their education. It is an opportunity not to be missed in today's globalised world and we offer the best range of study abroad opportunities of any Irish Law School. For an insight into the international exchange experience, read below what our students have to say about their time studying abroad.
Dignity and Respect in the Sutherland School of Law: see more information here

Kate McCarthy: on Erasmus to Louvain-la-Neuve, Brussels (pictured above left and at the top of the page in Maastricht)
I am a final-year Business and Law student in UCD. When I learned there was an opportunity of a semester-long Erasmus as part of this degree, I jumped at the idea. It was a perfect opportunity to develop practical language skills and continuing my studies abroad. I chose to complete my five month Erasmus in Louvain-la-Neuve, a small university town outside Brussels. It provided the perfect environment to make new friends, gain a different perspective on my studies and improve my French, all while immersing myself in a foreign culture. The travelling opportunities were endless – we were constantly exploring new cities and visiting our other Erasmus friends. My participation in the Erasmus programme will undoubtedly be one of my best memories from my time in UCD and I encourage everyone to seek out these opportunities and grab them if they can.
Ciaran Sweeney: on Exchange to the University of Minnesota (pictured middle at the Sears Tower)
In August 2015, I set off for my year-long International Exchange to the University of Minnesota. The year was beyond everything I expected it to be. I knew very little about Minneapolis before I headed over but within a month of arriving, I felt like I knew the city backwards. The Irish are obviously well-received all around the world and especially in America so making friends was very easy, both with the American students, and with the other international change students. The year flew by so I would highly recommend getting involved in as much as possible and just immerse yourself in every activity. I got involved with the law school football team and the musical society and found both of these to be a fantastic way to make friends. Outside of law school, the chance to travel around America was also an opportunity not to be missed. As well as travelling to the states that border Minnesota, I visited Miami and Chicago and got to see tourist attractions such as the Sears tower (pictured). Overall, I could not recommend the year-long or semester-long exchange enough, it really is a once in a lifetime opportunity.
To hear Ciaran Sweeney's presentation about his exchange year in Minnesota click to view the video here

Ian Murphy: on exchange to University of Miami (pictured above right)
When I learned that I had been selected to spend a semester studying law at the University of Miami, I had no idea what awaited me. The 6 months I spent at 'The U' can only be described as phenomenal. If Ireland is the land of a thousand welcomes, then Miami is the city of a million! The classes I took opened my mind to a whole new way of interpreting law and with the help of incredible professors, gave me the opportunity to challenge myself on a daily basis. I have made friends with some truly great people and created memories I will never forget as a result of the opportunity UCD gave me. Incredible and diverse people, amazing beaches, and spectacular food, my only regret is coming home.
Tim Healy Kavanagh: on exchange to DePaul University, Chicago (pictured middle)
Choosing to spend my third year studying in DePaul University College of Law was by far the highlight of my undergraduate studies so far. The opportunity to experience living downtown in a city as diverse and awash with buzz and activity as Chicago, whilst simultaneously experiencing the unique U.S. law school environment was as challenging as it was enjoyable and exciting. I developed skills as diverse as understanding aircraft-finance to surviving a month long snowstorm in the winter. The engaging and hands-on nature of the classes has both furthered my interest in specific areas of the law and helped me to focus my studies moving forward. Along with this the stand out nature of the experience on my CV has paid dividends in my pursuit of other opportunities since returning home.
Isabel Cooke: on Erasmus to Université Toulouse 1 Capitole (pictured above left and holding flag top right above)
In August 2015 I set off on a road trip with my Dad from Dublin to Toulouse. After three days of driving, we made it to my new city, and ERASMUS began. It's impossible to describe just how amazing the year I spent studying in Université Toulouse 1 Capitole actually was, suffice to say it was a year I will absolutely never forget. I experienced being immersed in French language and culture while surrounded by wonderful people who became lifelong friends and I would unreservedly recommend Toulouse in particular, and studying abroad in general, to everyone. To anyone who has doubts about ERASMUS, believe me, the hardest thing about it is coming home.