Ireland's Food Vision 2030: Upskilling to achieve agri-food sector targets.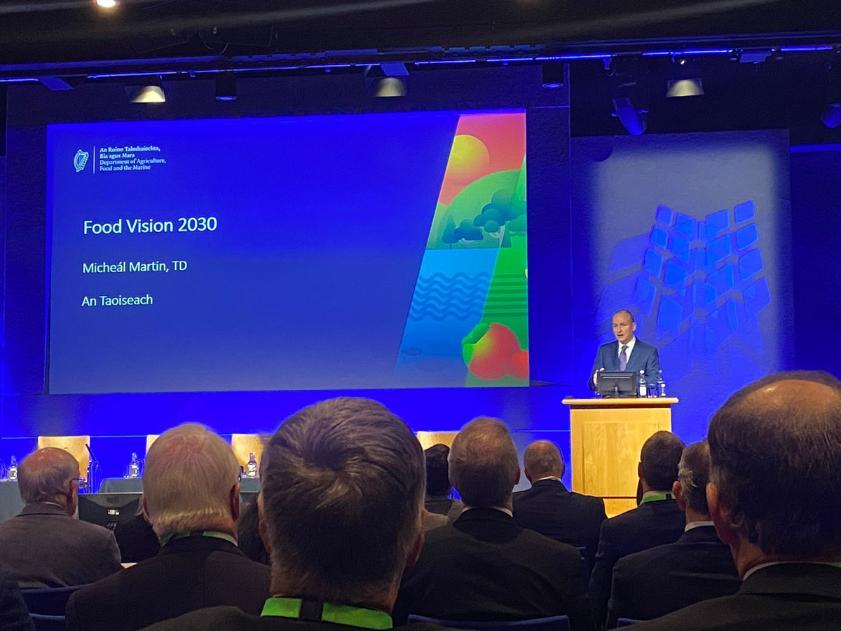 Michael Martin speaking at the Food Vision 2030 conference in Dublin Castle.
The Food Vision 2030 conference took place in Dublin Castle last week, where Taoiseach, Michael Martin, commended the agricultural sector and farmers for their strong engagement and the proactive nature of the industry in taking sustainability seriously.
Highlighting the challenges to reaching the targets, the Taoiseach mentioned everything from Brexit, the war in Ukraine, and Covid, to climate change, flooding, and global food shortages.
The Food Vision 2030 is a ten-year strategy that aims to see a 25% reduction in emissions from the agri-food sector by 2030, and make Ireland, as its slogan states, "A World Leader in Sustainable Food Systems". The strategy consists of four key missions;
Mission 1 - Climate Smart, Environmentally Sustainable Agri-Food Sector

Mission 2 - Viable and Resilient Primary Producers, with Enhanced Wellbeing

Mission 3 - Food that is Safe, Nutritious and Appealing, Trusted and valued at Home and Abroad

Mission 4 - An Innovative, Competitive and Resilient Agri-Food Sector, Driven by Technology and Talent
Martin Heydon, Minister of State at the Department of Agriculture, Food and the Marine at Food Vision 2030, also attended the conference where he expressed the need to attract the "best and the brightest" into the agri-food sector and the importance of retaining talent.
The agri-food sector accounts for 7.1% of the total employment in Ireland and it's clear from the missions outlined in the Food Vision 2030 strategy that the future of the sector will require a huge amount of investment in innovation, technology, and training.
Highly aware of the climate and environmental factors that are shaping the agricultural sector both nationally and abroad, the UCD School of Agriculture and Food Science endeavours to support national targets around innovation and sustainability. The School builds key sustainability components into its Food & Nutrition micro-credentials, particularly in the areas of nutrition and health, in line with Food Vision 2030's "Mission 3: Food that is Safe, Nutritious and Appealing, Trusted and valued at Home and Abroad". They currently offer five micro-credentials in the areas of;
The School also offers a 20% discount to UCD alumni on all its Food and Nutrition micro-credential courses. Learn more about UCD Micro-credentials.