MicroCreds.ie: The Micro-credential Revolution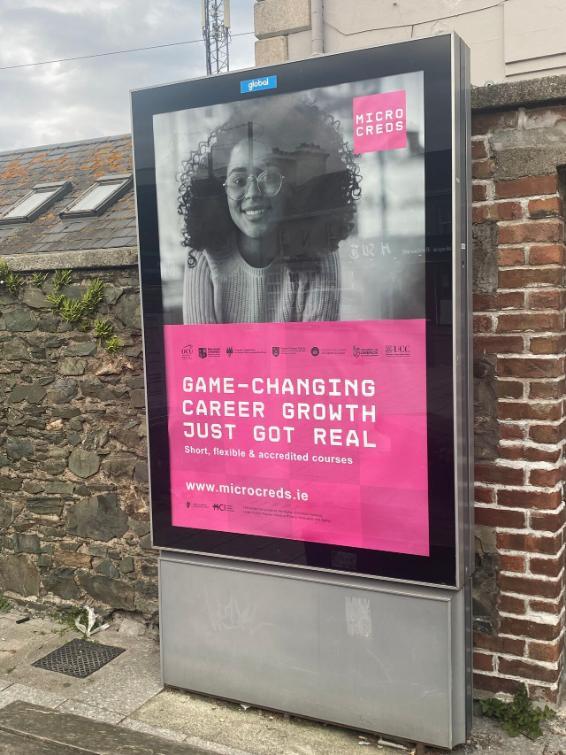 MicroCreds
The MicroCreds project is the first of its kind in Europe, seeking to establish a national framework for quality-assured and accredited micro-credential courses. MicroCreds is led by the IUA (Irish Universities Association) in partnership with University College Dublin, University College Cork, University of Limerick, Trinity College Dublin, Dublin City University, University of Galway, and Maynooth University. A key milestone for the project has been the delivery of a national website featuring all seven universities' micro-credential courses in one place, making it easy and accessible for learners to find the course that's right for them. The MicroCreds website has officially launched alongside a nationwide campaign to highlight micro-credentials to those looking for upskilling opportunities.
Micro-credentials: An Answer to Lifelong Learning
In the rapidly evolving world we live and work in, it can be difficult for workers to keep up with the demands of lifelong learning and professional development. In a 2021 report on continuous learning by Aontus, adult study participants identified a lack of time (29%) as the main barrier to their learning and development. A range of contributing factors were further identified such as family responsibilities, work schedules and suitable childcare solutions. Despite these barriers, the Irish government has committed to a target of 64% of working adults participating in lifelong learning each year by 2030.
Micro-credentials are becoming increasingly popular in the discussions about lifelong learning and training workers for the future of work. If you haven't heard of micro-credentials, they are short, flexible courses that provide recognition of skills, knowledge, and experience gained in a specific subject area. Read our "What are micro-credentials?" article to get a more detailed explanation.
A recent OECD (Organisation for Economic Co-operation and Development) report stated; "Policymakers, educators and trainers across the world envision micro-credentials to be an innovation with a multitude of potential uses and benefits – a sort of all-purpose solution for the problems confronting education, training and labour market systems – and some have begun to integrate them into existing practice and policy". So what makes micro-credentials so suitable for continuous education?
Benefits of Micro-credentials for Lifelong Learners
Flexibility: Micro-credentials offer flexibility in terms of time commitment, allowing individuals to fit learning around their already busy schedules.

Industry Alignment: Micro-credentials focus on providing practical, industry-specific knowledge and skills, ensuring learners acquire the competencies sought after by employers, and aligning their education with market demands.

Recognition and Reliability: Micro-credential courses are subject to the same quality assurance as other university programmes. This means that micro-credentials can hold significant value in the eyes of an employer as the verifiable evidence of a learner's expertise in a specific area.
UCD has a range of offerings from Agriculture to Environmental Law, Ethics, Healthcare, and more. If you're looking for flexible, short courses, visit microcreds.ie to see the full course list from all seven universities.