12th NovaUCD 'Entrepreneurs Live!' Seminar Series
Five leading entrepreneurs will share the secrets of their entrepreneurial success at next NovaUCD 'Entrepreneurs Live!' seminar series which commences on February 18 and runs each Wednesday lunch time until March 11 with an additional seminar on Tuesday March 24.
Podcasts of previous 'Entrepreneurs Live!' seminars are available.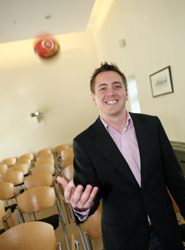 Sean Fee, iFoods.tv, a speaker at a previous 'Entrepreneurs Live' Seminar
The seminars take place from 1pm - 1:50pm (light lunch available from 12:30 pm) in NovaUCD, Belfield Innovation Park, UCD.
Attendance at the seminar series is open to all especially undergraduate and postgraduate students.
The guest speakers at the forthcoming 'Entrepreneurs Live!' seminar series are:
The aim the 'Entrepreneurs Live!' seminar series delivered by NovaUCD in association with the Dún Laoghaire-Rathdown County Enterprise Board is to promote a spirit of entrepreneurship among the academic, research and student population at UCD.
The five guest entrepreneurs will talk about their experiences of setting-up and running their businesses emphasising the highs and lows encountered along their entrepreneurial journey and highlighting the secrets of their entrepreneurial success. After each seminar, attendees will have the opportunity to ask probing questions of the guest entrepreneur.
**** As space is limited at these seminars advanced registration is recommended ***
To register to attend any seminar please contact: Caroline Gill, t: 716 3715, e: caroline.gill@ucd.ie.
The NovaUCD "Entrepreneurs Live!" Seminar Series is kindly sponsored by the Dún Laoghaire Rathdown County Enterprise Board.
Jacques Lefebvre – Co-Founder and CEO, DataKraft
DataKraft is a niche software development company which was co-founded in 2004 by Jacques Lefebvre and Carol McKeon. The company's DataKraft Studio is a revolutionary and unique software platform which can be used to create professional database applications. DataKraft Studio requires no coding and is 20 times faster than traditional development methods.
DataKraft Studio is helping companies of all sizes by delivering custom business solutions that meet their exact needs while also delivering increased productivity and information visibility. The platform can be used by IT services companies to generate bespoke database systems for clients.
DataKraft, which has recently raised €1 million in venture capital funding from Enterprise Ireland and the AIB Seed Capital Fund, employees 10 people and is based in Sandyford. Its customer base is located in Ireland, Northern Ireland, the UK and Australia and clients include the Big Red Book, Bryan S Ryan and InterTradeIreland's Acumen Programme.
Jacques holds an engineering Masters degree from ESIEA, Paris and a postgraduate business diploma from the Dublin Institute of Technology.
Brendan O'Regan – Founder and CEO Zenith Technologies
Zenith Technologies is a privately-owned Irish company which was founded in 1998 by Brendan O'Regan. Zenith Technologies provides innovative, reliable and technically advanced process measurement, automation and Manufacturing Execution Systems (MES) solutions to the process, pharma/biotechnology, food and electronic sectors. As these sectors are regulated by the US Food and Drugs Agency, all of Zenith's systems and methodologies deliver FDA compliant solutions.
The company is now diversifying beyond the automation space and offering services and solutions to other aspects of the pharmaceutical business in areas such as MES, global programme management, managed services and general engineering.
Zenith has global preferred supplier agreements with GSK, GSK Bio and Novartis and has also successfully executed projects for Wyeth Medica, Pfizer and UCB Schwarz Pharma.
Zenith, which has an annual turnover of €30 million, currently employ in excess of 250 people worldwide and is headquartered in Cork with offices in Dublin, India, Singapore, UK and USA.
Brendan has a degree in Physics and he was a finalist in the 2008 Ernst & Young Entrepreneur of the Year Awards. The company was ranked in the 2007 and 2008 Deloitte Technology Fast 50 companies.
Charlotte O'Kelly - Co-founder and Managing Director, TechWorks Marine
TechWorks Marine which provides clients with world-class solutions to monitor the marine environment was co-founded by Charlotte O'Kelly in 2002.
TechWorks Marine supplies real-time data from its monitoring platforms which enables its clients to make effective management decisions. The solutions are based on a proprietary data acquisition and transmission system, the TechWorks Marine Black Box, (TMBB). The TMBB is designed for use in hostile environments delivering data via real-time telemetry which can be viewed 24/7 online.
TechWorks Marine was the winner of the Innovation and New Technology Award at the 2002 Shell Live Wire Young Business Start-Up Awards and was runner-up in the 2003 National Enterprise Awards.
Charlotte has an honours degree in Environmental Resources from Kingston University and a Master's degree in Applied Oceanography from University of Wales, Bangor. She is also the current Chairperson of Women in Technology and Science Association.
Donal O'Riain – Founder and Managing Director, Ecocem
Ecocem is an independent specialist producer of 'green' cement which was founded in 2001 by Donal O'Riain. Ecocem currently produces 700,000 tonnes of green cement annually and also annually reduces CO2 emissions by 630,000 tonnes.
Ecocem's green cement is made by processing a by-product of the steel industry, known as Ground Granulated Blastfurnace Slag (GGBS). The carbon emissions from the production of Ecocem's cement are typically 85% less than those produced from the creation of standard Portland cement as this it has zero emissions of SO2 (acid rain) or NOX (low-level ozone). In addition Ecocem's green cement has better strength and durability over standard cement.
Ecocem's cement has been or is being used in a string of high-profile developments including the Convention Centre Dublin, the O2 Arena and the Lansdowne Road Stadium.
Ecocem which has a turnover of €40 million currently has 60 employees and is located in Dublin and in the Netherlands. Donal is a UCD engineering graduate and he was a finalist in 2008 Ernst & Young Entrepreneur of the Year Awards.
Sean Gallagher – Co-founder and CEO, Smarthomes
Sean Gallagher is co-founder and CEO of Smarthomes and one of the 'Dragons' RTE's 'Dragons Den' TV programme. Established up in 2002, Smarthomes install cabling and technology systems into thousands of homes each year, providing home owners with access to the latest in communication and entertainment services. With the recent downturn in the building sector in Ireland, the company is currently embarking on an ambitious plan to enter foreign markets.
In 1995 Sean was appointed A/CEO of Louth's County Enterprise Board. Over the following 5 years he graduated with an MBA, developed and presented "real life" start-your-own business courses to hundreds of budding entrepreneurs. In 2000 he left to pilot his own business venture, with business partner Derek Roddy. Two years later they launched Smarthomes.
In 2004 Smarthomes was the overall winner of InterTradeIreland's All-island Seedcorn Business Competition and a top prize of €100,000. The company went on to receive numerous awards and accolades including the Deloitte Fast 50 Rising Star Award for New Technology Companies (2005) and the Innovator of the Year Award at the SFA Business Awards (2005). Sean was also a finalist in the 2006 Ernst & Young Entrepreneur of the Year Award.
In 2007 Sean was appointed by the Government to the Board of InterTradeIreland and he is now spearheading a campaign to launch an all-island national network of business angels who are willing to provide start-up capital and mentoring to early stage businesses.