Visor Secures €3.5 million in Funding
Visor the Irish software company which has developed accountsIQ, an internet-based online accounting platform, has announced that it has completed a €3.5 million funding round. Data Electronics Investments (DEI), the investment arm of Data Electronic Services (DES), the Data Centre and IT Managed Services provider, led the round with support from existing investors Enterprise Equity, AIB Seed Capital Fund and industry veteran Gerry McKeown.
The funding will facilitate Visor's continued international expansion and product development plans through to profitability. As part of its investment, DES will provide a Service Continuity Guarantee to underwrite the provision of the accountsIQ service.
Tony Connolly, Visor, CEO said, "As Software-as-a-Service and Cloud computing continue to gain traction, this funding will allow us to continue developing our technology and building our international expansion after our recent success in Australia. We are particularly pleased to have an industry player with a well proven track record in delivering world-class hosted IT solutions via the Internet, as a new investor."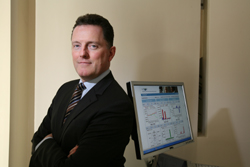 Tony Connolly, Visor
Brian Kelly, Chairman, Data Electronic Services said, "This investment reflects our belief that accountsIQ has developed a truly innovative proposition that represents the future of online accounting and business solutions. As investors in managed services over the past ten years, we are very aware of the rapid trend towards using the Internet to deliver secure, online solutions. This trend will mean increasing numbers of businesses will move their accounting and business services into the Cloud. accountsIQ is leading the way in this growing market."
Gerry McKeown, Chairman, Visor noted that "It is a great testament to the accountsIQ proposition that it attracted this funding in the current climate. The accountsIQ product represents over 40 man-years of product development and is now well proven in the marketplace. It is now set to capitalise on the major move to online services that businesses are making internationally."
Visor, a graduate of NovaUCD was established in 2004 by Tony Connolly, a former partner with Farrell Grant Sparks (FGS). Visor has developed accountsIQ into an innovative online accountancy platform which allows accountants, franchisors and businesses with multiple locations to access their accounts and business records via the Internet in real time with total security and minimal overhead costs. It was launched commercially in 2007 and already has over 1,500 live users in Ireland, UK, Australia, USA, India and Portugal.
December 10 2009
For further information contact Micéal Whelan, NovaUCD, e: miceal.whelan@ucd.ie, t: (01) 716 3712.